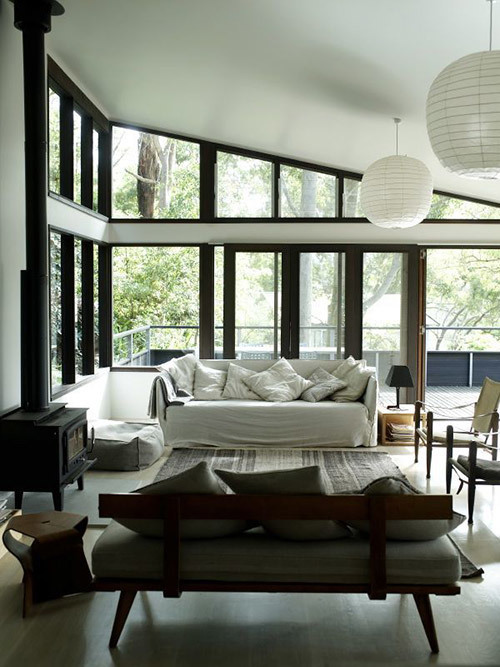 Karen McCartney explores the way in which we approach the decoration of country / beach / island houses, and shares pictures of her own retreat on Dangar Island in the Hawkesbury, just north of Sydney.
Only the other day I was discussing with a Melbourne architect the way decorating principles shift from a city house to a place in the country or on the coast. We talked about how the demands of daily life differ from that of the weekend and how, as a result, the aesthetic loosens, relaxes and is often more characterful.
Much of this can be attributed to a lack of budget for the second home, which means design solutions become more inventive as vintage furniture finds favour, high-street brands are painted or customised, and artwork or ceramics picked up on eBay or at local auctions add authenticity.
Yet there is a decorating trick to give a sense of cohesion and style to disparate elements, and it comes from creating a limited palette of colours and materials and sticking to it quite rigorously. When my husband and I undertook this task we used the same timber for flooring throughout the house, the same Indian Sandstone in the kitchen and bathroom, the same grey stained timber for the exterior cladding and the window frames. This ensures the building envelope provides a strong, consistent base for interior design choices. With an older place the solution might be to go for a 'white-out' and paint the whole interior in a soft white paint including ceiling and floor. This creates a sense of a blank canvas for adding decorative choices and always manages to look good.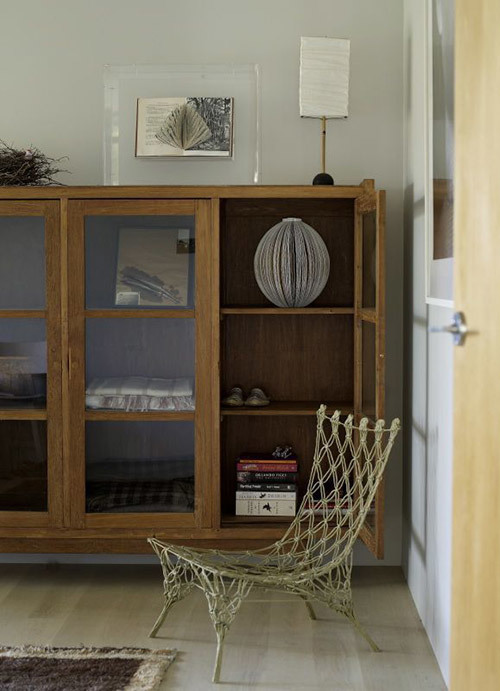 In our island house we mixed worn Danish leather seating, stone coloured linen, canvas-covered chairs, grey sisal rugs and over-scale paper lights, for a look that gave a nod to Scandinavia.
Character came from our eccentric collection of timber stools – both vintage and contemporary - and from items sourced from a local antique store, which included an old school desk with children's names carved into the surface. Our generous dining table was made from timber offcuts left over after the building of the house was complete. As the saying goes 'necessity is the mother of invention.'
So if you are planning the interior of a getaway, create your ideal Pinterest board or gather images you love in a note book and then look for the commonalities. Get rid of the outsider choices to settle on a scheme and then do the hardest decorating trick of all – stick to it!
Images of The Dangar Island House by Richard Powers.