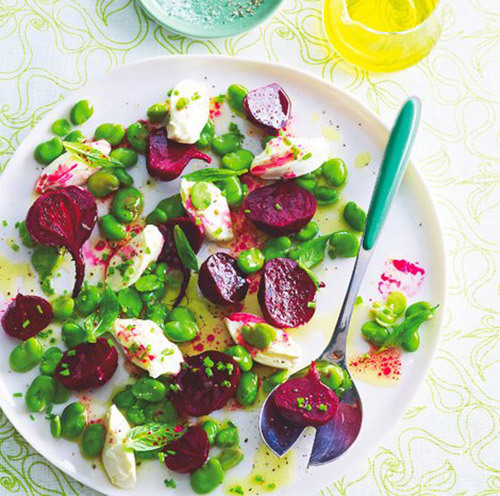 One of Australia's most popular cooks, Anna Gare was a judge on Junior MasterChef and co-presenter of The Great Australian Bake-Off. This fresh and easy salad comes from her book Eat In (Murdoch), thanks to eatlove.
Labneh is yoghurt that has been strained in a cloth (traditionally made of muslin), to remove the whey. This process gives it a soft cheese-like texture, while preserving the yoghurt's distinctive tang. The earthiness of the beetroot and beans paired with the creamy tang of the labneh make a gorgeous combination.
Ingredients (serves 4-6)
300 g (101⁄2 oz) thick Greek-style yoghurt
1 kg (2 lb 4 oz) baby beetroots (beets)
400 g (14 oz) podded broad (fava) beans
drizzle of extra virgin olive oil
1⁄2 a lemon
sea salt and freshly ground black pepper
a few chives or mint leaves, sliced, to serve
Preparation
Strain the yoghurt overnight in a fine sieve or muslin (cheesecloth), placed over a bowl to catch the whey, in the fridge.
The next day, trim the leaves and stems off the beetroot, leaving 2.5 cm (1 inch) of the stem intact. Steam the beetroot in their skins for about 20 minutes, or until they can be easily pierced with a fork.
Remove the skins and stems under cold running water with your fingers (wear rubber gloves if you don't want pink hands). If the beetroot are perfectly cooked, the skins should slide off easily.
Cook the broad beans in boiling water for 3–4 minutes (or 1 minute if using frozen beans), then drain and run under cold water to stop them cooking further. Pinch each bean between your fingers to remove the skin then put the beans in a small bowl, drizzle over some olive oil, squeeze over some of the lemon and season with salt and pepper.
Halve the beetroot and put in a bowl, drizzle over some olive oil and lemon juice and season with salt and pepper.
Spoon the beetroot and beans over your favourite platter then top with quenelles (pretty little spoonfuls) of labneh. Scatter over the chives or mint leaves (or both), drizzle with some more olive oil then serve.
See more at eatlove.com.au where you can follow your favourite chefs, share their recipes and order their books.