Fall into autumn with the latest interior looks including irresistibly soft texture, muted shades, natural materials and voluptuous curves. Here's how to do it.
Tactile texture
This season, furniture and decor such as
cushions
,
rugs
and
throws
become extra-tactile. Discover
armchairs
and
sofas
in velvet; handwoven
wool rugs
and
jute rugs
; and chunky
knit throws
that just beckon to be touched.
When mixing textures in your home, it's about balance. Velvet looks its best when surrounded by less dominant textures, so unless you're creating an opulent art deco den or racy boudoir, apply the 'less is more' principle. If a
velvet armchair
or
velvet ottoman
seems too much, go for some
velvet cushions
instead. A
velvet bedhead
or
velvet blanket
also add regal elegance to bedrooms.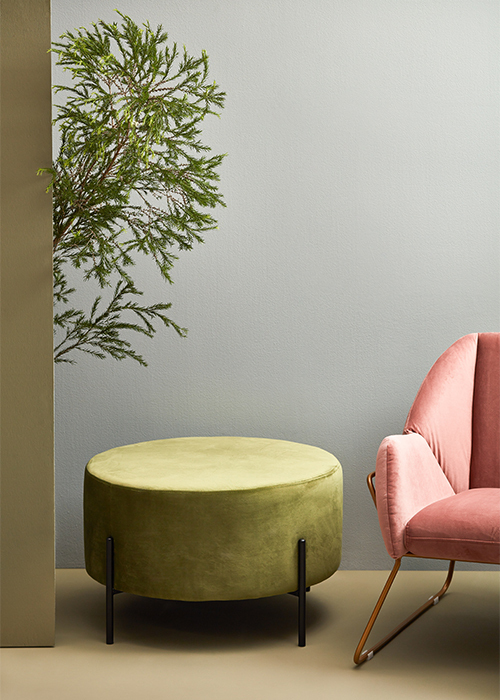 Think about contrast when combining textures: combine large weaves with small weaves, and rough textures with smooth textures, and play with the proportions of each, depending on which texture you want to highlight more. For instance, if you want the tufting of a rug to shine in a living room, balance this with a smooth
marble coffee table
.
Mellow mood
This autumn's colour palette comprises warm muted colours that are mid to dark in depth. Think pinks like rosewood, blush and light peach, and earthy olive, eucalyptus and taupe. Rosewood, blush and light peach add a feminine romantic touch to living areas, while olive, eucalyptus and taupe reinforce our connection to nature. If you have a neutral colour scheme already, you can easily break it up with one of these shades as an accent colour.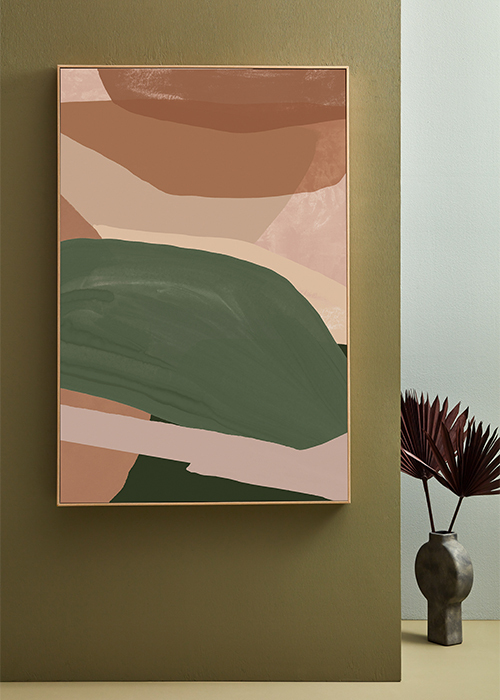 Too much colour already in your home? Simply remove the accent colours that you already have, which are often found in temporary decor such as
cushions
,
bed linen
,
ornaments
and
wall art
, and replace them with an equivalent in one of these autumn colours.
If you like all these seasonal colours and are tempted to try them all, perhaps use the darker shades for bigger pieces, and the brighter shades for smaller objects for a more timeless look.

"Getting a new look at home is easy and paint isn't always required. If your large furniture pieces are fairly neutral, you can easily give your home a revamp by adding new decor such as cushions for the sofa, a quilt cover for your bedroom, and vases and sculptures in your living areas."
Back to nature
Embrace natural materials such as rattan, leather, wool, linen and timber to create a warm, familiar and comforting space. Furniture and decor with these finishes give rooms a beautiful raw, matt look, and creates character through its imperfections which are part of its appeal. It's easy to introduce this trend to any living space as there are so many natural materials to choose from. Beds and sofas are always the best places to start when updating decor. Perhaps try a
table lamp
with a
rattan shade
, some
linen cushions
or a plush
wool throw
.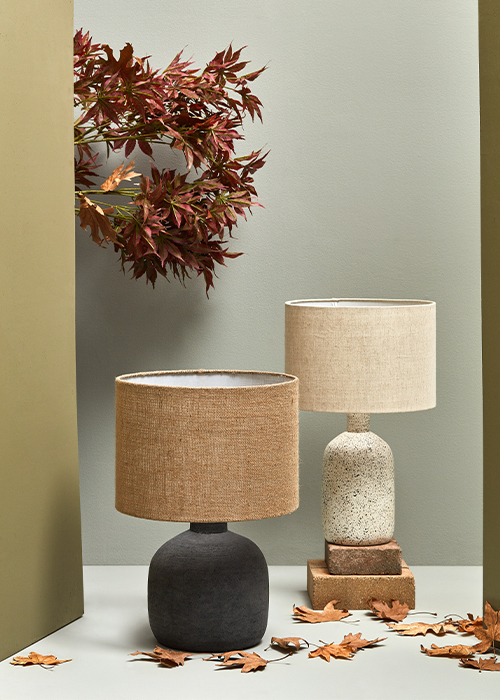 Curves ahead
It's not just
armchairs
,
coffee tables
,
ottomans
and
ornaments
that have become rounder in shape. Even
bookcases
,
dining tables
and
bedside tables
are adopting softer edges. These curves are making for friendlier, cosier and more comfortable spaces. Apart from literally adopting this trend through curvier furniture and decor, you could also consider rearranging your existing furniture to reflect more rounded edges. Instead of cornering off areas into rectangular shapes, arrange sofas, tables and chairs to create circular zones.