For the past 13 years, design and product manager Elana Vanlier has been enhancing Australian dining tabletops and enriching mealtimes with her beautifully designed organic dinnerware and vibrant servingware for homewares brand Ecology. Here, she shares her design philosophy, the process of making a new collection, and why she loves influencing tablescapes.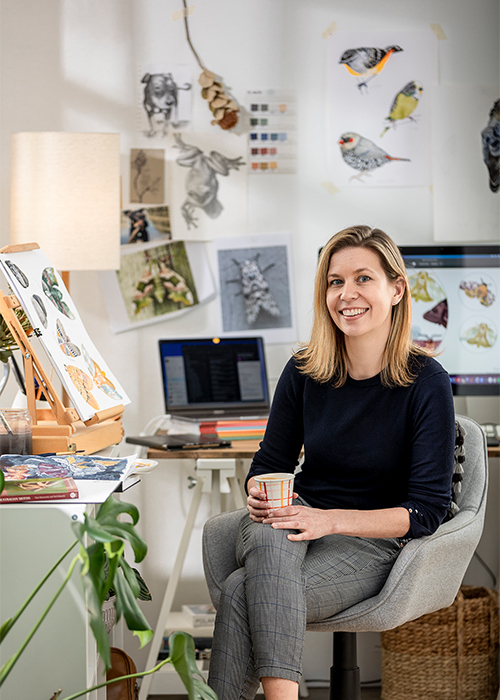 How did you come to design homewares?
Prior to designing homewares, I was in graphic design, designing mostly food and wine marketing print material. I applied for a design role within a homewares company and a week later, I was hired, so you could say I fell into homewares by accident. I remember it being such a thrill to create something that someone wanted to keep or give as a gift, as opposed to something that ended up in the recycling bin.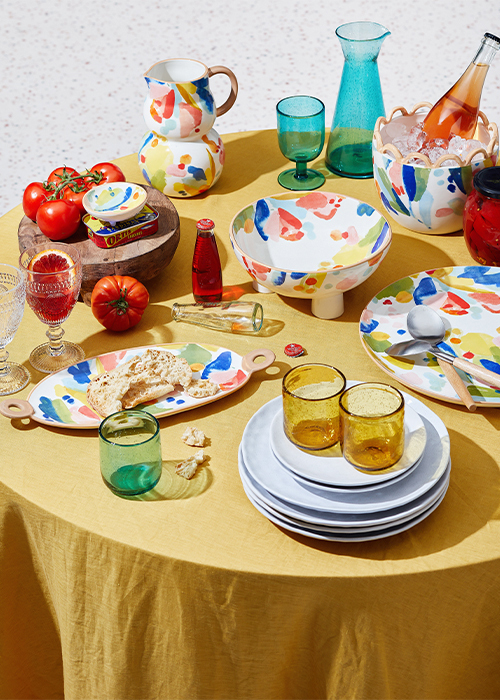 Tell us about your design team.
It's very much a collaborative space. Product designer Heather Piez and I will work on themes, colours and design. We then liaise with the product team to make sure we have the right supplier, material and price to give us the look and feel that we want. Our senior product manager, Jessica Steinki, has been a part of the Ecology journey for nearly as long as I have, so we have almost an unspoken understanding of what we want and don't want from a product point of view.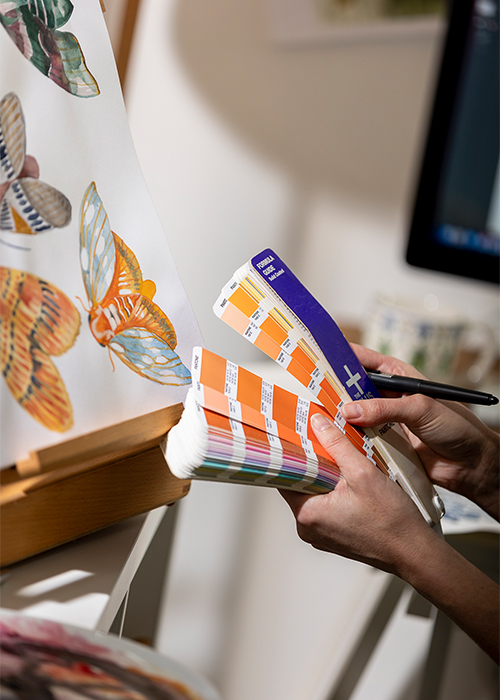 What do you love about designing tableware?
I love to see the collection come together at the end. We've always prided ourselves on cohesiveness between ranges, so the customer can create coordinated collections over different seasons. We always get a buzz when the samples come through and the colours and patterns combine so beautifully.
How would you describe your design philosophy?
Keep it simple. We like to make sure we have a selection of everyday core pieces in more neutral tones, and then each season we mix in pops of colour and pattern to tell the story. We don't move too much from season to season as we imagine the customer will have pieces from one or two seasons prior, and we want to make sure they can still coordinate this product [with what they already have.]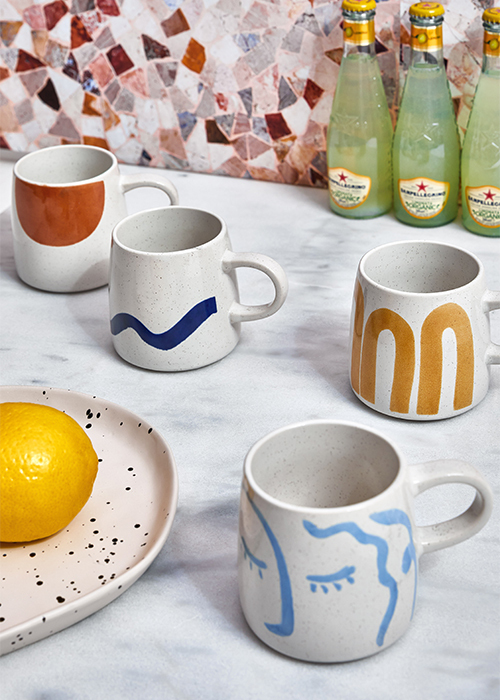 What are you influenced by?
Nature definitely; flora, fauna, landscapes. Also, travel art, and sometimes the most obscure things that may have zero relevance to homewares. I am at my most creative when I am outside my everyday space. It makes you look at the world differently.
What are some of your signature designs?
'Bloom' and 'Love Bug' are probably the most recent, but there's also 'Watercolour' which has been running for many years as well.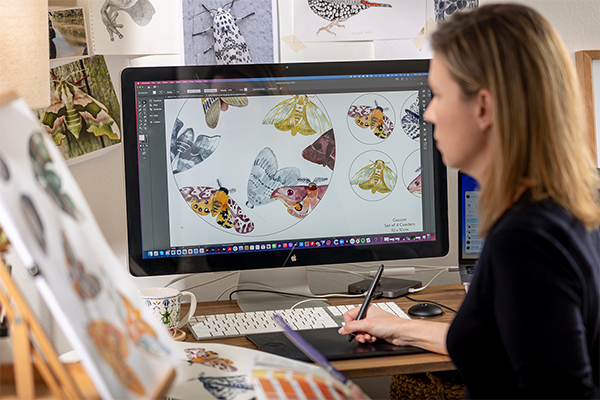 Describe the process of launching a collection.
It takes us around 12 months from conception to the product landing. We research trends, themes, colours and consumer behaviour, and then create mood boards that become the roadmap for the season. Then, we work with the product and sales team to our previous season and look for those essential pieces for the next. Once we're happy with a range plan, we work on design, sourcing, sampling and quoting. Designs are inspired by seasonal themes and usually start off as hand-painted artwork by either Heather or myself. Once the collection is ready, we present it to our key retailers and place orders. Meanwhile, our marketing team and graphic designers are preparing imagery, packaging and content. Sales coordinate previews with customers, then finally, production, QA and shipment land the stock in our warehouse where it gets distributed.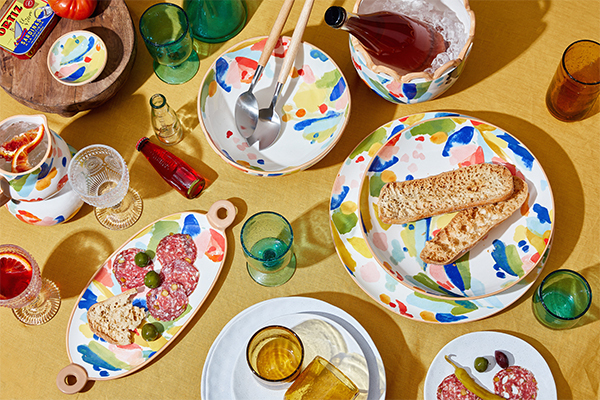 What do you love most about your job?
The people. That's the main reason why I've been at Ecology for so long. My job gives me the perfect combination of research and creativity. Plus, I've also had the wonderful experience of travelling to places I would never have imagined and building relationships with people all around the world. Oh and of course, creating the artwork; that's the soul food.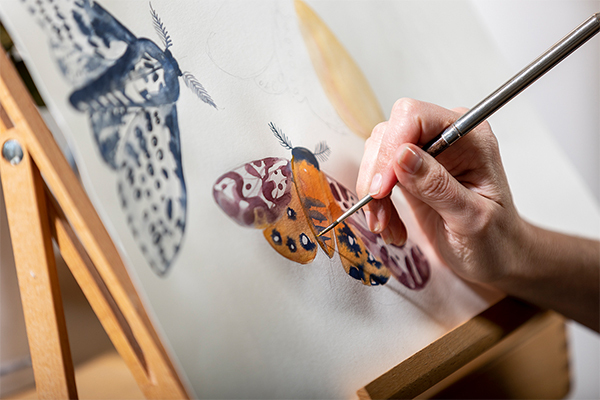 What is the hardest thing about your job?
Lockdowns and not being able to travel right now. I get so much creative inspiration when I am out of my everyday space. Plus, we haven't been able to see suppliers face to face. This industry is so tactile so Zoom meetings and emailed photos can only get you so far.
How has tableware evolved in Australia in the past five to 10 years?
When I first started in homewares, it was mostly about plain white porcelain and some traditional style hand-paints thrown in. For the last few years, the focus has very much been on beautiful glazes and textures, organic and earthy shapes, and artisan styles. Australians are getting a lot more comfortable with colour and pattern, and we are definitely finding our own authentic style which is great to see.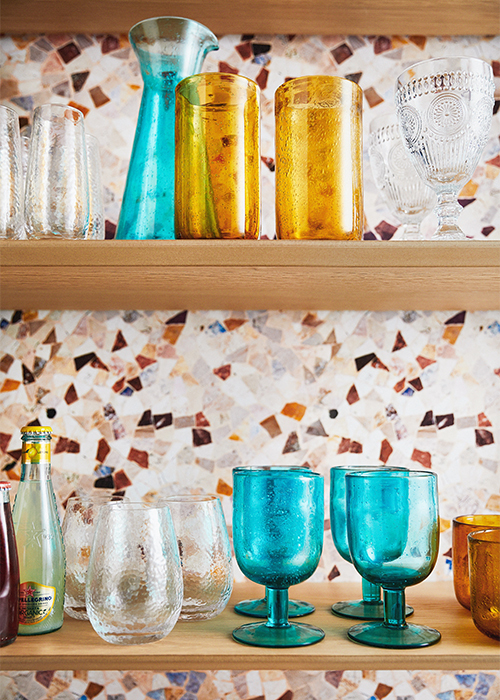 What is it about Australia that inspires your work?
I grew up on the Murray River and I've always been a nature nerd at heart and am most at home when I'm outside. The beauty of this country is that you can go on a road trip and pass through so many different landscapes – from rainforest to desert to coast – within a short space. The colours can be rich or sun-bleached and evoke so many emotions in an instant. Also, living in Melbourne for many years, I love our cultural mix and the city's passion for food. Food always was, and always will be the glue that brings people together. So, for me, creating a tabletop is playing a part in that.
Shop our range of Ecology homewares now. NB. The Ecology brand was developed in Australia and the brand is Australian-designed, however it is not Australian-owned.