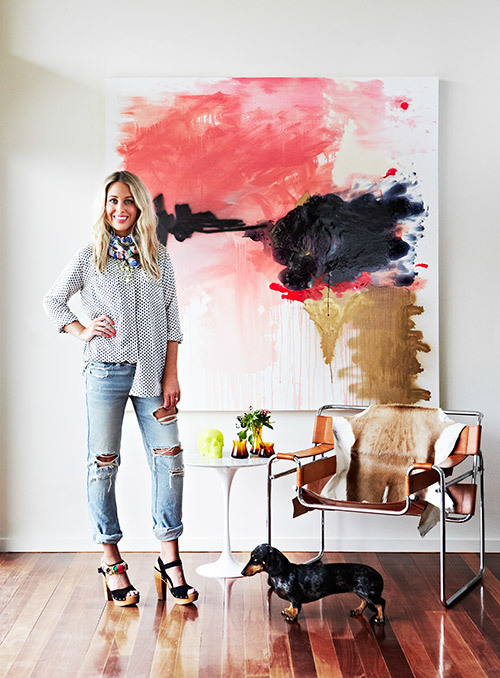 Our Australian Art Series continues with Victorian artist Prudence Caroline, whose joyful prints are inspired by her experience of new motherhood and turning 30. We find out more about the big ideas and little details behind her creative journey...
Tell us a little about your background, and your path to becoming an artist.
I always had a passion for arts, but never thought it was possible to have a completely indulgent career as being a full time creative. So I studied makeup artistry and beauty then opened a salon, still painting in my spare time. After having work appear on the television series 'The Block' and in leading interior lifestyle mags, then joining Julia Green and her team at
Greenhouse Interiors
, I no longer had time for both!
Where are you based – can you describe your studio or work space?
My husband and I have just finished building a new home in Torquay. So I have a new studio that overlooks our central garden, although the floor is not so new looking anymore! I usually have a helper while I work - Greta, a mini dachshund, one of our three dogs.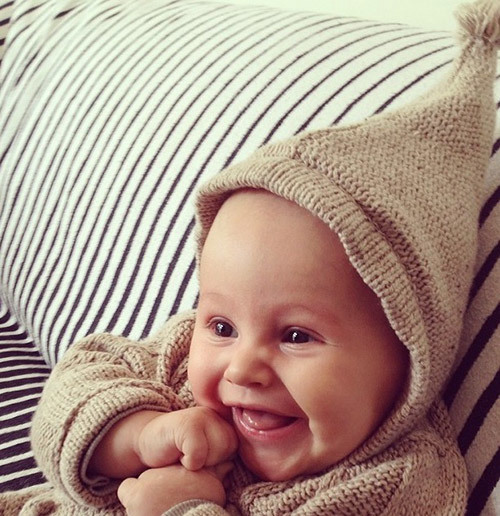 What does a typical day for you involve – where and when does your best work happen?
I start my day with an almond milk latte and a bowl of porridge shared with my 17month old, Teddy. When I'm not building Lego houses or chasing a toddler on the beach, I'll be in the studio. My best work happens when I'm mentally a million miles away from what's going on outside of the studio. Always with a candle burning and music humming, or blaring, depending on my mood (sorry neighbours).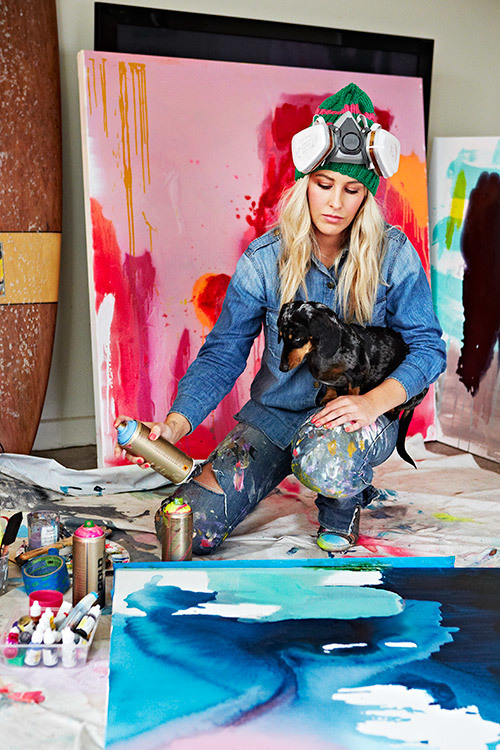 Tell us more about your art – what materials do you use, and what do you like about it?
I use mixed media, whatever is in reach, which gives me a lot of freedom. Although mostly I use layers of acrylic and a little resin just to create texture and depth.
How would you describe your collection of prints?
My most recent series was creating within 6 months of turning 30 and includes a few different pieces. 'Station 30' is the cover piece for the series and describes my love-hazed first year of motherhood. 'Make love not raw' is a play on words about Teddy's passion for lions. 'Little boy bubblegum' is a pure piece - a blue sunlight sky with a candy sweet name to match. 'Freckles of a honeybee' is about the tiniest things that can bring so much happiness.
How are prints created from your original paintings?
The original painting is professionally scanned, digitally colour corrected then printed onto heavy, thick, archival paper. I sign and number each print.
What framing do you recommend for your prints?
I'm enjoying experimenting with framing at the moment. I just framed a 2.7 x1.5m piece in a 15cm gold frame. I love the contrast between modern abstract art and the antique look gold leaf frame that looks like it's just been pulled from Le Louvre. But, to let the art do the talking, you can't go wrong with a Tasmanian Oak frame.
What do you hope your art will add to a home?
I hope it will brighten a home in both colour and mood and in turn put a smile on the faces of those that live with it.
Explore our online gallery of Prudence's art.