​Her unique use of pattern and lashings of vibrant colour has made
Anna Spiro's
interior decorating style instantly recognisable. And with no shortage of enthusiasts keen to tap into the Brisbane-based designer's joyful aesthetic, what started as a homewares store has evolved into a dedicated
interior design firm
,
textile company
and
online store
. Anna has also published two books along the way, and to celebrate her latest release,
A Life In Pattern
, we caught up with the style expert to learn how we can all bring a little more joy into our homes.
​
​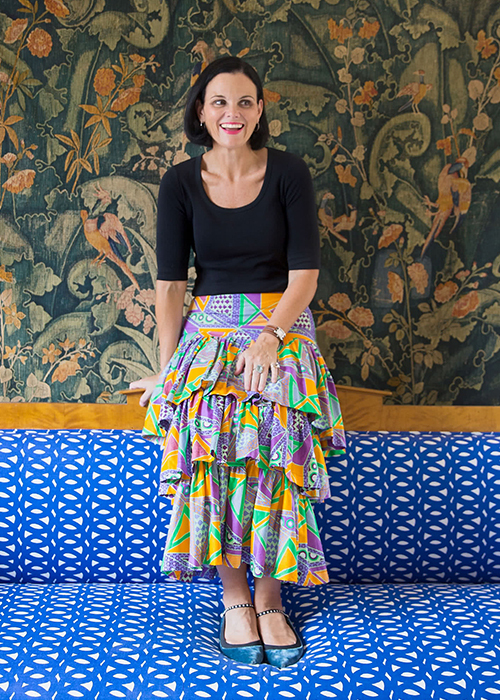 Interior designer Anna Spiro champions vibrancy in the home.
​How did you discover your love of decorating and land on a signature aesthetic?
A love for decorating and design has been part of me for as long as I can remember, and I have many memories from my childhood that have subtly shaped my design aesthetic. Hours spent with my mother and grandmothers taught me lessons about colour, fabric, flowers, drawing, cooking and style. Upon embarking on a design career fresh out of high school, I was fortunate enough to learn invaluable skills from a renowned interior designer with who I worked for several years before I honed those skills into further developing my individual style.
​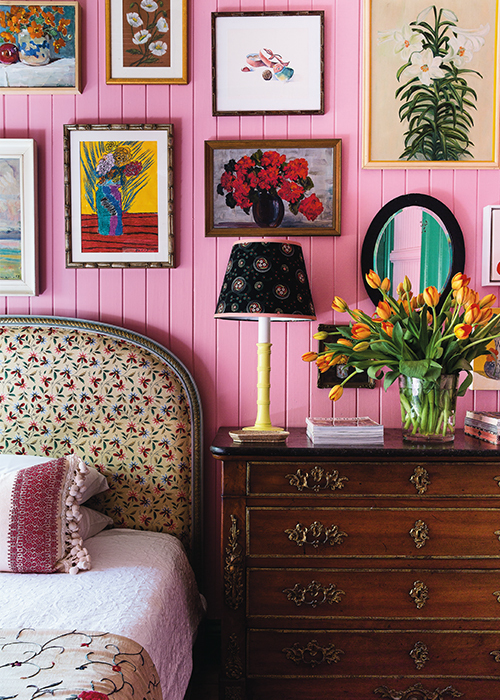 A playful bedhead delivers print to the bedroom.
​
Talk to us about using colour and pattern in the home.
Colour and pattern are the foundations for creating a comfortable home full of interest, happiness and unique style. If used properly, they can tie everything together and unify seemingly mismatched furniture and textiles. Repeating and referencing colours from a similar palette within a space will harmonise the overall look, while still allowing it to have a sense of quirkiness, joyfulness and style.
Why is it important for homes to be joyful?
Our homes are a refuge from the world—a place where we can just be, whether that means a quiet retreat or a space bustling with family and friends taking time out to connect. In an ever-changing world, I find it increasingly important to embrace those joyful moments, with our homes providing the perfect backdrop.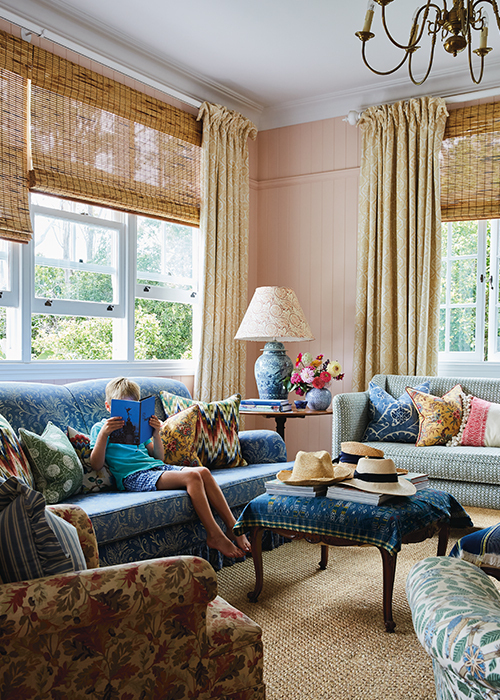 Cushions are an easy way to experiment with colour and pattern.
How can we start bringing colour and pattern into the home?
Start with a piece of art or textile that you love, and begin by choosing other pieces, fabrics and textiles that reference its colours, textures or patterns.
Use a range of pattern designs and scales: I like to mix large multi-coloured florals with small ditsy patterns, geometric shapes, stripes, checks and always a few textural plains thrown into the mix for some breathing space.
Layer colour and pattern with grounding elements such as a natural sisal rug or antique furniture to dull the impact of colour, as too much can be a big mistake.


Layering is key to your style—do you have any tips?
Layering is the key to adding interest and excitement to rooms, and your unique collection of pieces can make your home and space feel very individual to you. A few ways to bring layers into a scheme include:
Incorporating traditional rugs or sisal rugs into a living area to add warmth and texture.
Using patterned cushions to add interest.
Styling décor objects such as rattan trays with books and flowers to add a sense of character.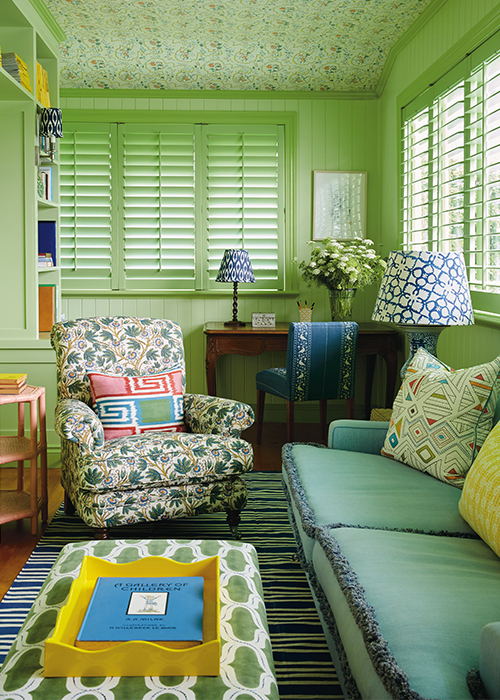 Decorative trays layered with books bring character to a room.
You run a textile business as well as your design studio—where should we incorporate textiles in the home?
Textiles are probably the most important aspect of my designs and can be the element that forms cohesiveness in an otherwise unpredictable mix.
Throw cushions
are an easy place to start when it comes to adding colour and pattern via textiles, and
lamp shades
can really bring a space to life with the right fabric.
A cohesive colour palette ties two distinct patterns together across wall art and a table lamp.
You've said that your style defies dull yet respects classicism—how can we achieve the same balance?
The essence of my style comes from combining pieces, whether they be modern, antique, or artisan, to form something harmonious yet interesting to look at. To achieve this, you needn't follow any one particular style but rather combine different elements. I love antiques and traditional architecture, but I also love modern
sculptures
and
art
, and mixing all of those things makes for a unique result.
​
How do you suggest we create environments that are truly reflective of our lives?
It is important to assess how you use your space and what function you would like it to have—everyone has very different needs in terms of how they use their environment, and a one-size-fits-all approach never works. Every home should also reflect the personality of the people residing in it and tell the story of our lives by showcasing things collected along the way.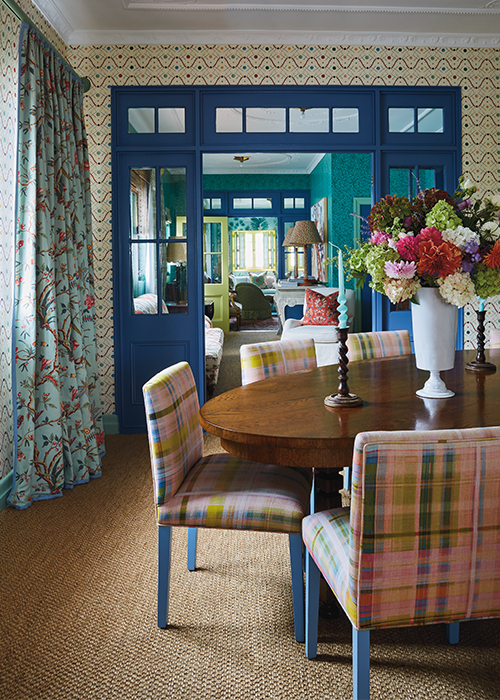 ​
Brightly upholstered dining chairs invigorate a traditional table.
​
Where do you find inspiration?
I follow a lot of great people on
Instagram
and buy lots of magazines—English
House & Garden
and
World of Interiors
are my favourites.
Where is the most inspiring place you've travelled to?
Everywhere. I find inspiration in everything I see—there are inspiring colour palettes in nature, cities, and beachside towns. If I did have to choose a favourite place to go to other than my home on Stradbroke Island, it would be Italy. I love Italy.
How are you tapping into current trends at the moment?
If anything, I prefer to go the opposite way of trends. I'm always looking for things that aren't trendy.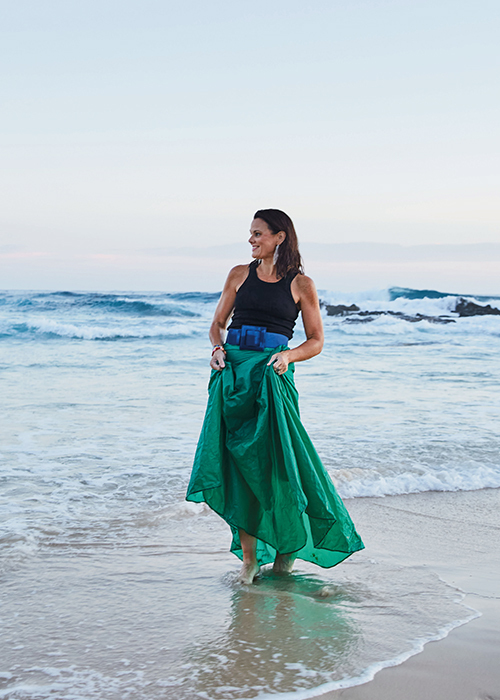 Rather than follow trends, Anna Spiro finds inspiration in the world around her.
Rapid Fire:
Linen or velvet?
Linen.
Stripes or florals?
Both.
Favourite colour?
All of them.
Favourite memory?
Being at the beach with my two sons.
Favourite project you've worked on?
The
Sorrento Beach House
. It's my favourite project ever.
This year I want to…
work less, take on less and live a little more.
Words to live by…
"Never give up, always get back on the horse and try again." My mother always used to say that to me, and it has stuck with me my entire life. When I'm feeling down about something or if something has gone wrong, I say those words, and it always helps me keep going and striving for my goals.
All images courtesy of A Life in Pattern by Anna Spiro, published by Thames & Hudson Australia, $90.00, available now.