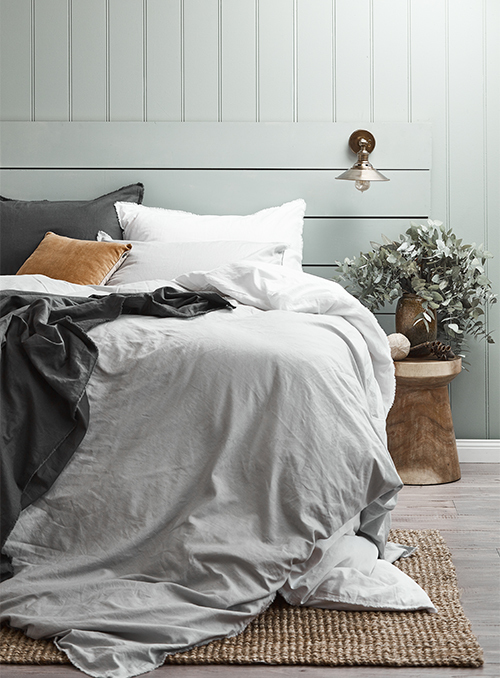 Creating a dreamy sleep space is easier than you think. The key is to begin with quality basics, then personalise the look with your favourite accents. Oh, and did we mention that we have the perfect basics right here for you in our exclusive new Bed by Temple & Webster collection? We're just a little bit excited to share this beautiful range with you.
1. Choose your palette

"I'm a sucker for heavenly white bedding," says T&W Head of Styling
Jessica Bellef
, "especially when it's elevated with a subtle detail, like the
Bed by Temple & Webster Frayed Edge Quilt Cover
. The beauty of a white quilt set is its versatility – with the addition of a printed cushion or a coloured sheet set you can easily change the look of your space." Greys – from pale dove to smoky charcoal – are another popular neutral base to build your bedroom look, and you can also work in trend colours such as delicate blush pink or rich yet calming indigo. The colours in the Bed by Temple & Webster palette are all designed to mix and match, so you can bring in a few colours that work together on the bed and then accessorise.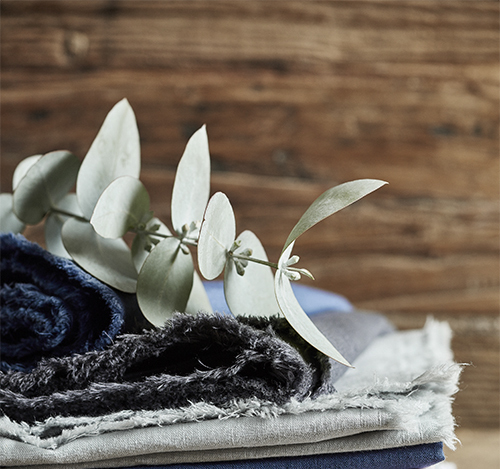 2. Materials matter

Softness, durability and breathability are what you should look for when choosing bedding. Classic cotton sheet sets are the ideal easy-care base to build your look – consider both quality and thread-count.
Bed by Temple & Webster Sheet Sets
are available in 300 thread-count, making them a cool choice for summer. Classic linen is favoured for its on-trend look and luxe texture that softens with use, as well as its thermal properties. The
Bed by Temple & Webster Waffle Quilt Cover
and Frayed Edge sets capture the best of both worlds with a linen-cotton blend that's both lightweight for summer layering, and more affordable than pure linen.
3. Focus on texture

"The casual undone bed is where it's at this season," adds Jess. "Think lots of soft textures and loose layers – there's no place for hospital corners or precision pillow placement as we relax into summer." The gently frayed edges and tactile waffle weave styles of the Bed by T&W quilt covers are a great place to start. Texture is especially important if you're keeping the colour palette limited, as it's these subtle elements that will give depth to your bed styling.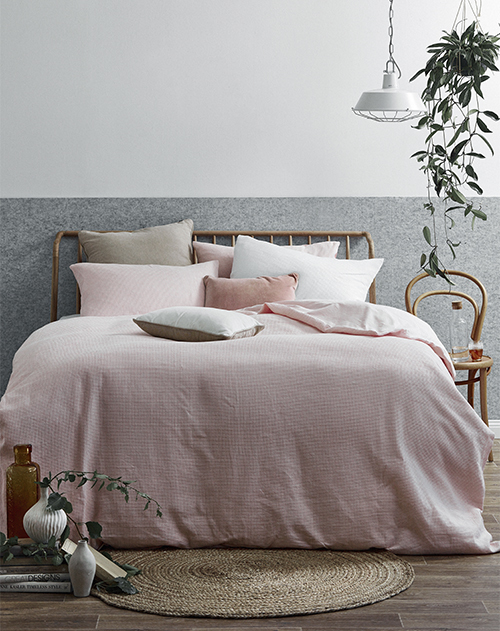 4. Layer your look

Now to add personality and visual interest. Start with throws in loose knits, with pompom edging or in tactile velvet. People have strong opinions on how many extra cushions belong on a bed, but if you're in the 'yes' camp, European and throw pillows are the way to work in prints and colours with your muted bedding. Change it up each season, but keep the colour palette limited for subtle contrast and depth.
5. Add the finishing touches

You have the bed looking fabulous, so now use it to ground the rest of your space. Add an artwork over the bed, or hang a beautiful rug to act as a headboard. Place a jute rug or soft hide or sheepskin beside the bed for a soft landing, and style your bedside table with a small vignette including a bud vase, carafe or scented candle – to create the ultimate retreat.
Shop the new
Bed by Temple & Webster
collection, or shop all
bed linen
.
https://vimeo.com/195696167