Gone are the days of bland laundry rooms that serve their purpose without showcasing even a hint of style. The hardworking space should be approached with the same enthusiasm as any other room in the house, with decorative elements and practical touches that tick the form and function boxes. To get you started, we've rounded up 13 easy ideas that are guaranteed to transform your laundry room into a beautiful oasis where everything has its place.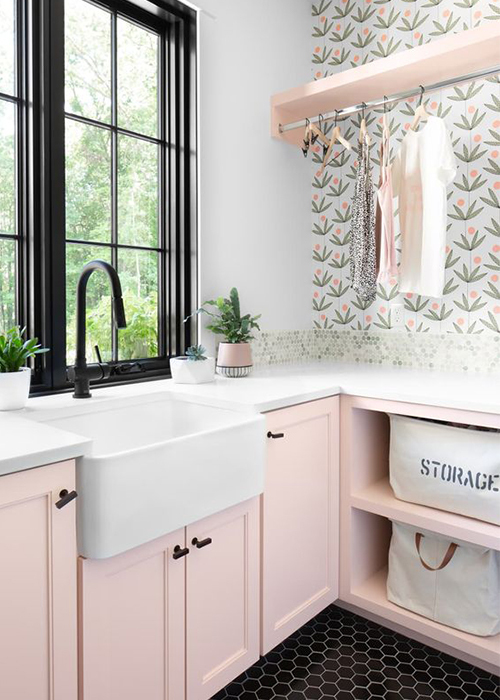 1. Choose a bold and beautiful colour scheme
Bold colours work well in smaller spaces, so don't be afraid to lean into an adventurous shade that you can splash across your laundry room for maximum impact. To maintain flow, choose a colour you've used as an accent in other parts of the house.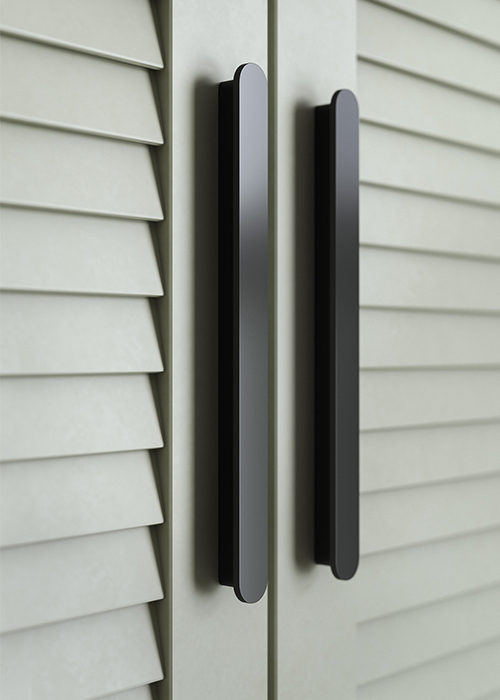 2. Create small flourishes with on-trend cabinet hardware
The finishing touches in your laundry room are just as important as the main features. Not only does chic
cabinet hardware
finish surfaces with a flourish, but it can also emphasise an on-trend colour or texture such as matte black or satin brass.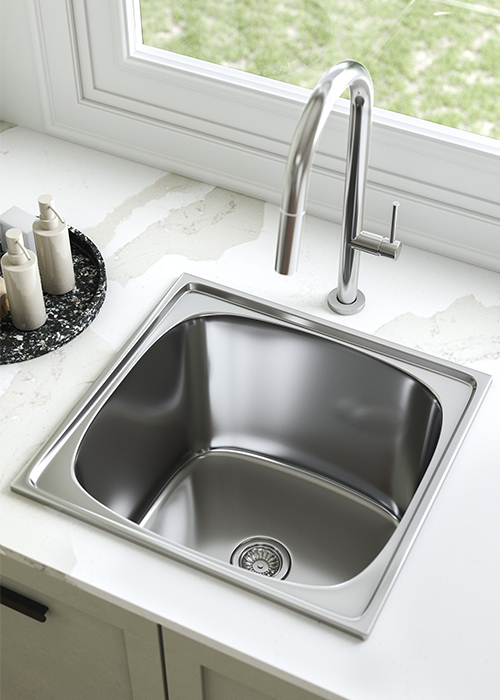 3. Go for a deep sink and practical tapware
A deep
laundry sink
is a must-have; practical for hand washing delicates to trimming freshly picked flowers. When it comes to
laundry tapware
, a
sink mixer
makes it much easier to control temperature, while a
tap with a pull-out spray
lets you position your tap with plenty of space between it and the sink and the option to manoeuvre it closer when needed.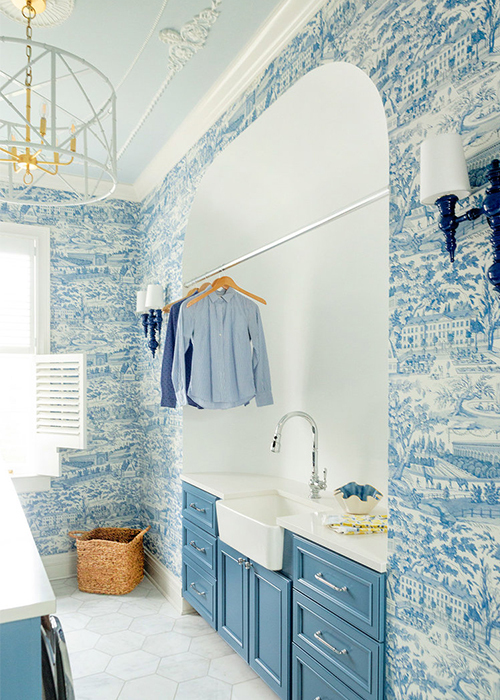 4. Use wallpaper to inject decorative flair
Ever wanted to give
wallpaper
a go? Your laundry room is the perfect place to start as there are fewer competing decorative elements. Instead, striking patterned wallpaper will bring energy to the utilitarian space.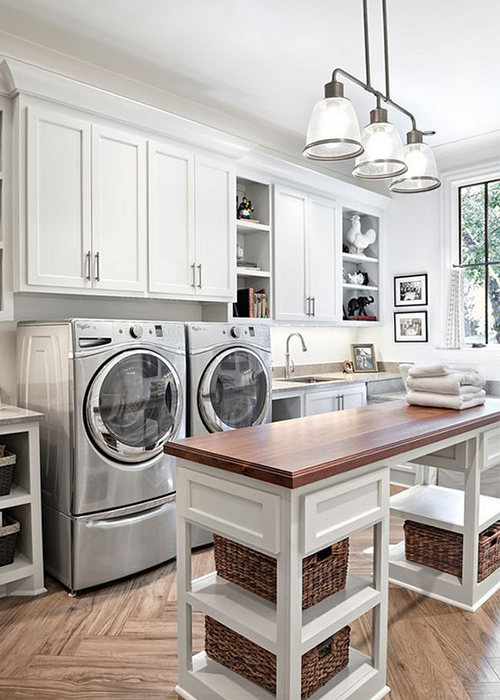 5. Add a floating island for extra bench space
If you have the space for one, consider adding a small
kitchen island
to your laundry room. It will create an extra workspace, including a smart spot for folding
bath towels
,
bed linen
and clothes.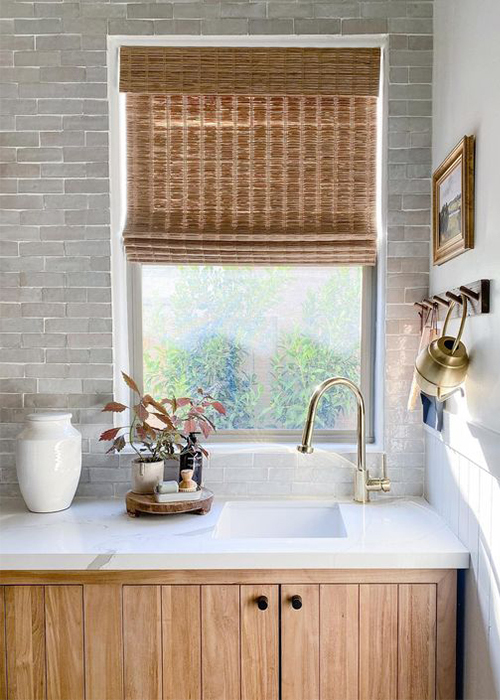 6. Build on your decor with blinds
Blinds
can block out harsh rays and tie a laundry room together—especially if the colour, pattern, or texture complements the other accents in the room.
7. Light up your laundry with a decorative pendant
You wouldn't think twice about installing decorative
lighting
in your dining room or kitchen, so why not your laundry? The addition of a striking
pendant light
will transform your space in a snap.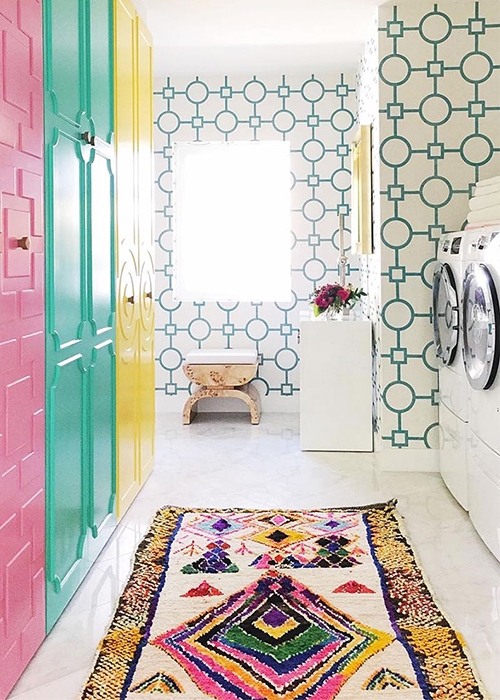 8. Lay down a rug for instant warmth
Laying down a soft
rug
can drastically warm up your laundry room, which likely features a cold tiled floor. If your space is long and skinny, simply look for a stylish
floor runner
.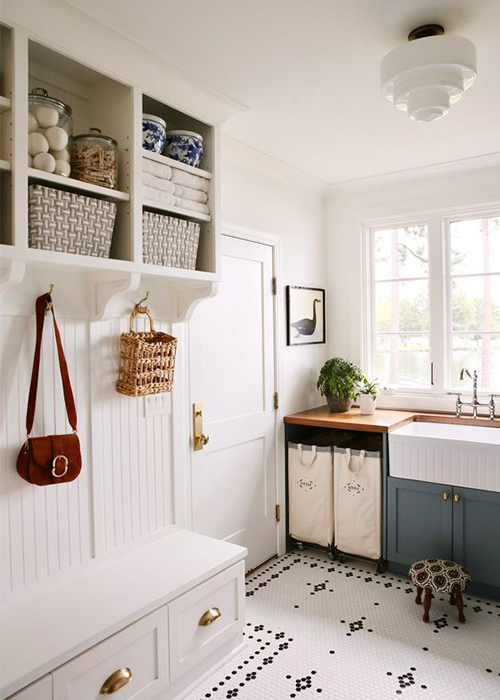 9. Make the most of your space with shelves and wall hooks
Overdoing it on the cabinetry can make a small space feel boxed in, but that doesn't mean you can't add storage in the form of
wall-mounted shelves
and
wall hooks
that make it easy to grab your most-used laundry essentials.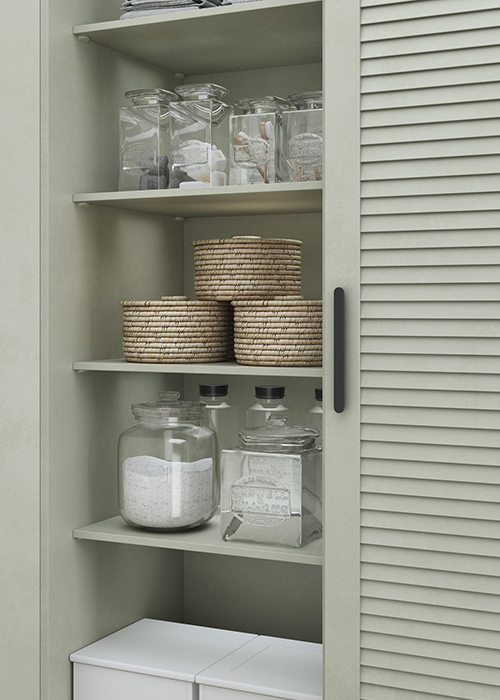 10. Organise essentials in canisters and on trays
Transferring the likes of laundry powder into chic
canisters
and hiding chunky items in
boxes and baskets
will instantly elevate the look of your laundry room. Grouping hand soap and liquids onto
decorative trays
is another easy way to curate practical pieces.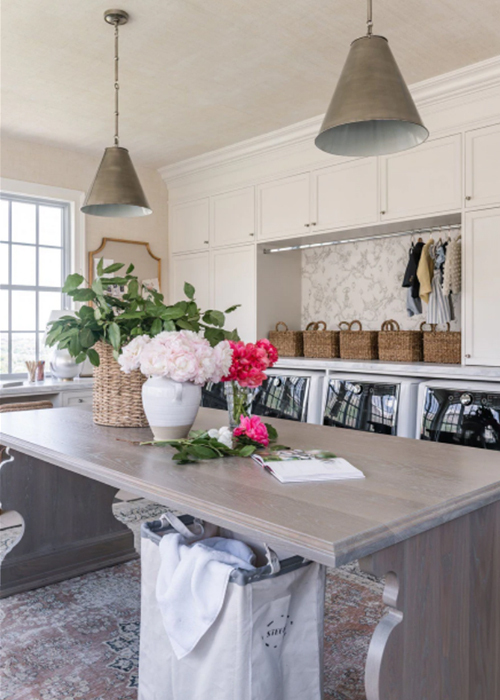 11. Incorporate a vase of fresh flowers
A
vase
of flowers makes an easy addition to any space, so treat your laundry room to a fresh bouquet. If you'd rather not rotate blooms, use
faux flowers
or
stems
for longevity that still looks great.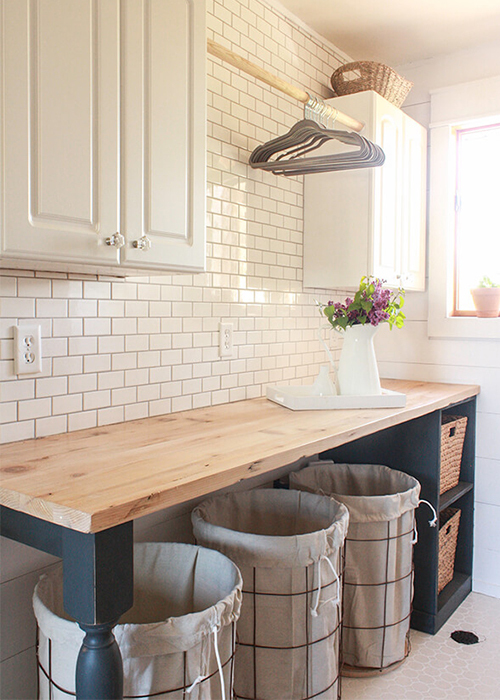 12. Invest in good-looking laundry baskets
There are tons of hardworking
laundry baskets
that are delightful to look at, so don't skimp on the practical purchase, which is likely to be on full display most days.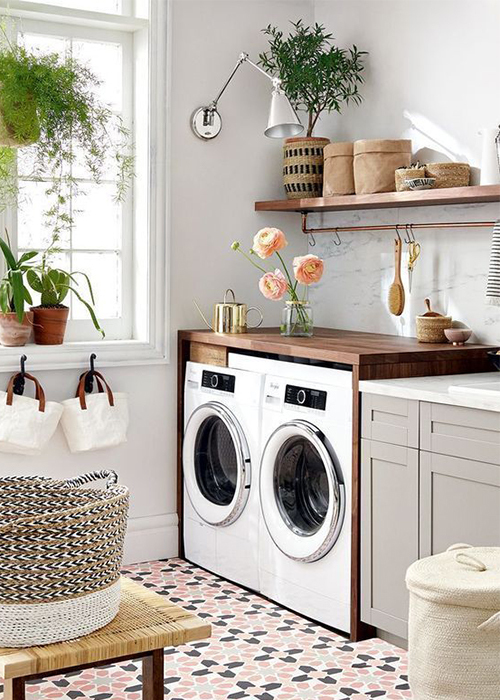 13. Fill your space with plants
Pops of
greenery
are guaranteed to brighten up your space, whether you line your window sills with
plant pots
, string
hanging pots
from your ceiling, or place a couple of small
succulents
by your sink.