The girls who get it, get it. Having a
dressing table
is a time and hassle saver when it comes to getting ready in the morning and storing a million and one different
beauty products
(because they all do slightly different things). It can be a struggle styling a dressing table to get that Insta-perfect look though, so check out these 10 ideas for some inspiration.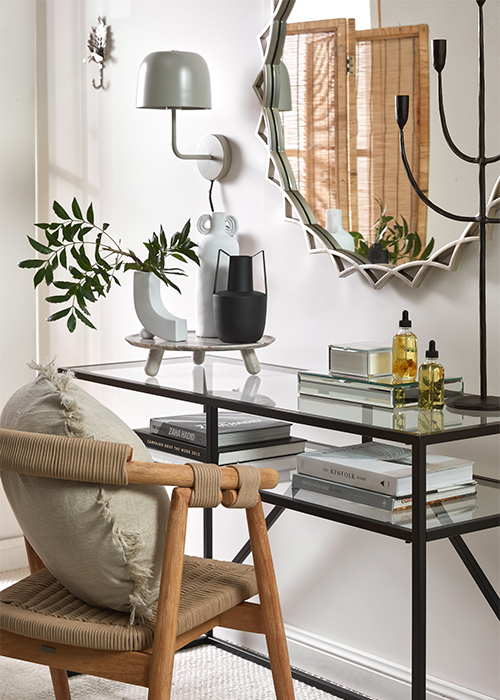 1. Where should a dressing table be placed in a bedroom?
The best place for a dressing table is ideally in front of a window so you get optimal natural lighting when prepping and preening for the day. If that's not an option, make use of an awkward corner or empty wall by turning it into a dedicated beauty space.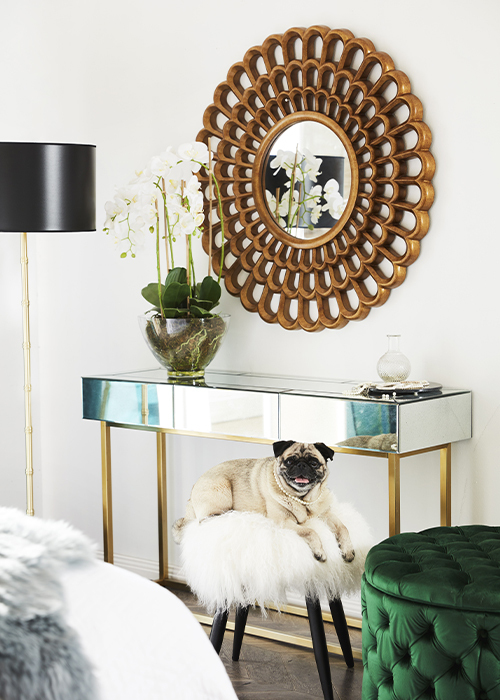 2. How to choose a seat for your dressing table
The seating you choose will help balance out the width of the table and the size of your mirror, so it's important to think stylistically as well as in terms of comfort. An
accent chair
or
dining chair
will give you more back support, but are bulkier and can be harder to navigate in smaller spaces. Upholstered
accent stools
or
storage ottomans
are great for tucking away when not in use and being comfortable enough to sit on for the amount of time it takes to get yourself ready. To amp up the glamour factor, go for velvet, faux fur or leather seating and black or gold metal accents. Choose a complementary colour to the dressing table for an understated and visually flowing look, or use a contrasting colour for maximum impact and wow factor.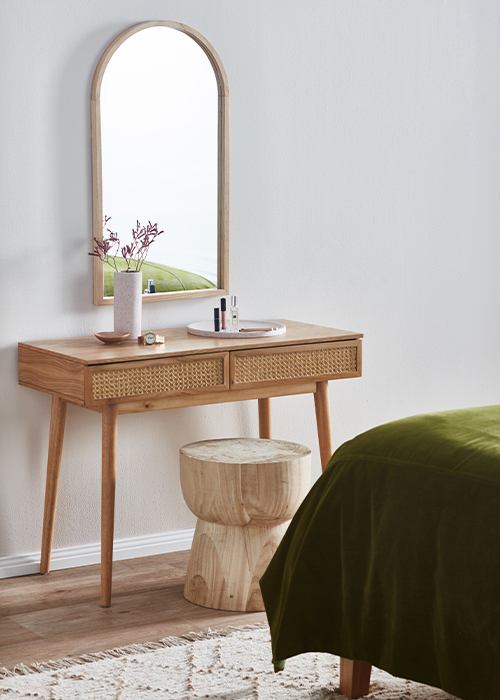 3. Finding the right mirror
This is the space where you want to have a bit of vanity. Whether you pick a dressing table that has a
mirror included
or you go for an alternative table option with a separate
mirror
, making sure it's the right shape and size to meet your needs is crucial. In general, your
dressing table mirror
should be between half and two thirds of the length of the tabletop and should sit high enough for you to see your face and hair completely. Clean lines and solid shapes, whether that be
rectangular
,
round
or
arched
, work well in contemporary and minimalist spaces, whereas themed rooms, like Victorian, boho or Hamptons, will benefit from a
decorative mirror
with an interesting shape and detailing on the frame.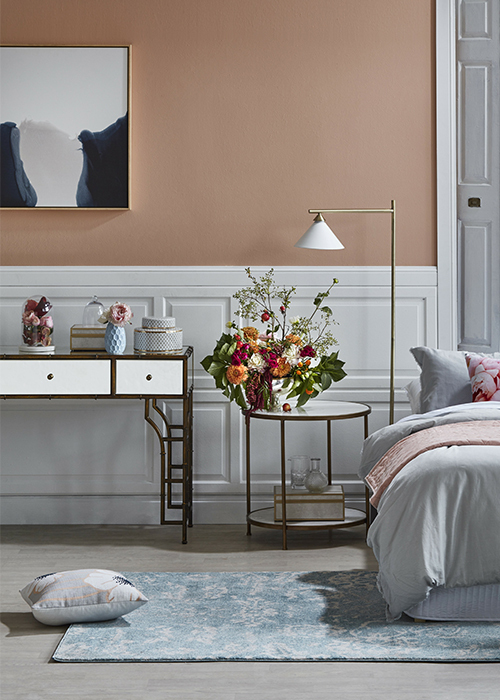 4. What makes a good dressing table?
It goes without saying that storage is an important feature of a dressing table. If you're a skincare expert, it's serums and creams galore. The makeup gurus will need ample space for palettes and bottles. Hair aficionados know how bulky devices and brushes can get. Keeping your items stored efficiently will give you a more calming experience and streamline your routine. Look for
dressing tables with drawers
to start and employ drawer dividers to categorise your bits and pieces. Bigger items can be tucked away into
boxes and baskets
underneath or next to your dressing table so they're still within arm's reach.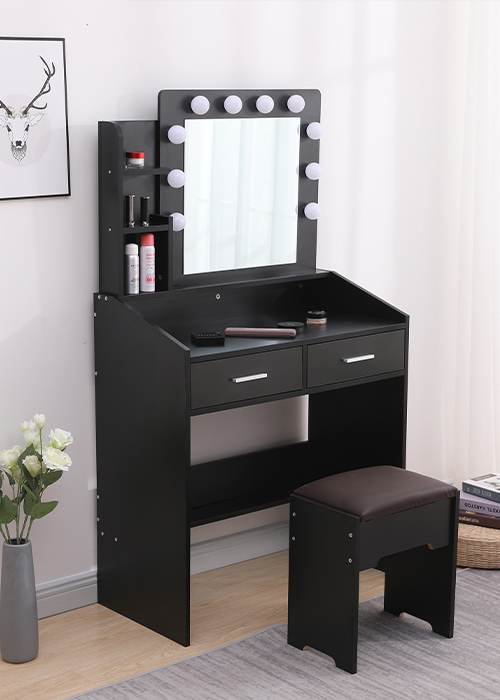 5. How to light your dressing table
If placing your dressing table near a natural light source isn't an option, or you need to be able to make full use of it when the sun goes down, you'll need the right
lighting
to have you looking your best. Some dressing tables may have Hollywood lighting around the mirror included, but if that's not your style, try to recreate this lighting technique as closely as possible. You can use linear
wall sconces
,
picture lights
,
bathroom lighting
,
LED strip lights
or a mixture of
table
and
floor lamps
to achieve this.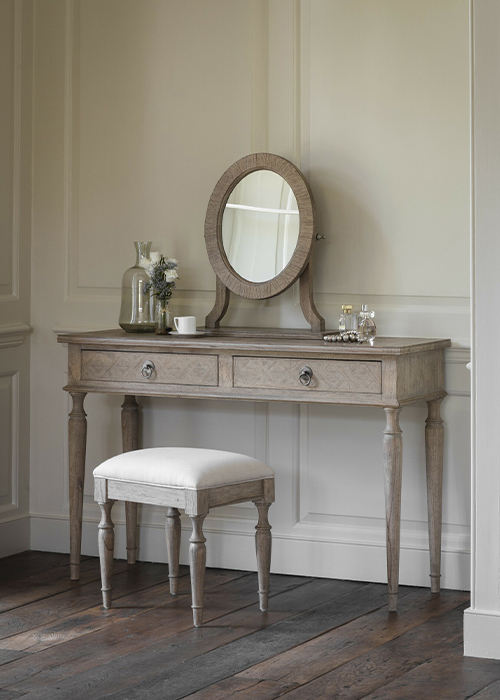 6. What do you put on top of a dressing table?
Less is more here. Keeping the top of your dressing table clear and free of clutter not only looks more sophisticated but gives you ample surface area to spread out your products when you're using them. If you're using
lamps
for lighting, place one at either end of the table for optimal lighting and symmetry, or have one to one side and a gorgeous
vase
or tasteful
statue or ornament
at the other end. You may even want to incorporate a small stack of your favourite books to add height and create a vignette. There's definitely room to include pieces that bring out your personality, but curate them carefully and keep them to a minimum.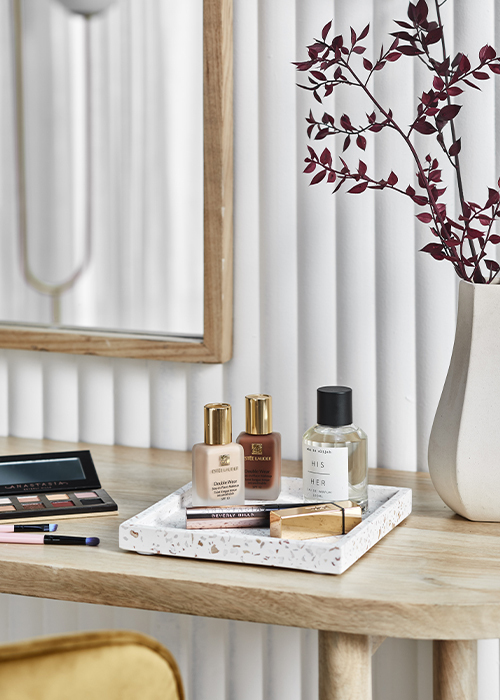 7. Making your organisation work for your style
You can easily keep your tabletop neat and organised while still adding stylish flair. Use
decorative bowls and trays
to display your go-to items, like favourite lipsticks or your daily jewellery. If you're a fan of switching up your look, opt for a beautiful
jewellery box
so your precious pieces don't get tangled up and you can easily see everything. Small
boxes
are also useful for any regularly used items that you may want to keep out of sight, like lip balm or hair clips.
Jars
and
toothbrush holder
s are a great option for containing makeup brushes so that they maintain their shape.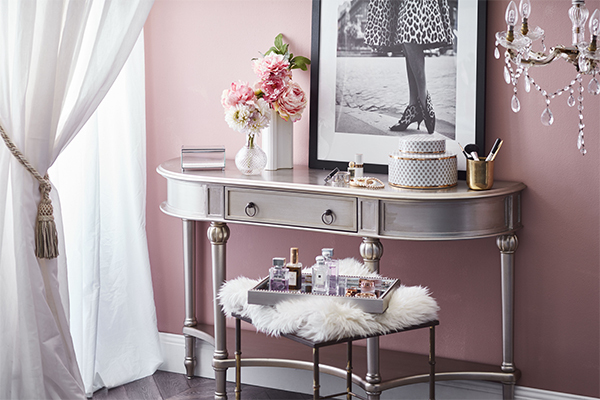 8. Curate your collections
A collection of similar items can create a sense of luxury, so show off your beautiful perfume bottles or crystal facial tools. Style them in groups of three to five (remember, less is more) and try to pick items that have commonalities like colours, shapes or materials. Choose these based on the style of your space, so your tablescape doesn't become jarring, and play with height to add visual flow to the room.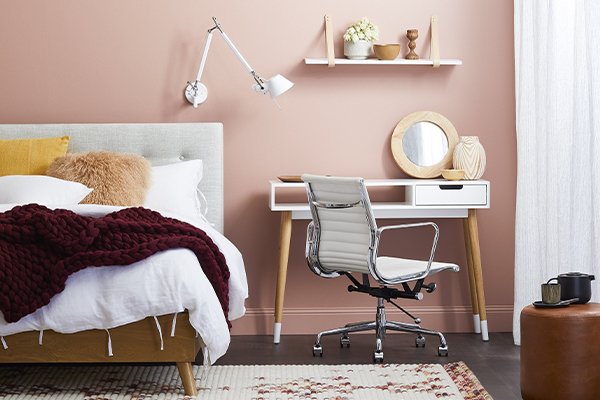 9. Extend your styling upwards
Dressing tables are meant to be sat at, so depending on how tall your mirror is, they can leave a fair bit of empty wall space above them. Incorporating a piece or multiple pieces of
wall art
to the side or above your mirror can stop the space from feeling a little short and stumpy. You can also add
wall shelving
above your mirror which gives you the added bonus of extra storage and can be beautifully styled with faux
plants or flowers
and your favourite items. You can also add visual interest with
wallpaper
to really make your dressing area pop.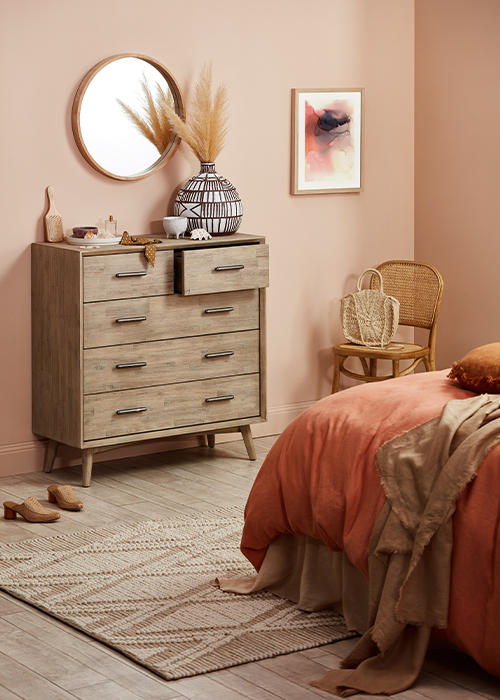 10. Don't be afraid of using multifunctional pieces
You're not limited to dressing tables to make a dressing table area. Use a
desk
and make it a multipurpose space with a mirror that you can easily put away between uses. If you don't spend that much time in front of the mirror, just add it to the top of your
chest of drawers
, utilising the top drawers for makeup, skincare and haircare storage and the rest for clothing. A
console table
can also work well if you don't need as much storage space, and a
sideboard
is ideal if you need much more. You can even convert a
bar cart
into a roving dressing table so you can take it wherever the lighting is best and pack it away neatly when you're done!