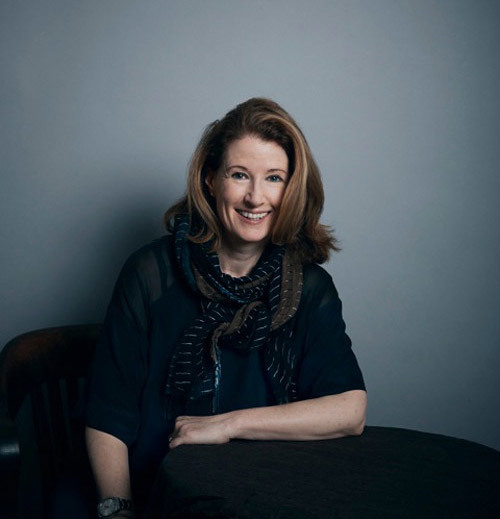 This month, we're talking about collecting the things you love, and using them to decorate your space (have you entered our. To kick off the conversation, Editorial Director Karen McCartney shares her passion for timber stools...I collect
: It is really a joint collection with my husband
David Harrison
, of timber stools – vintage, new, design classics, crafted, modernist, cheap and expensive. We are drawn to them because there is a great deal of discipline in the design of a stool as it is such a fundamental form and yet within it there is such inventiveness.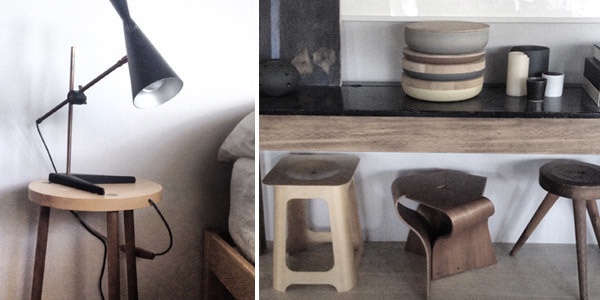 The 'Bucket' stool (left) is made with a real bucket handle and broom handle legs. It was designed by Carl Clerkin in 1999 and made by Details. On the right, three stools including the Isokon stool (on left), designed in 1933 and reissued around 2000; a teak Mushroom Stool (centre) designed by the Yamanaka Group in 1961 and made by Tendo Mokko Japan; and a hand-made French country stool (right) found in a vintage store in Sydney.The collecting bug bit me when:
The first designer stool we bought, about 15 years ago, was a
Yanagi Butterfly Stool
. It is a beautiful sculptural object which is surprising comfortable to sit on.
The collection evolved with:
The Tendo Mokko 'Mushroom' stool with its remarkable sinuous form (we were on a bit of a Japanese theme) and shortly after it was joined by the Isokon stool, from
Isokon
Britain's first modernist furniture company. It was designed in 1933 and is remarkably light (1 kilo) but strong. Many of the stools have been gifts – I even brought one back from the UK on the plane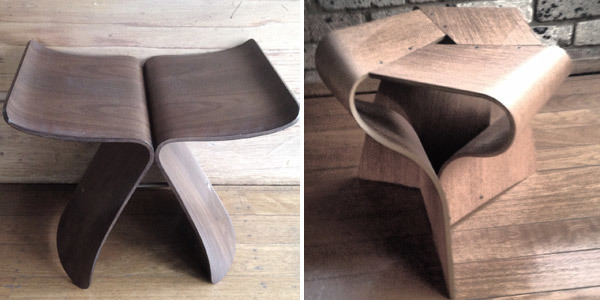 The Yanagi Butterfly Stool (left) is a sculptural classic, designed in 1954 using a method of shaping plywood to create a delicate 'wing' like form. The Mushroom Stool (right) was designed by the Yamanaka Group in 1961 and made by Tendo Mokko JapanMy current obsession is:
I love the
ML42 stool by Mogens Lassen
(Danish from 1942) but in modern stools I really like the
'Ipsilon' stool by Rodrigo Torres for Poliform
from a few years ago and the 'Affi' stool by
Giulio Iacchetti
for his brand
Internoitaliano
. You can see I am a sucker for wooden stools and in particular those three leg varieties. I also have a longstanding yearning for the
Poul Kjaerholm PK33 steel stool
with a slim circular leather seat pad.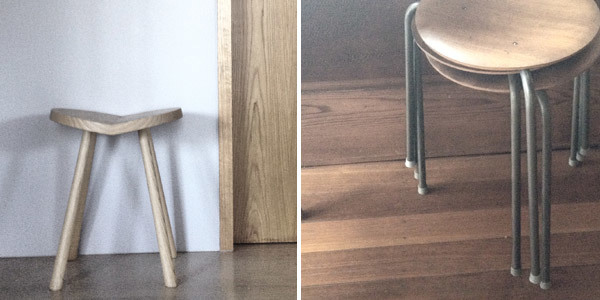 The Ulrik stool (left) in ash is by British designer Alex Hellum for SCP. These generic Danish moulded plywood stools stack simply and beautifully, and we use them as additional seating and little side tables.The thing I most regret missing out on is:
A set of vintage Charlotte Perriand stools at auction. These were originally designed by Perriand for an alpine resort in 1949 but were later sold by Steph Simon Gallery in Paris in the 50 and 60's and are a combination of a country milking stool and modernist simplicity. They have recently been reissued by Cassina so we may end up getting one of these as vintage ones fetch a tremendous amount these days.
My favourite find is:
There are such characterful pieces forming a little family of siblings – the same but different – some are more beautiful and some more useful but all are equally loved and so I would feel bad singling one out as a favourite!
Share your own collection on Instagram or Facebook or send a picture by email to editor@templeandwebster.com.au. Use the hashtag #collectcreatedecorate for your chance to win a weekly prize.
Competition closed.