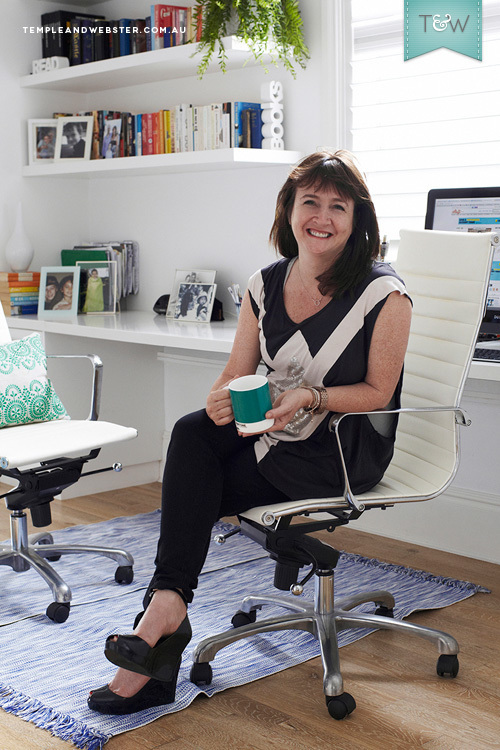 You might have noticed that we're all about getting organised this week, with lots of stylish storage solutions featured in our
sale events
. We're focusing on being clever about the changes you make, and with that end in mind our creative team recently visited Lana Hirschowitz, the Managing Editor of
iVillage.com.au
to carry out a mini makeover on her home office.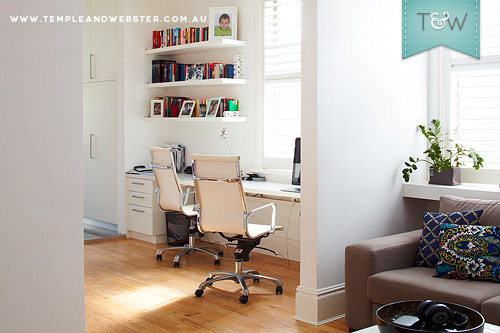 Lana's home office presented a beautifully blank canvas, and was already admirably organised. It's hard to believe this is a before shot. 'I don't work from home,' says Lana, 'but spend far too much time working at home after hours. Both my husband and son use the study. In fact we created the room in the centre of the house so whoever was working would be part of the buzz in the home - and also to keep an eye on my son's internet activity. I feel safer knowing that he is accessing the net in clear view of the family and any passers by. He's 11 now - how long that will last is another story.'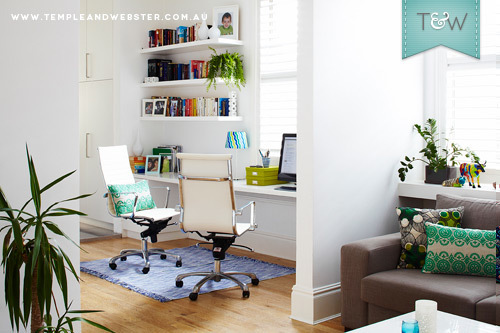 Spot the difference - our creative team focused on making small changes to bring life to the space. One thing Lana's home office had in abundance was white, so adding colour was a priority.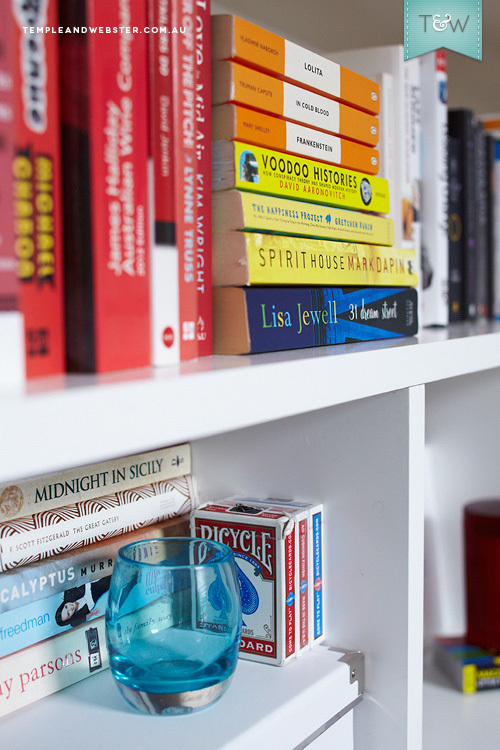 Stylist Jessica Bellef organised Lana's book collection into colour fields to maximise the density of the colour pops. Did someone say obsessive compulsive?
Jess recovered a fairly unremarkable lamp with some colourful fabric to bring the colour pop down to the white desk, and positioned a bright patterned cushion to break up the white of the chairs.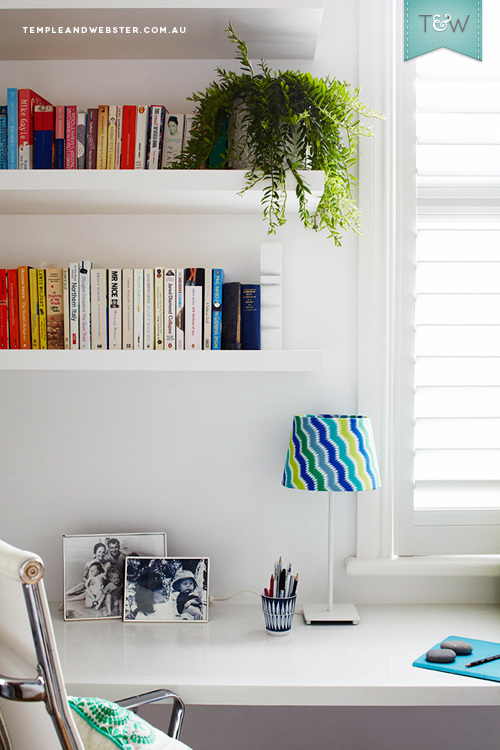 Our Creative Director's often misplaced mantra of "why not add a plant" was not so misplaced on this occasion. Minimalism can sometimes teeter on the edge of feeling empty, so bringing some greenery into the space brought a soft touch of life into the room.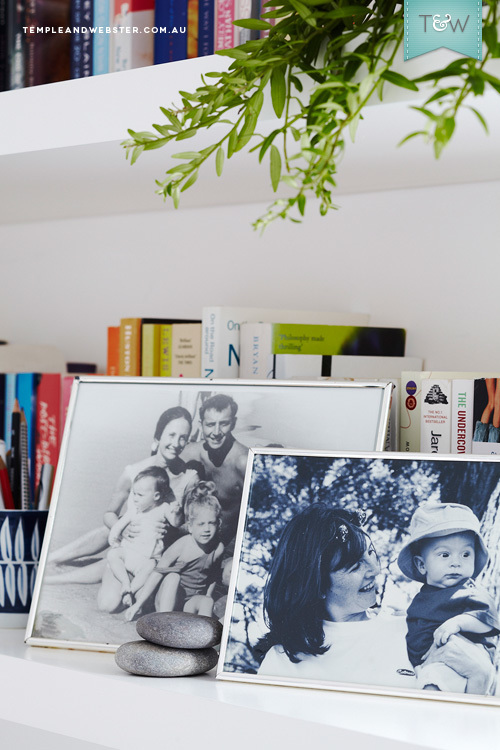 You never want the styling to take over from the personal touches that make a space special. We decided to give the beautiful portraits of Lana's family pride of place on her shelves and desk.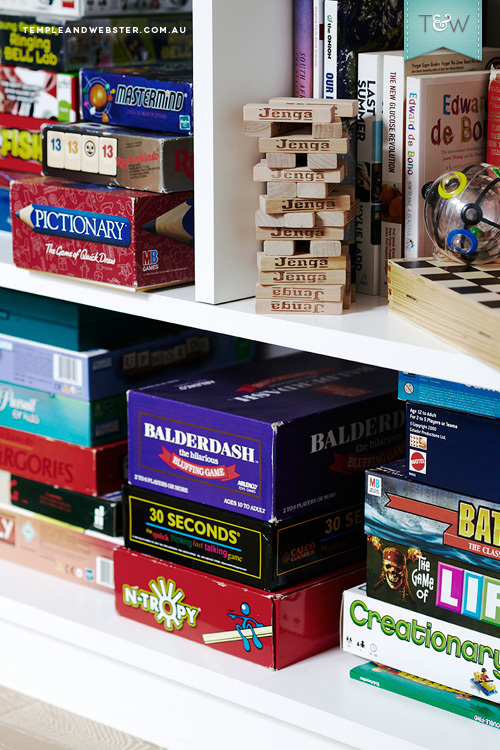 We rearranged their board game collection to highlight the beauty of a family who plays together, stays together. Plus, we did get rather obsessed with that Jenga tower.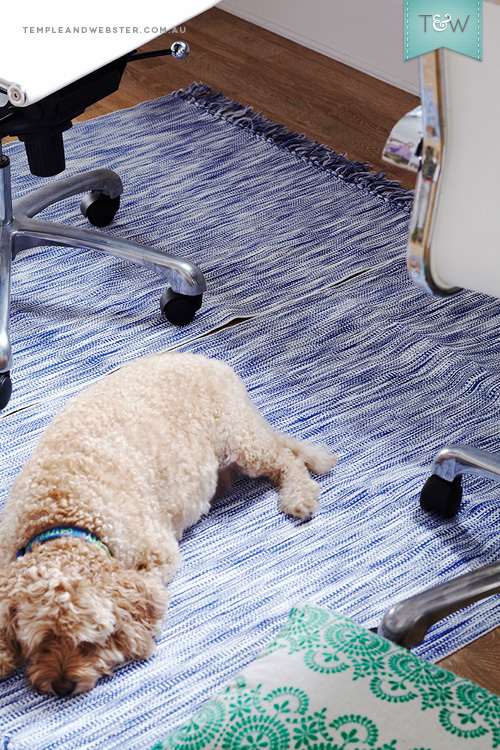 If The Big Lebowski has taught us anything, it's that a rug can really tie a room together. Since Lana's office lives between her lounge room and the kitchen, we added a medium sized rug to allow the office to claim its own floor space and be a room in its own right. It also gave Henry a soft spot to get comfy.
Lana's verdict? 'I love the result. I am quite an organised person and little touches like colour coding the bookshelf appealed to my sense of order and aesthetic. It really made a big difference to the impact of the room and the way I feel when I am in it. The overall feel of the room is fresher and, even though it seems completely at odds with the fact that other people decorated it - it seems more personal. The photos of my family really complete the feel I had wanted to create myself"
Photography - Denise Braki. Stylist - Jessica Bellef. Words - Jessica Bellef & Chris Deal
Inspired to get organised? Get yourself stylishly sorted with this week's sale events.