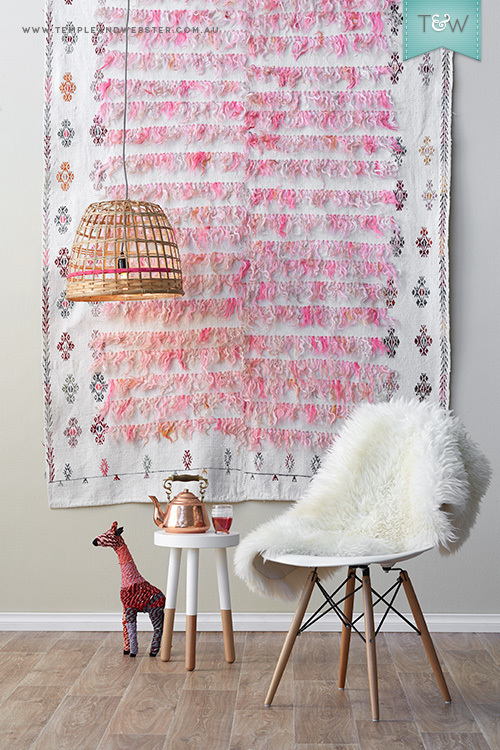 Image - Denise Braki. Styling - Adam Powell.Today's exclusive Cadrys sale event is special on several counts. It is also close to the heart of owner Bob Cadry who, as you can imagine, knows a thing or two about the subject. Karen McCartney asks him 'why buy vintage'?
This is my kind of sale. I am irresistibly drawn to all things vintage. I love the sense of history inherent in objects that have lived another life, come from another culture and represent something truly unique and irreplaceable.
Bob is an expert on all things rugs and it is clear the he has a deep understanding of the appeal of these very special vintage pieces.
'The charm of a rug woven on looms long lost is that it represents a style of weaving, and unique dyeing techniques, that have changed over time. As with our admiration for vintage furniture, we appreciate the craftsmanship, and the artistic integrity of an era more as time passes', he says
There is no doubt this sale has been curated to reflect a broad range of vintage rugs at all price points with representations of tribal weaving across regions including Afghanistan, Morocco, Turkey and Iran. "I appreciate the unique patterns and symbolic motifs that often have talismanic meanings to ward off the evil eye or to bring good luck', says Bob.
"These rugs often feature plants and animals illustrating the desire of the tribal weaver to bring warmth, charm and the beauty of nature into the home or tent – using things at their fingertips such as hand spun wools', explains Bob.
Moroccan tribal rugs have no pre-drawn plan and so their beauty comes from their asymmetry and the natural imperfections of being a handcrafted item. It is clearly a form of artistic expression with the weavers using traditional techniques and skills – each will never be repeated.
Bob praises the way the colours have mellowed and faded over the years creating a muted character, often very different to the brightness of freshly dyed yarns. 'Some are vegetable, natural dyes but others use chrome dyes which have a long history of use going back to the 1890s", he days. These designs have stood the test of time and have gained a wonderful patina that marks them out as a one-off vintage piece.
This sale also features some pieces that have been contemporised through interesting artistic embellishment. Vintage yurt weavings were traditionally woven with strands of goat's hair and wool in natural tones but in this instance the treatment has been updated with angora wool dyed in hot pink and mint green, bringing together the best of the old and the new worlds.
So how to choose? Bob's advice is to listen to your heart. 'Find which design touches your soul, resonates with you and reflects your personality'.
But what if you want them all?
FIVE FAVOURITES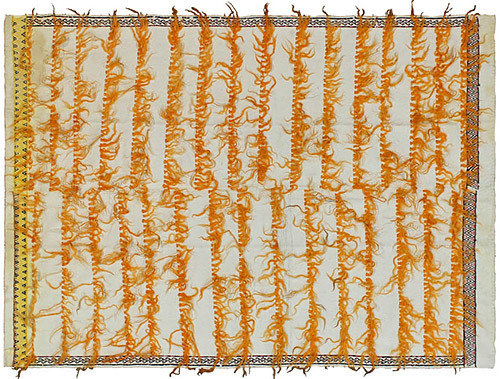 1.
Turkish traditional yurt lining
embellished with dyed angora wool for a contemporary feel. As well as looking beautiful on the floor it makes a lovely wall hanging.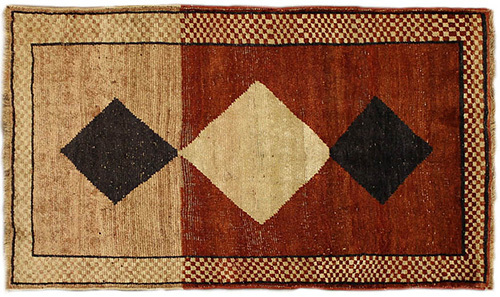 2.
Southern Persian tribal rug
in a simple geometric pattern in natural shades. The beauty of many of these rugs in their contemporary design even though they were created many decades ago.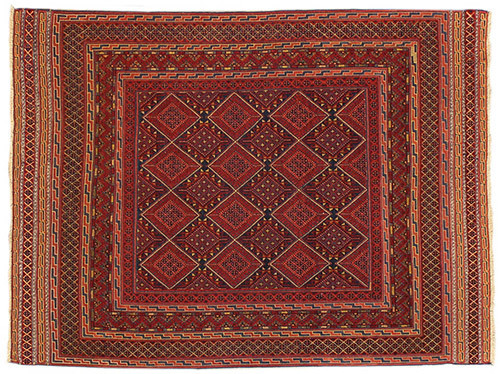 3. This
mixed-weave Afghan rug
mixes a kilim and pile weave in a richly coloured detailed geometric pattern. Simple angular designs are typical of tribal rugs while more curvilinear patterns are the territory of rugs produced in more urban areas.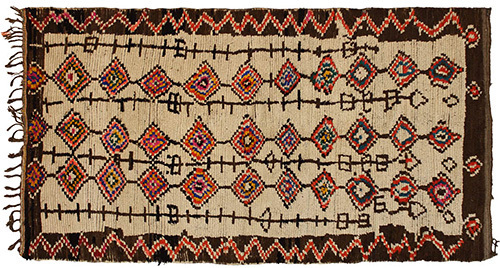 4. A distinctive
Moroccan rug
from the Azilal tribe is the very best of handcrafted design.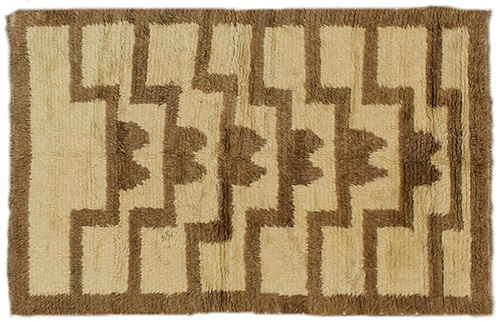 5. An all wool
Eastern Turkish Tuly rug
, with long fibre yarn and a stepped, almost architectural design. Many of the wools are natural and undyed retaining the texture and personality of the original wool.
Find your own favourite vintage rug - visit our Cadry's sale event.