Our new T&W stylist and creative crafter Allira Bell shows us how to deck the halls with two gorgeous wreaths. A shortcut floral option for the time-poor, and a woven wool beauty in white and gold that will last for many Christmases to come. Find everything else you need for a festive entryway here.
You can tie in this shortcut wreath to the rest of your festive theme simply by adding a few extra elements. Here I've brought in the native foliage and flowers that we've used in our Christmas House – the pop of red against the green is a modern play on traditional festive colours. Plus you can refresh the flowers through the season if needed.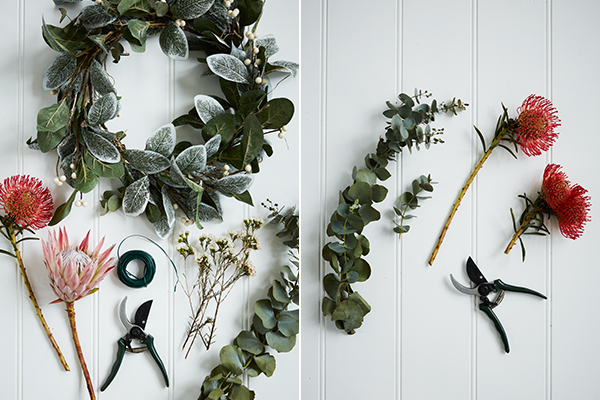 What you'll need:


A ready-made synthetic wreath (we used the Eucalyptus with White Berry Wreath)


Secateurs


Garden wire


Australian native foliage and long-lasting flowers in large and small sizes – we used 4 x dollar gum branches, 1 x proteas and 2 x pincushion flowers, plus sprigs of Geraldton Wax flowers


Step 1:
Use the secateurs to cut the garden wire into 10-15cm lengths, then to trim your foliage and flowers to the desired lengths. Longer stems work well for the foliage, while shorter stems will allow you to secure the flowers easily.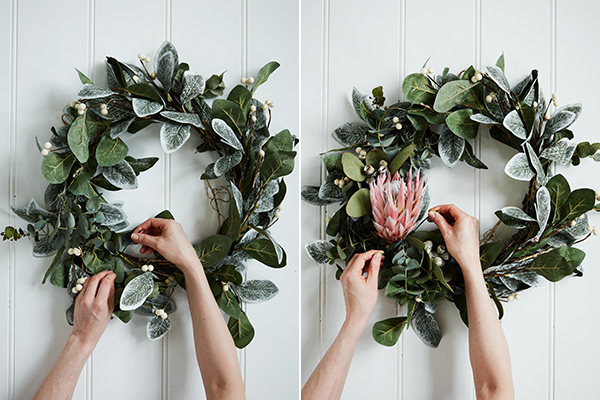 Step 2:
Layer foliage around the wreath, tying at intervals with garden wire. Choose a focal point and layer more foliage in that area for an asymmetrical arrangement (as we've done on the bottom left). For a classic symmetrical look, evenly space flowers and foliage throughout.
Step 3:
Position your smaller flowers over the foliage and secure with wire, leaving enough space for the larger flowers. Now get creative and tie each larger flower in place, or secure them in bunches before adding to the wreath. Place the largest flowers in the centre of your focal point. Take a step back and look at the composition, tweaking until you're happy with the balance of flowers and foliage.
For an original wreath with a homemade touch, we've chosen to use the simple method of weaving to create an interesting festive piece that can also be enjoyed year-round. Traditional weaving uses a loom, but we've applied the same techniques using a wire wreath frame, complete with tassels for added interest.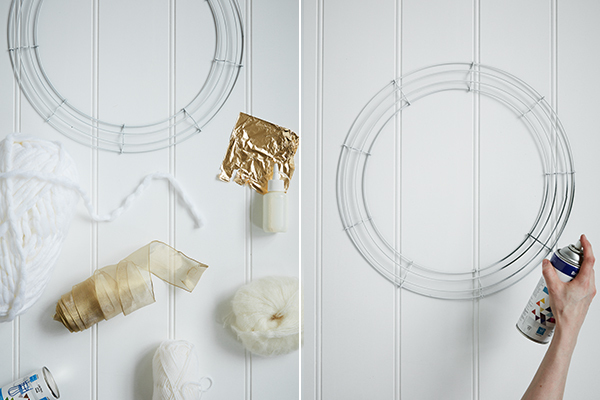 What you'll need:


45cm wire wreath wire frame (from haberdashery/craft supply shops)


White spray paint


Scissors


3 white yarn balls in different thicknesses and textures (thicker yarns take up more space and are faster to weave with)


2 x 100cm lengths of gold ribbon


Gold leaf and gilding glue (from craft supply shops)


Cotton buds


Step 1:
Spray paint the wire wreath white, then leave to dry (for X time).
Step 2:
Cut a 150cm length from the thickest yarn. Leaving a 5cm tail, begin weaving the yarn over and under the wire, making sure that every adjacent weave along the wire is opposite (ie one over and one under), tucking the tail into the woven section as you finish. Repeat with more lengths of yarn until you have woven around most of the wreath, leaving a 10cm section bare for your tassels.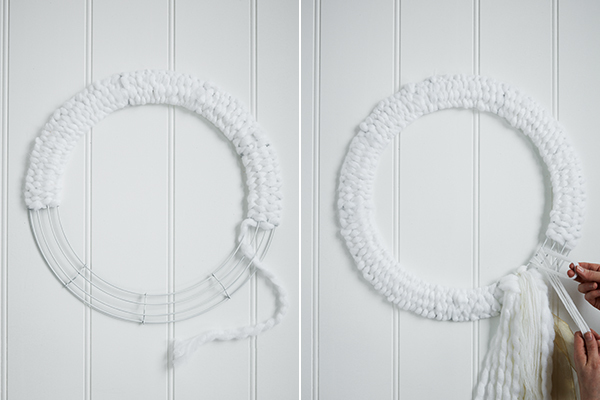 Step 3:
Cut 6 x 100cm lengths of the thickest yarn and lay out in 3 sets of 2 strands. Cut 15 x 80cm lengths of the middle yarn and lay out in 3 sets of 5 strands. Cut the thinnest yarn into 24 x 60cm lengths and lay out in 3 sets of 8 strands.
Step 4:
Tie the 2 lengths of ribbon to the 10cm bare section of the wire at random intervals. Working with each of your bunches of yarn, tie tassels to the wire. To make each tassel, fold one set of yarn in half to form a loop. Thread the loose ends of the yarn around the section of wire where you want to position the tassel, then bring them up and thread them through the loop to form a knot. Start with the thickest tassels towards the bottom left of the wire section, finishing with the thinner strands so they sit at the top right.
Step 5:
When you've finished tying all the tassels, hold up the wreath as you plan to hang it so the yarn hangs down, then trim the ends to even out. Finally, using a cotton bud, dab spots of gilding glue around the weave, then gently add pieces of gold foil, pressing gently with the cotton bud to secure.
Click here for more inspiration from the Temple & Webster Christmas House.