We're pleased to announce that our expert panel - Karen McCartney, Editorial Director of Temple & Webster, Claire Bradley, Editor of
Inside Out
magazine and Louise Olsen, co-founder & designer at
Dinosaur Designs
– has chosen a winner.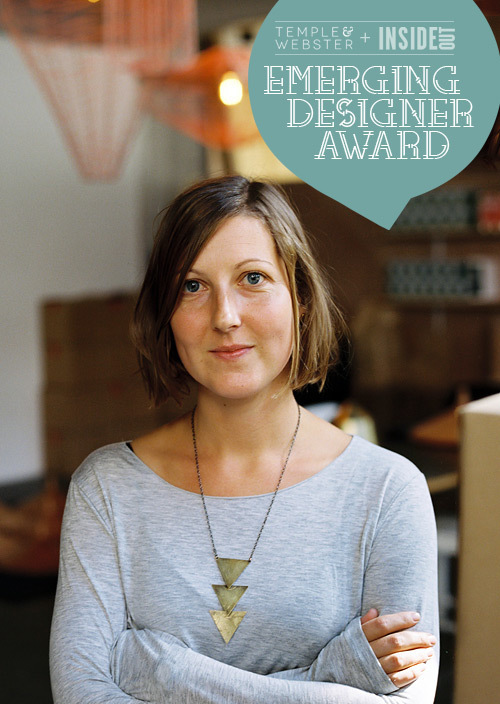 In Karen McCartney's words: 'After much discussion, deliberation and debate we decided that
Kate Stokes of Coco Flip
would be the winner of the first Temple & Webster and Inside Out Emerging Designer Award. We were unanimous in our appreciation of her consistent, refined aesthetic and her skill and craftsmanship in marrying different materials. Her design process, which examines historical references and re-interprets them for a contemporary audience, gives her products a wonderful resonance that sets them apart'.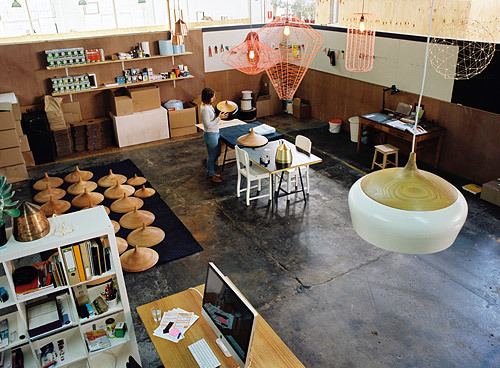 Kate in her studio with part completed Coco Pendants, made from turned Victorian ash and powder coated spun aluminium.
We spoke to Kate about what it means for her practice. 'It is such an honour – I'm absolutely delighted and humbled by the award', she said. 'It means a lot to have the support of the industry at such an early stage of my career. Hopefully it will introduce my practice and products to some new people and help to increase general awareness of the importance of Australian design.'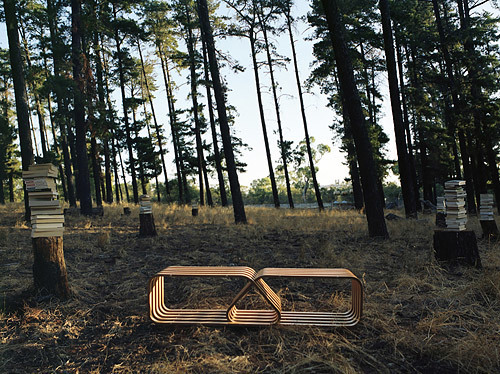 Kate's 'Loop', a prototype modular table and shelving system made of laminated plywood.
Kate is aiming to exhibit at the
London Design Festival
this September so if all goes to plan the prize money will contribute to the cost of exhibiting and getting herself and her work over there. 'I'm also in the midst of developing some new products including furniture pieces, so it helps to have some more finance to prototype and experiment,' she said. 'I'm learning a lot and meeting some interesting new local manufacturers. I don't know exactly which direction it's all heading at this stage but that's the most exciting part.'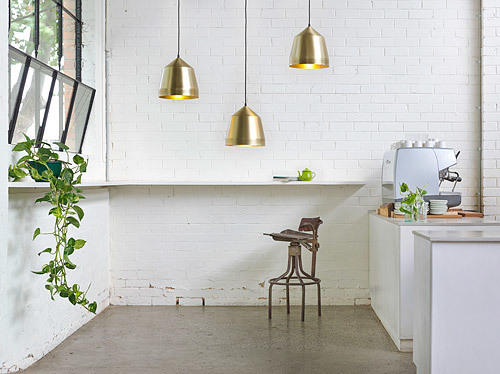 Kate's 'Mr Cooper' brass pendant lights.
In making their decision, the judges considered the work of all the nominees, and found something unique and beautiful in each:
"I loved that Andre Hnatojko's Popper light began life as a stool. The ability to step back from a project and reassess midway through is inspiring to me. And as for the Popper lights themselves? I love their infectious sense of fun," said Claire Bradley.
"Ash Allen has such a lovely linear aesthetic and his finely-tuned relationship between materials – the idea of the Japanese skimming stone and the treatment of the legs as sticks is very evocative and beautiful', said Louise Olsen.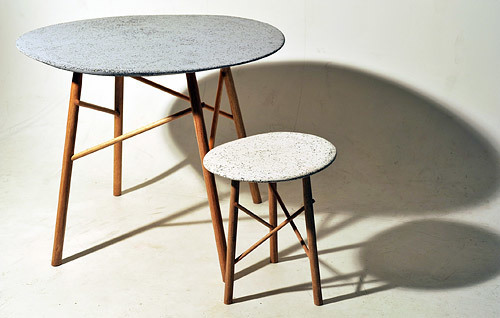 Ash Allen's Sticks and Stones stool and table.
"Chris Hardy's experience in the materials side of the industry will stand him in good stead. I'm excited to see where he takes that combination of hands-on knowledge and beautiful design," said Claire Bradley.
'Emma and Daniel's work is so simple and beautiful – they are very skilled in their use of materials and have a lovely sense of colour. I feel these pieces are timeless and who wouldn't want one of their pieces on their desk – I know I do', said Louise Olsen.
'I have been a long standing admirer of Ilias's work (I have a notebook covered in one of his wallpaper designs sitting on my desk as I type) and reading about his thoughtful design processes and truly artistic approach to all his work my admiration has only increased', said Karen McCartney.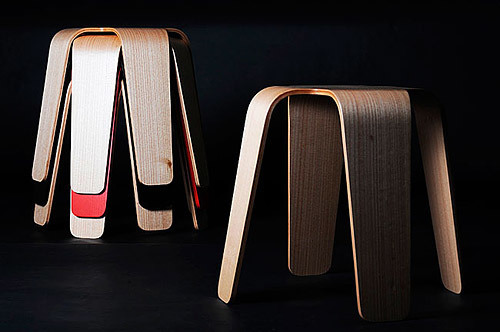 Matt Prince's Lapp stools.
"I really admire the bold form of Matt Prince's stacking stool. When it stacks, especially in the coloured version, it looks like flowers. A very well resolved design', said Louise Olsen.
'We were all taken with the variety of Surya Graf's design thinking but were particularly drawn to the free-standing clothes rack 'Hangman' for its simple, sculptural quality – with or without clothes on it!', said Karen McCartney.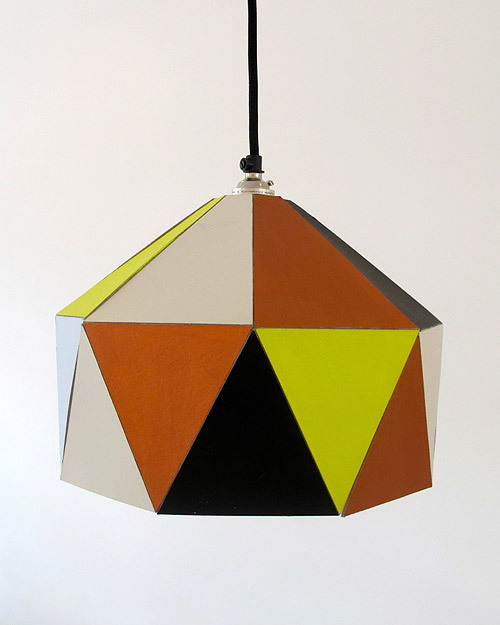 Tamara Maynes's Quilt Light, created in your material of choice from a downloadable template.
'We loved Tamara Maynes's modern take on craft and her democratic and clever approach to product with her downloadable Quilt Light template. Her aesthetic has a playful, personal and quirky quality and we really look forward to see how Tamara develops her work', said Karen McCartney.
"While we loved the clean lines of Tate Anson's Solaris clock, it was the intricate detail of the Tryst chair that really turned our heads. Tate's work has a lovely sense of control," said Claire Bradley.
Images courtesy of designers. To see more of Kate Stokes's work, visit the web site of her design studio Cocoflip.