"Keep calm and cook on," American TV celebrity chef Rachael Ray told her Instagram followers. And that's what many of us across the world have been doing to maintain some kind of normality. Quarantine cooking, distractibaking and recipe sharing have helped to curb boredom and create wonderful at-home activities. It's not just the likes of
Massimo Bottura and Kitchen Quarantine
, or Jamie Oliver and his
Keep Cooking and Carry On
show. It's also a lot of regular folk like us at the pans.
It's no surprise really. Food has always brought us together and now, more than ever, we need to feel connected. Cooking is also a bit like meditating, getting us to focus, be creative, and get lost in relaxing, albeit monotonous tasks like stirring.
Risotto alla Milanese
, anyone?
Here are some of the recipes that we've bookmarked for ourselves. Happy cooking and don't forget to wash your hands.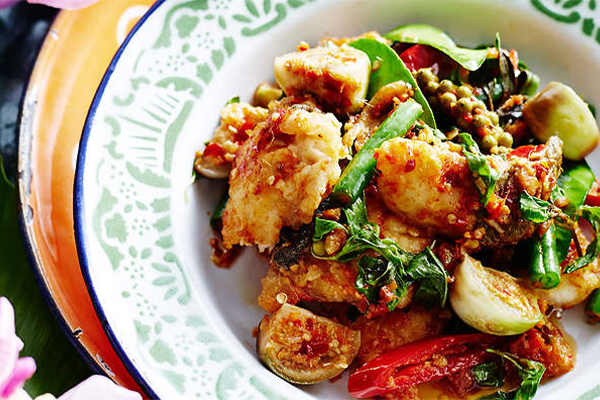 Image via sbs.com.au/food​Immunity-boosting meals
At a time like this, it would make sense to focus on healthy foods that boost our immunity. Think antioxidant-rich fruit and veg like berries, spinach and beans, preferably laced with punchy spices like ginger, chilli and turmeric. We've got our eye on this Thai
stir-fried fish with chilli, ginger and eggplant
(pictured above) for dinner. Make sure you use a decent
wok
to get those smoky flavours happening. No time to shop for seafood? Go vego with
roast pumpkin stuffed with ginger, turmeric, kale and wild rice
(pictured below) which ticks off all the superfoods.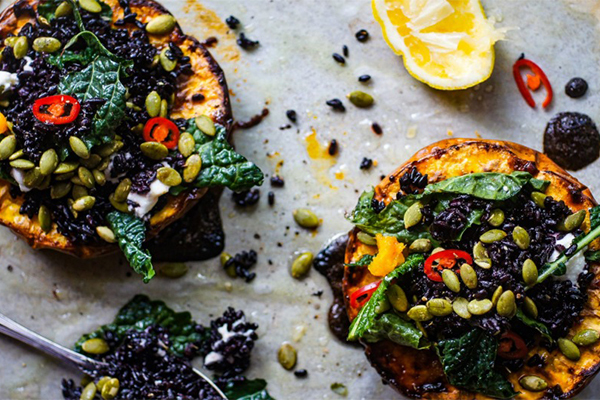 Photo by Katrina MeyninkChicken soup for the soul
It might not be soup season, but there's nothing more comforting than a hot bowl of chicken soup to soothe our soul. Go for a grandma-approved Jewish-style
chicken noodle soup
, or try this healthier version of Chinese takeaway favourite
chicken and sweetcorn soup
(pictured below). To make chicken soup more substantial, add noodles and spices to make a Thai-style
lemongrass chicken noodle soup
; wholesome grains for a heartier
chicken and spelt soup
; or lemon, ginger and extra greens for the ultimate
immunity-boosting chicken soup
. Shop our
stock pots
and get simmering.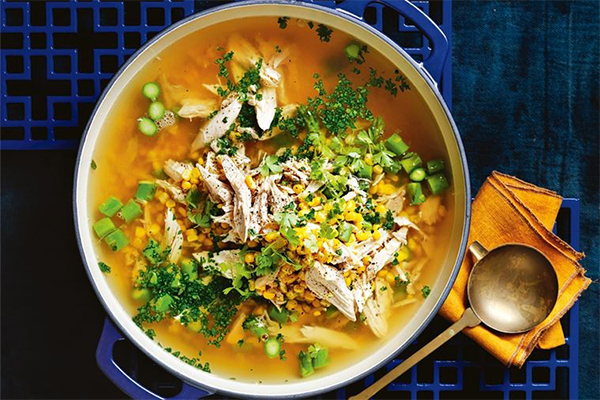 Image via delicious.com.auPantry cooking
Judging by the state of our supermarket shelves, it's fair to assume that the basics like rice, pasta and canned tomatoes are in most of our pantries. Based on that, here are some ideas for working these staples into delicious family meals. Got a load of rice and kimchi? Try Adam Liaw's super-economical
kimchi fried rice
. This
broccoli and pecorino pasta
(pictured below) featuring long-life ingredients like anchovies and parmesan is also a fantastic dish to get up your sleeve. Sick of spag bol? Whip up this versatile
quarantine sauce
and store it in the freezer for all manner of dishes, from chicken parmi to chilli con carne. Cook in bulk and store in
food containers
in the freezer for up to four months.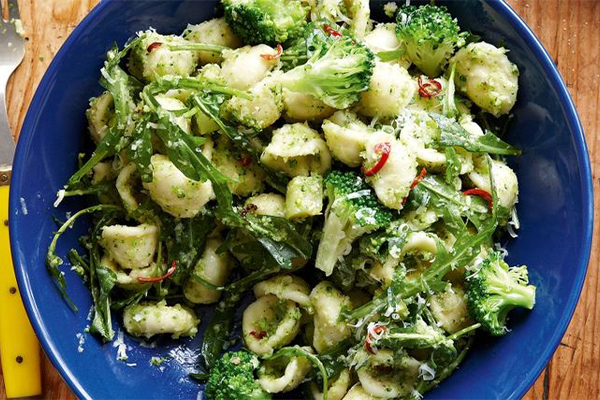 Image via taste.com.auDistractibaking
Needless to say chocolate tends to be a common ingredient when distractibaking. It may not cure Covid-19, but
Bon Appetit
magazine editor Ruth Reichl's
cake that cures everything
(pictured below in all its glory) still makes life pretty sweet. For an even richer chocolate cake, try the
world's best chocolate cake
laced with espresso mascarpone cream as featured in
Sweet
by Yotam Ottolenghi and Helen Goh. Looking for baking ideas with the kids? They'll love making these
rainbow chocolate chip cookies
and
chocolate chip cookie pizza
, complete with fruit leather 'pepperoni'. Shop our
bakeware
and start distractibaking pronto.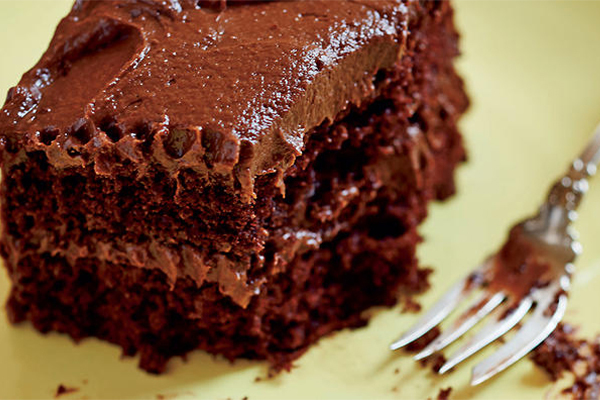 Image from My KItchen Year by Ruth Reichl