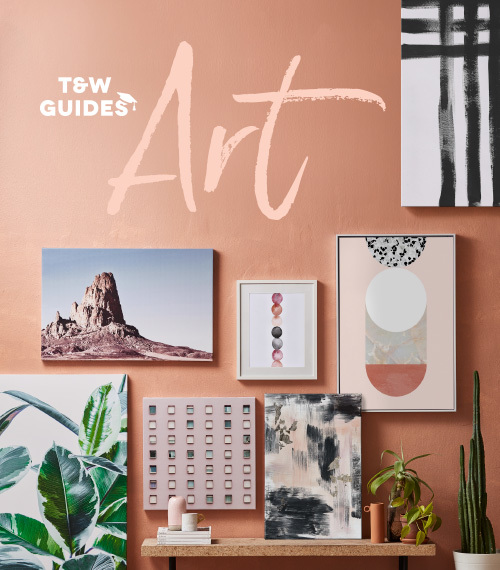 Struggling to choose the right piece of art for your walls? And once you've got it, where do you start with hanging it? We've put together the ultimate T&W Guide to Art using expertise from our styling team to answer all your questions. Discover how to choose a piece of art that will work in your current space, what size is right for the scale of your room and how to hang and style your new artwork like a pro.
Find a look you love
Your taste in art is entirely personal, but it pays to think about the style of the room you're decorating. Is your room contemporary or vintage? Feminine or bold? The artwork should complement the overall feel of the space.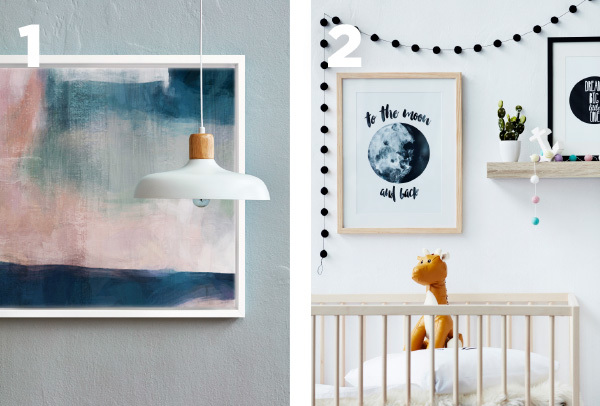 1. Colourful canvas
Make a splash with a wash of beautiful colour and abstract design. Go bold to create a focal point, or choose subtle tones to complement your existing décor.


2. Playful prints
Here's your chance to be adventurous – add framed botanicals to your colonial-style sitting room, a pair of pretty florals to your boudoir or a cute design to the kids' rooms. Start a collection around the colours or subjects you love and group together for impact.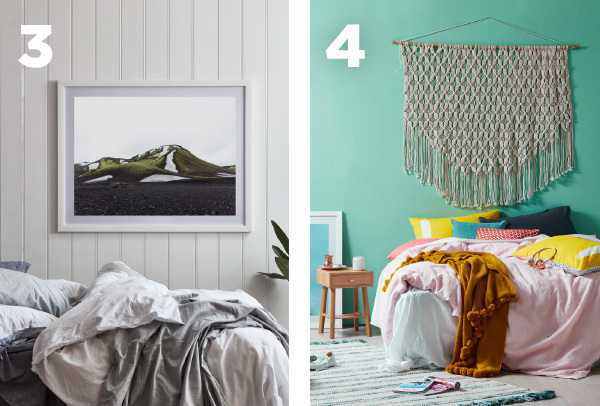 3. Photo finish
Photographic prints open up a world of creativity and variety when choosing art for your home. From the calming colours of a coastal scene to the graphic qualities of a monochrome desert print, a bloom up close or a striking portrait of a wild horse or native bird. Choose colours, composition and subjects that speak to you. If you're a keen photographer, add to the mix with your own prints of people and places, either framed or printed and stretched on canvas.


4. Wall hangings
Have you thought about the third dimension when it comes to art? Wall hangings can really help to bring a space to life. Add boho warmth and texture with a '70s-inspired macramé hanging, go tribal style with a grouping of woven baskets or feathered juju hats, and experiment with metal pieces, driftwood or crafted timber sculptures.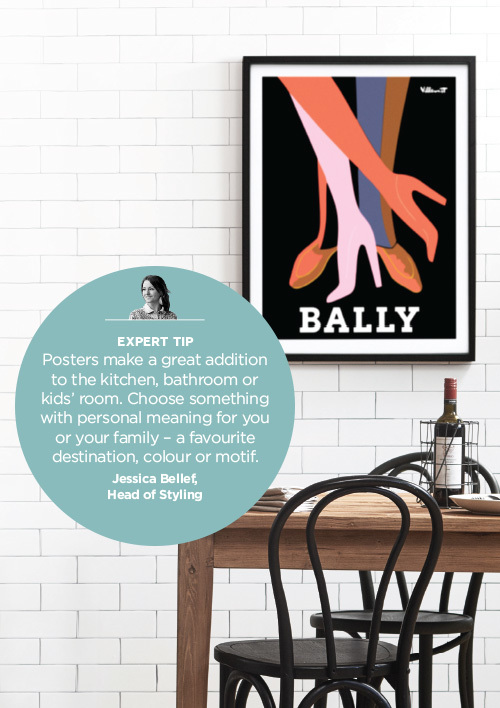 5. Vintage posters
Often based on iconic advertising or travel posters, the graphic pop of vintage posters makes them a popular choice. With originals now commanding high prices, reproductions are an affordable way to get the look.


Size matters

Choosing the right scale for your space is just as important as the artwork itself. Here's how to achieve the perfect composition.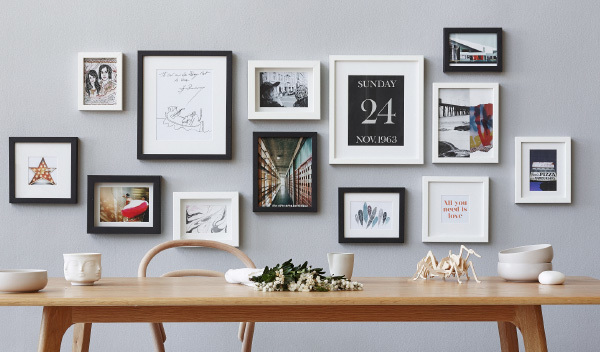 Small artworks
Small is beautiful – it's all about choosing the perfect spot so your petite print, drawing or photo doesn't get lost in the mix. Hang them en masse in a gallery wall or salon hang (see Step by Step, p 12), find a natural niche in a hallway, or tuck them in a corner under the stairs. Small art pieces also work well layered in a shelf or mantelpiece vignette. Keep the framing light and simple so it doesn't overwhelm the artwork.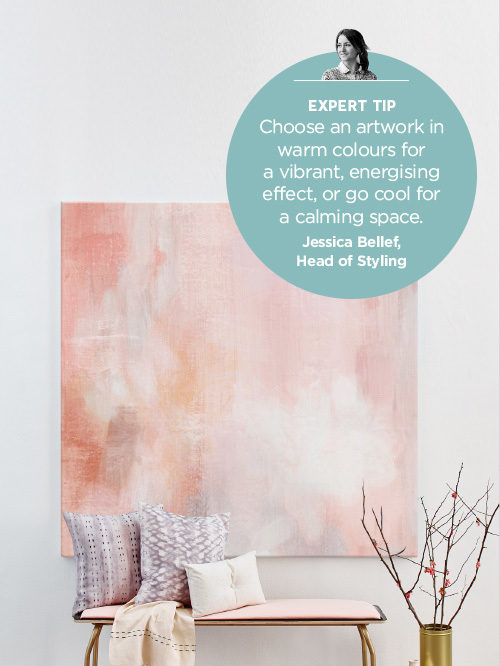 Large artworks
While it's easy to make the mistake of choosing an artwork that's too small and seems to float in your space out of proportion, you'll rarely go wrong choosing one large artwork for maximum impact. Invest a little more money in a single large piece and it will stand alone as a statement. Try hanging it above the bed instead of a bedhead, over the sofa or in an entryway.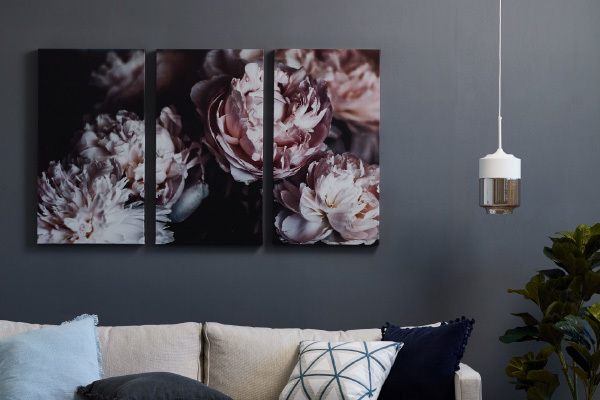 Pairs & Triptych
When you have a large space to fill and want to make an impact, consider a duo or trio of artworks. A pair of artworks could be two pieces in a series or a mirror image. The key is to make sure they're related in style or colour. Your triptych could be a single image continued across three canvases, a 'story' told from beginning to end, or three images on a related theme. They should be the same size and be given the same framing treatment.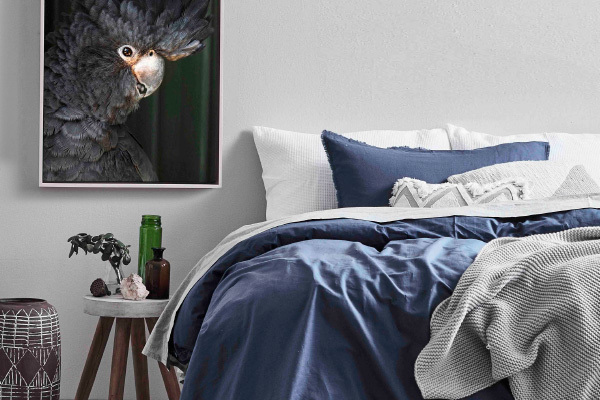 How do I know when the scale of an artwork is right for my room?
As a rule, your artwork shouldn't be larger than the piece of furniture it is hanging above, but at the same time you don't want it too small. The goal is to create balance. For example, if you have a huge blank wall, don't adorn it with a small, single artwork. Instead, use a bigger piece or group several smaller ones together.


How to create a gallery wall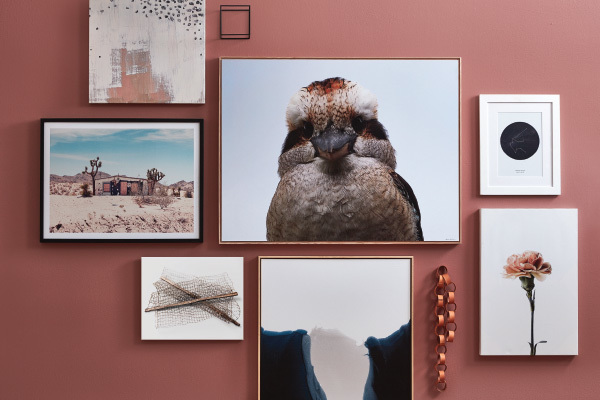 You have two options when planning a gallery wall – the first is a more formal layout, with works of the same size hung in a grid. The other is to follow a more relaxed look, where a range of styles and frames are arranged loosely together. Choose works within a unified colour palette, and lay them all out on the floor to play with arrangements before you get started.
​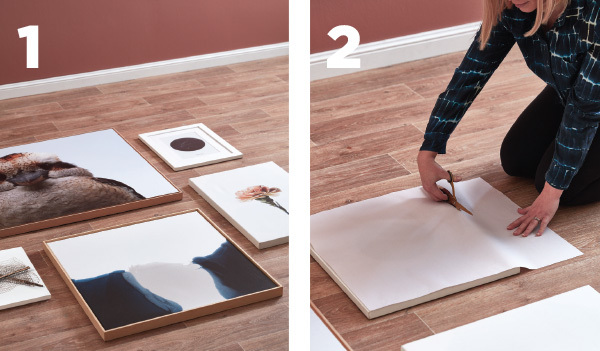 1. Lay all the pieces you want to include on the floor. Play with the arrangement until you're happy with the balance, leaving an even amount of space between each piece.
2. Use butcher's paper and a ruler to measure and cut templates to the size of each artwork.




3. Copying the layout you've arranged on the floor, use blu tack or masking tape to attach the templates to the wall.
4. Mark the hanging points with a pencil, then drill, nail or stick on hooks using the templates. Remove the template as you hang each artwork.
7 styling secrets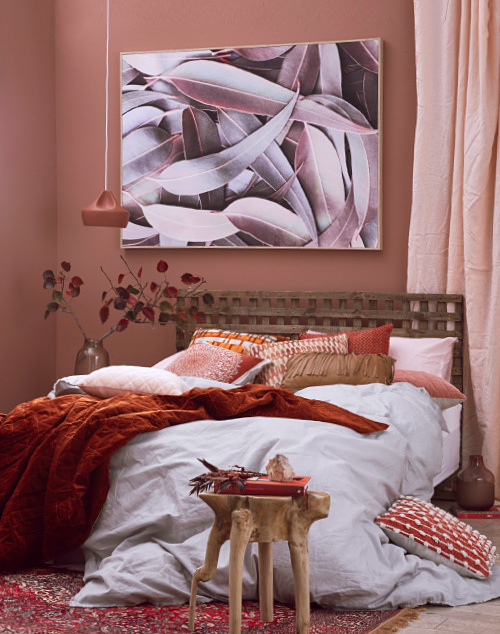 Whether you prefer your art framed and hung or propped in a more casual display, our styling secrets will help you get it right.
No. 1 Where to focus
Every room should have a focal point, but it doesn't necessarily have to be art. Whatever it is, the best place for a focal point is generally opposite the entrance of the room. If you select a piece of art as the focal point of your room, make sure it's the star by allowing the other decor and furniture to play a secondary role.
No. 2 Match or contrast
Art doesn't have to match your lounge or furniture, but your art will always look better when the furniture and decor support the piece. Repeat a colour from the artwork elsewhere in the room to increase the impact.
No. 3 The right height
Position your artwork so the centre of the piece is at eye level (about 152cm off the ground on average). In a room with high ceilings, you may instinctively want to hang the art higher, but remember it should relate to human scale, not the scale of the room. If you are hanging multiple pieces in a group or series, treat them as one large piece in order to find the centre point, and make sure that centre is at eye level. In a room where you're always seated (such as an office), play around with an even lower height.
No. 4 Sofa styling
Hanging art above your sofa? Remember to leave around 30 cm between the sofa and the art so you won't bump up against it.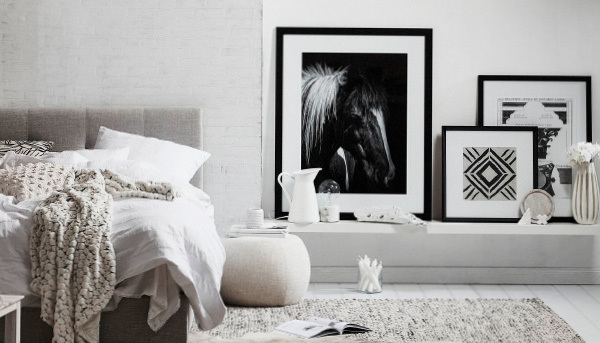 ​
No. 5 Play with proportion
A small piece may not work above a huge furniture item. If you're unsure, make a template from paper to see how it will look before you get out the drill.
No. 6 Live large
For a casual look. prop larger artworks on the floor. (But consider this option carefully if you have kids or pets!)
No. 7 Give good selfie
Smaller artworks look great propped on a shelf, mantel or table (use blu tack to secure the bases). Style with books, ceramics and fresh flowers, then simply rearrange whenever the mood takes you.
Hanging your artwork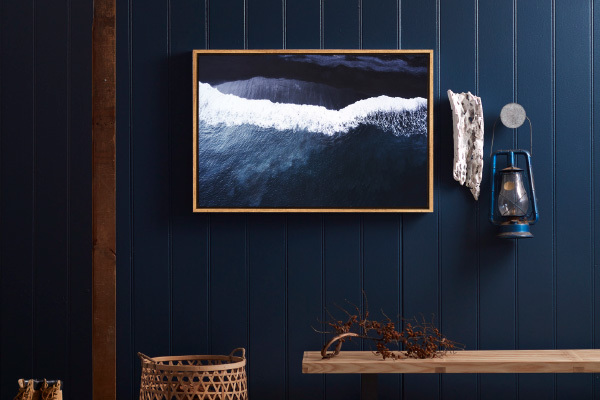 Once you've chosen your artwork, here's how to get it onto your walls and looking great.
​
What you'll need
- If you're hanging your artwork on a plaster wall, you can use a wall anchor or toggle for heavier pieces.
- For light pieces (especially if you are in a rental property), you can also use adhesive hooks.
- If you're drilling into brick, make a hole with a masonry drill and insert a wall plug to secure your hook.
- For each artwork, you'll need either a metal hook secured to the top of the frame, or picture wire threaded through screw eyes attached about one-third of the way down the frame.

Where to hang it
- Choose a spot away from direct sun and heat sources (like fireplaces) as they can fade, warp or damage artwork and frames.
- If hanging art on a plaster wall, particularly a heavy piece, look for a stud (vertical timber frame) in the wall to place your hook, by tapping until you hear and feel the firm backing.

How to hang it
- Hold your artwork up to the wall so the midpoint is at eye level (about 152cm) and mark where the top of the frame sits.
- Then turn your artwork over, hold up the picture wire with your finger so it's taut, and measure the distance between the top of the frame and the wire.
- Measure this same distance down from your mark on the wall, and this is where your hook should go.
- Add the hook using the best method for your wall (as above), then you're ready to hang your picture and adjust it so it's straight.
Glossary
Print:
A reproduction of an original work. There are many methods of creating prints. Prints which are limited in number (limited edition) and signed by the artist tend to retain value.
Canvas:
The cloth (usually cotton or linen) used as a base for an artwork. Canvas artworks may be original paintings or reproductions.
Stretched:
An artwork on canvas must be stretched over a timber frame before it can be hung.
Unstretched:
An unstretched canvas will arrive rolled, and need to be stretched onto canvas by a professional.