Do you have family coming to stay these holidays? Don't panic, you can create a sweet guest suite in as little as 30 minutes. For a bigger guest room makeover, spend two hours or a day to have everything ready for a full house. Shop all the guest bedroom essentials here.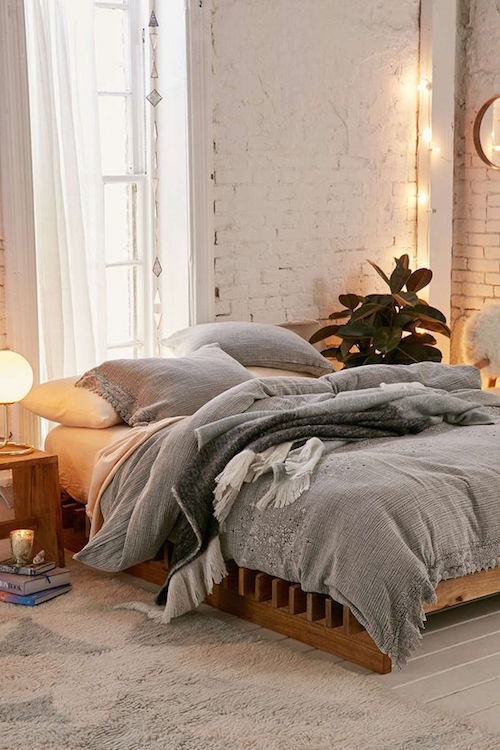 Image via Urban Outfitters.
THE 30-MINUTE MAKEOVER

• Clear out any unnecessary clutter (we're talking neglected dumbbells, your forgotten knitting project and hubby's fly fishing collection) and make sure there's enough space for clothing to be hung and/or folded in wardrobes, and bulky luggage stowed.
• Re-make the bed with
fresh sheets
, including double
pillows
and
extra blankets
so guests don't have to request them. Plump everything up and don't forget those hospital corners!
• If your visitors are due to arrive after dark, pop on the
bedside lamp
or light a
candle
for an inviting glow.
THE 2-HOUR MAKEOVER

• Empty a full section of the wardrobe if not the whole thing, fill with quality hangers and line the drawers (pretty wrapping paper cut to size will do the trick).
• Actually take the time to style the bed. That means
scatter cushions
and an
elegantly folded throw
. Perhaps you could go all-out and fill a
vase
with cut blooms.
• Include hotel-style essentials, like
fluffy towels
, a
robe
, toiletries and a hairdryer.
THE 1-DAY MAKEOVER

• Place
small rugs or sheepskins
either side of the bed for a soft touch when your guests wake up.
• Update nightstands with items that are relevant to your guest. Possibly a selection of literature, newspapers and magazines, or a puzzle book such as sudoku. Remember to check that the alarm clock shows the time accurately.
• One thing that most guest rooms lack is a full length
mirror
. Ensure there's one in your guest room.
• If your guests are travelling with young children, a trundle bed or spare mattress could be set up on the floor. Make the bed and provide home comforts like bedtime stories and a snuggly teddy bear.
Shop everything Christmas for your home here.