Our aim was to create a look that defined the beauty of childhood and accompanied a vibrant, happy lifestyle. Our first step was selecting the warm-grey palette to act as a base colour and create an intuitively calm space. The fun part was then following our own imaginations to inject creativity and colour. We discovered that by stringing a knitted flag garland under our Aesop's Fable artwork we were able to create a fun and magical circus theme for Xavier to enjoy. Balancing the more modern designer pieces with smaller hand-collected objects also helped us to create a contemporary look while still maintaining that intimate "lived in" feel.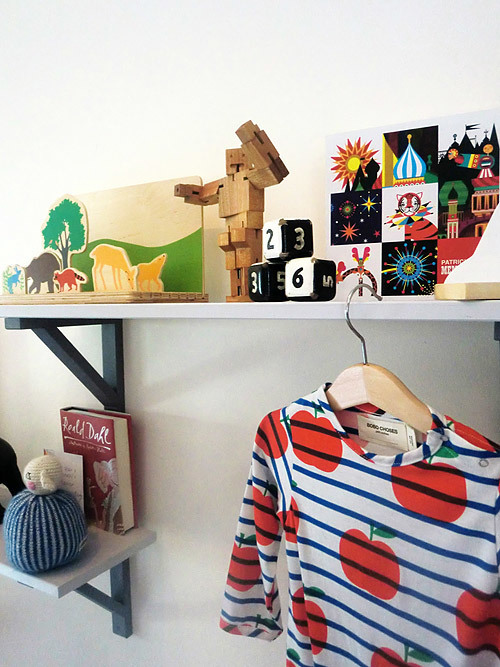 How difficult is it to balance practicality with good design?
Ironically the best designed pieces often create an impression of extreme simplicity by enlisting every element in their design to serve both visual and functional purposes. This definitely makes the design journey much longer, as it is a continual process of invention and reinvention - but also much more rewarding for us. At the studio, we constantly strive to create beautiful designs that offer practicality, responsibility and value for money all packaged into one.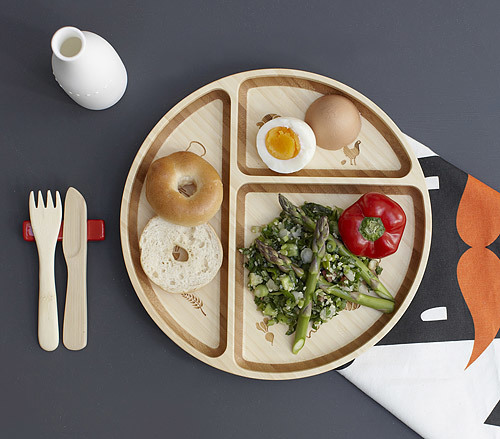 Bamboo 'My perfect portions' plate, made in Tokyo and available from The Lowercase
Colour can be a fraught issue in children's rooms – do you have any advice?
Often a space can appear cluttered if there are too many competing colours. By focusing on a more neutral colour palette for the bedding and decor you can create a room that will resonate with both child and parents alike. Then you have the option to add accessories in vibrant colours to develop a fun and optimistic tone and allow your child's imagination to grow. As parents, working to a budget is also something that resonates with us, and something as simple as the right shade of paint on an Ikea piece can really help create a look of contemporary everyday glamour.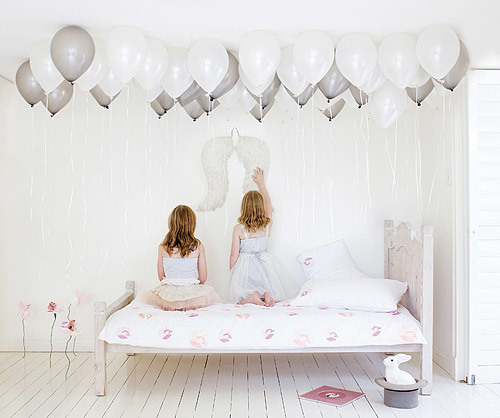 The Swan embroidered doona cover provides gentle colour in a neutral toned room.
What's the best way to make sure a toddler's room will also work as a child's room further down the track?
Avoid age-specific themes and instead opt for designs that work equally well for children on all ages. Repetitive prints or patterns such as animals or spots and stripes are some classic favourites that can accompany your child throughout any stage of life. It is worthwhile remembering to keep things simple in the beginning and to invest in essential decor and bedding rather than a mountain of pillows and throws that your toddler will quickly outgrow. As parents, we also completely understand the burden of unnecessary purchases, so it is always wise to seek out soft furnishings that come with the promise of comfort and quality, so that once your child does fall in love with them, they will last the test of time.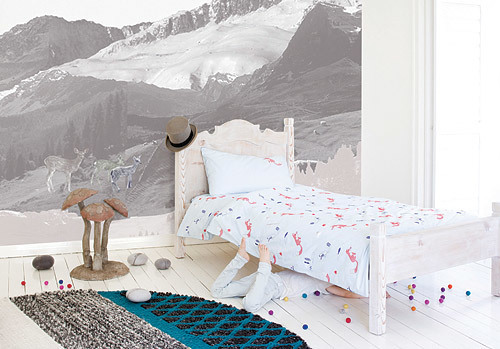 The Fox Embroidered Duvet Cover
Inspired? Visit The Lowercase sale event now.