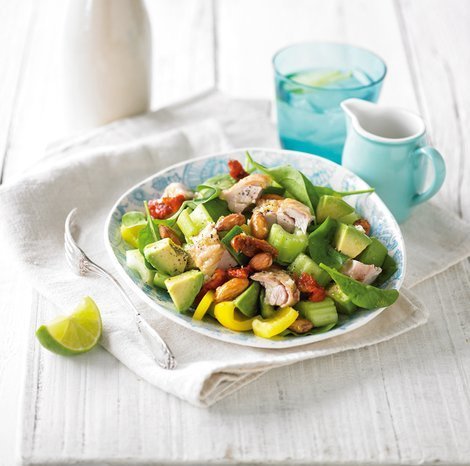 Lee Holmes' break-out book, "Supercharged Food" (Murdoch Books) offers over 90 recipes that are free of gluten, wheat, dairy, yeast and sugar. Did we mention that they're also easy to make and absolutely delicious? Thanks to Eatlove, we're sharing a sample of the book. This tangy chicken salad with a lime dressing is perfect for lunch or a light dinner...
Ingredients (serves 2):
2 handfuls baby English spinach leaves
½ yellow capsicum
50g activated sea salt & vinegar almonds
2 celery stalks
40g sun-dried tomatoes
1 Lebanese (short) cucumber
1 avocado
200g oven-roasted chicken
Lime dressing
1 tbsp apple cider vinegar
1 tbsp lime juice
1 tsp zest of lime
1 garlic clove
2 tbsp virgin olive oil
Preparation:
Put the spinach, capsicum, almonds, celery, sun-dried tomatoes, cucumber and avocado in a bowl. Toss together gently.
To make the dressing, put the vinegar, lime juice, lime zest and garlic in a small bowl and whisk to combine. Still whisking, drizzle in the olive oil, then add sea salt and freshly ground black pepper to taste.
Spoon the salad onto serving plates and arrange the chicken over the top. Drizzle with the dressing and serve.
See more at
eatlove.com.au
where you can follow your favourite chefs, share their recipes and buy their books.