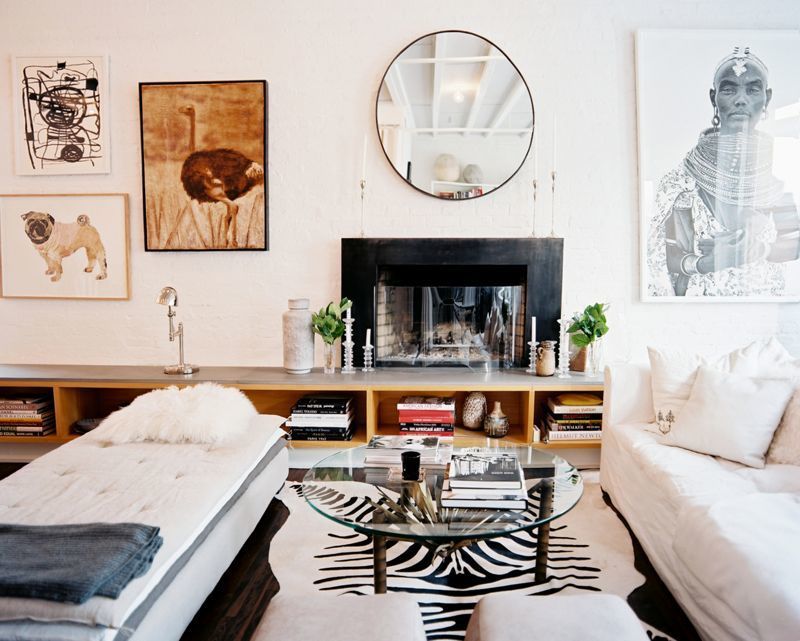 You've probably noticed that hide rugs are having a "moment".
We've been seeing cow hide and zebra hide rugs in magazines and on blogs for a while now, and we knew it was big when this beautiful image hit the cover of
Lonny magazine
earlier this year.
The interior designer for this loft in New York's Soho,
Jarlath Mellett
, explained that he used this zebra rug for its shape, to contrast with all the straight lines in the room. As well as adding shape and texture, we think the graphic zebra print adds a modern zing to the relaxed white slipcovers and cushions, and fits in beautifully with the black, white and earthy tones in the framed art and mirror. The effect is polished yet comfortable. All that natural light helps, of course.
We can't be sure, but this rug looks like a print - that's where the zebra pattern is deep screen printed onto cow hide - rather than a real zebra hide. You can see a very similar Zebra Print Rug in our current sale event.
Do you have an ultra modern space? Think about warming it up with the organic shape and texture of a caramel-coloured solid beige hide or consider whether the light browns, creams and whites in the light exotic hide might work for you. More traditional decor? Make it a little more modern with a graphic hide in solid black, black and white or a natural brown and white. If it's all too much for you, dip a toe into the trend with some cushions!
Be bold!
Victoria