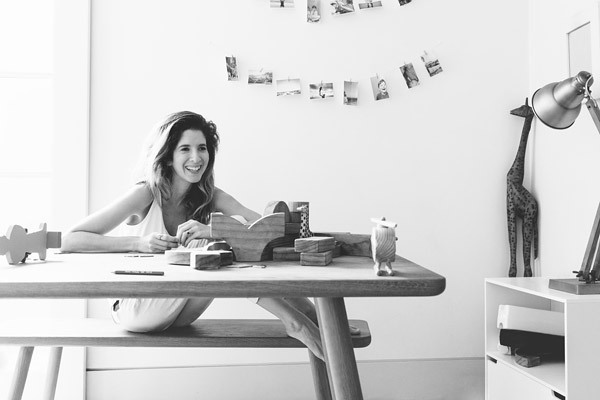 Portrait by Maggie BeatriceOlli Ella is the creation of sisters Chloe (based in Sydney) and Olivia (in London). They produce sweet prints, rugs and bed linen for kids, with a focus on local production and good design. We caught up with Chloe to hear more about the business...
As with many good businesses, you started Olli Ella by identifying a gap in the market. Can you tell us about that kick-start moment?
The kick-start moment happened once our first product had been designed and made, funnily enough; I was pregnant with my first little boy (who is now four) and had been searching for a modern nursing chair for the nursery without any luck. My sister Olivia and I decided to design one and had it made in London (where I was living at the time) by a local craftsman. It was only after receiving an influx of requests from friends and then friends of friends for this nursing chair that we realised that there was a significant potential here and indeed a gap in the market. 6 months later we launched with our Da-da and Mo-ma nursing chairs.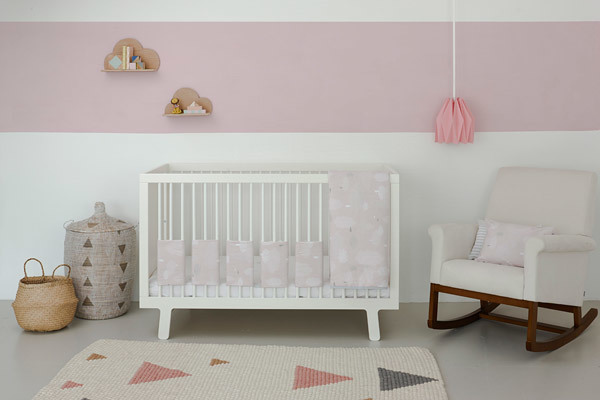 You work in partnership with your sister in London - what is your creative design process?
In the three and a half years since our launch we have grown our collection from two nursing chair styles to include furniture, baby and kids bedding, textiles, rugs, and most recently homewares. Our process is always fast-paced, a touch impulsive, and brimming with passion and excitement! At any given time we have a list of thirty new products we want to design and develop - it's hard for me to hold back, but luckily Olivia keeps me reigned in in that sense. Launching a new product generally takes us 6 months from the design to production process. And the process is different for each new product, each with its own challenges and thrills. But across the board there is nothing more exciting for us than unveiling a new product; be it a basket or a rocking chair, it's exhilarating!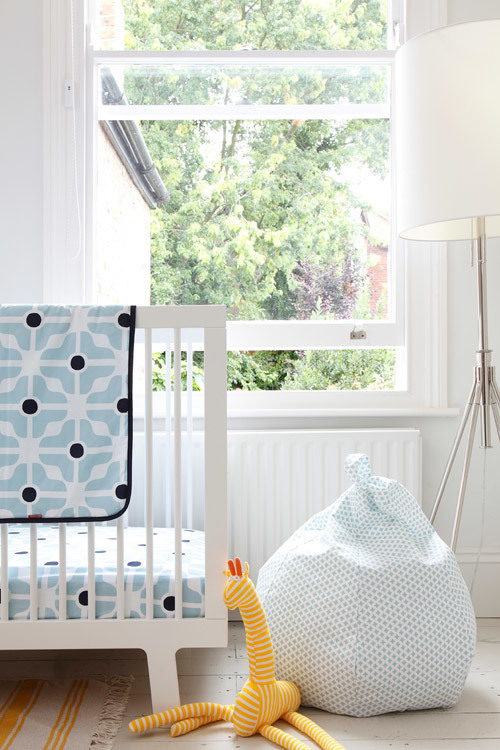 The Sky bean bag
You make locally as well as sourcing globally – what criteria do you apply to each partnership?
All of our partners provide great working environments for their employees. We search for partners that have a focus on quality, attention to detail and use sustainable materials. We have only started sourcing globally (outside of our usual manufacturing stomping grounds of England and Australia) this past twelve months - and it has been such an incredible learning experience. We love working with small community groups and artisans because of the attention to detail that they give, the pride in their work, the joyful spirit, and beautiful products they produce as a result.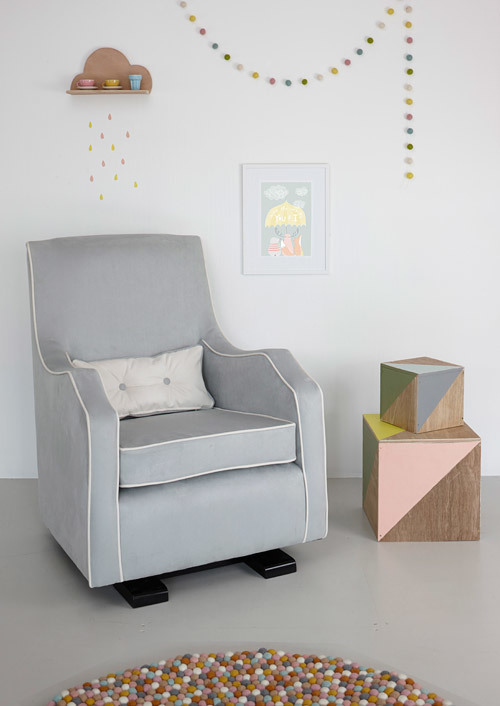 The Mo-Ma glider was one of the first products for Olli Ella.
An ecological approach and strong eco-ethics define the brand. How does that manifest?
We try to watch our steps and tread carefully when it comes to the materials we use and the places we have our products made. With our bedding we choose cottons that are grown sustainably, aren't treated with harsh chemicals, and the printing is all done with water-based inks in England. Our sheets and blankets are made in a 200 year old family-run mill just North of London. Our furniture is all made locally in either Australia or England (we try not to ship furniture from one continent to another because of the carbon footprint that it would leave). With our furniture the wood is sustainably sourced, the foams are free from PBDE's, the fabrics are treated with healthguard (to deter allergens and dust mites) - I could go on for hours because we put an agonising amount of focus on how our products are made.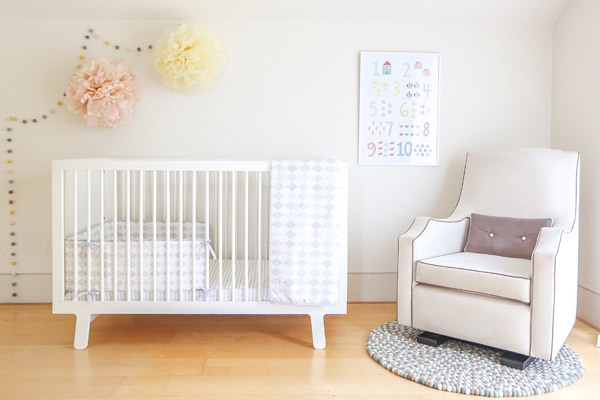 Pom pom garlands, Harlequin bed linen and a Moondrop rug in a pretty and serene space.
You have two young boys. How do you make the day-to-day function?
How do I make the day-to-day function? With a lot of love, by embracing chaos, and having a sense of humour - because it is madness. I am very organised when it comes to structuring my work time, and I have accepted that there are a lot of sacrifices that I have had to make to have the family-life that I treasure (I don't work past three PM so that I can spend the afternoons with the boys). Sacrifices include sleep (because I work quite late into the night most nights), personal time (I've forgotten what that is), and exercise (come again?).
How do you think good design contributes to the general well-being of a home?
I love that question. We spend so much time in our homes, particularly as parents and just as putting on a great outfit and a pair of fabulous shoes can transform your mood, so too can a gorgeous arm chair, a thick soft knit throw blanket and a great book. Our homes reflect us, our tastes and how we like to function. I think our homes are a true reflection of our spirit.