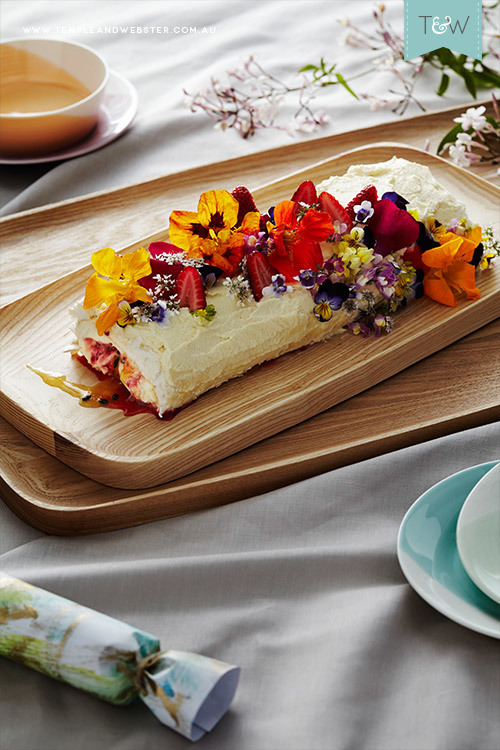 Jono Fleming shares a family tradition involving sugar, fruit and a dash of creativity.
In my book, there are a few staples for the Christmas table: grilled prawns, a big glazed ham, and a beautiful fruit covered pavlova to finish. Ever since I was a little kid, its been a Christmas tradition at my house to make this pavlova with my mum.
It's fun to unleash your inner cake decorator and personalise the pav with your favourite fruit. This time I added some beautiful edible flowers to cut through the sweetness of the meringue and balance out the sour and tart flavours of the fruit and berries. Have fun with your version, be creative and start your own traditions. Remember, no one's ever too young to help out with dessert!
Ingredients (serves 4-6)
6 egg whites
pinch of salt
1 ½ cups caster sugar
3 tsp cornflour
1 tsp white vinegar
1 teaspoon vanilla extract
600ml thickened cream
3 passionfruits
1 punnet of raspberries
1 punnet of strawberries
1 punnet of blueberries
2-3 kiwi fruits (golden if available)
Seasonal edible flowers (available from green grocers or your local food market)
Preparation
Preheat your oven to 150°C and line two standard baking trays with non-stick baking paper.
In a large mixing bowl beat the egg whites and salt with an electric mixer until soft peaks form. Add the sugar, little by little, allowing the sugar to dissolve before adding more. Mix on high for three minutes after all the sugar has been added.
In a small bowl, combine the cornflour, vinegar and vanilla extract, mix well and then fold through the egg white mix until combined.
Using a spatula, spread the meringue over one of the baking trays, forming a large rectangle. Reduce the oven temperature to 110°C and bake the meringue for 40 minutes.
Once the meringue starts to colour slightly, remove from the oven and place the other baking tray (with baking paper) over the top and flip the meringue over. The meringue will crack slightly but this will be covered later. Allow the meringue to cool completely.
To decorate, whip the cream until it holds firm. Spread a thin layer of cream on the flipped meringue surface. Drizzle the passion fruit pulp and place raspberries on top. Now for the slightly tricky part: roll the pavlova tightly, trying not to crush the meringue.
From here it's up to you how to present and decorate. I usually cover the pavlova in a layer of cream and then layer the fruit down the middle of the log.
Slice to serve and enjoy this fantastic, never fail, show stopper of a dessert! Merry Christmas...
Serve your summer pavlova with Royal Doulton's colourful tableware.