Karen McCartney visits Sibella Court's new warehouse space for The Society Inc, her retail store and creative home.
Sibella Court wears many hats, literally and metaphorically – interior stylist, product designer, historian, globetrotter, creative director and, of course, retailer. She opened
The Society Inc
in Sydney after a 10 year stint in New York and she calls it her 'home to hardware, haberdashery and a treasure trove of oddities and curiosities'.
Always ahead of the curve, Sibella has moved her headquarters from a terrace in Sydney's Paddington to a sprawling warehouse complex in St Peters.
The terrace becomes an Airbnb
which is decorated in her inimitable style and showcases Australian made furniture and products – all revealed to those that stay in a menu of product for sale.
The Society Inc
moves to a generous space of classic warehouse construction – the worn timber floors, corrugated iron-clad walls and exposed ceiling structure providing the perfect backdrop to flourishes of carefully curated styling.
Victoria Baker and I paid Sibella a pre-Christmas visit and, overcome by a retail rush, longed to leave with one of her vintage velvet cushions, eye-painted timber chairs and a selection of ceramics under one arm. She advocates living life as a pirate and I wanted to behave like one – pillage and run away with the goods. Instead I quietly handed over my credit card for a beautiful ceramic bowl which will make its recipient very happy.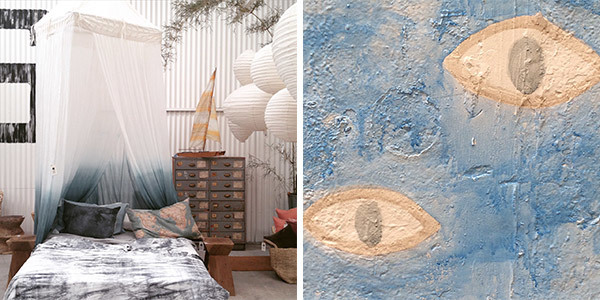 The space allows for a gratifying play of scale, from small objects to the luxury of a four poster bed
(left)
, covered in exquisite leather that has been treated by
Shibori Textiles
to create a fascinating tactile finish. The eye motif
(right)
recurs throughout the space, both applied to surfaces and seating and in the creation of objects themselves.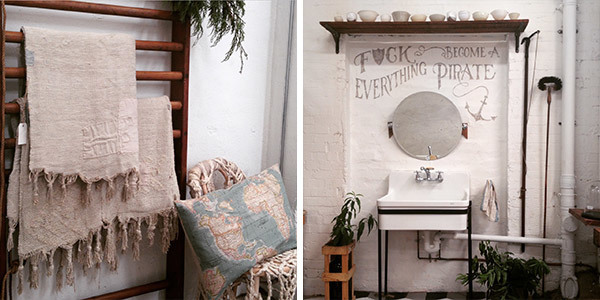 Heavyweight vintage linens with the mark of heavy mending are hung beside a
Little Dandelion
wool-covered chair and a Sibella designed feather-filled cushion
(left)
. Dangerous slogans
(right)
incite one to become a pirate – not to be taken literally!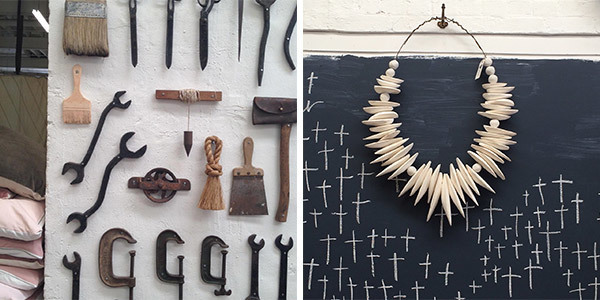 The hardware range becomes a wall display
(left)
and is shown alongside graphic industrial tools.
(Right)
A massive cuttlefish wall hanging sits in front of a chalkboard wall marked with crosses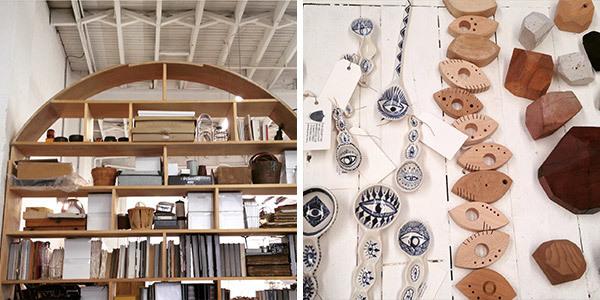 (Left)
A large open bookcase helps divide the retail space from her office where the business of being Sibella Court takes place. New hospitality projects are hatched, products designed and plans for expansion into the New York scene are cooked up in an atmosphere of unbridled creativity.
(Right)
The eye motif recurs in small objects in timber and painted onto ceramic spoons – the theme of protection runs through the space via the symbol of the eye.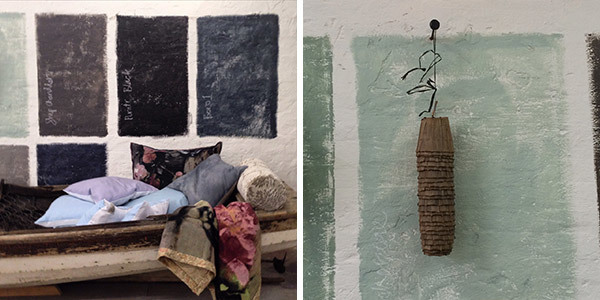 Sibella's range with
Murobond paints
is applied directly to the painted brick wall and its muted shades provide a backdrop to a Balinese boat filled with cushions – the floral ones by New York based photographer and textile designer
Martyn Thompson
.
(Left)
A sketchily applied paint swatch looks like it has been there for ever, adding to the patina of the newly occupied space.
The Society Inc is open Monday – Saturday 10am – 4pm at Precinct 75, 75 Mary St, St Peters, Sydney. Follow Sibella on Instagram @sibellacourt