21 January, 2015
Design your life with Vince Frost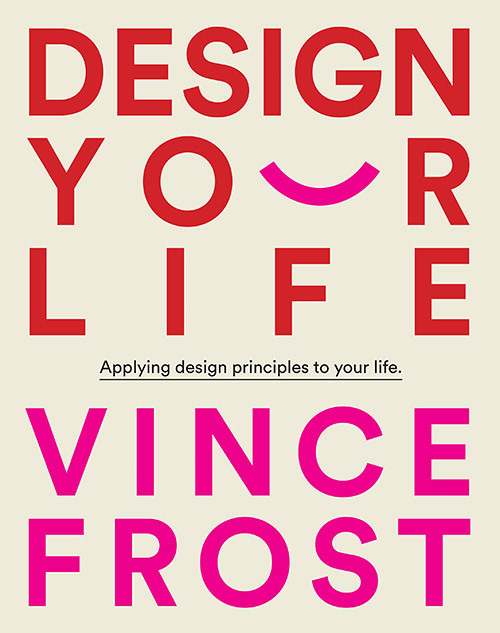 Vince Frost is a highly successful graphic designer, and now runs his own creative ideas studio, Frost*collective. Karen McCartney introduces his new book, Design Your Life. Leave a comment for your chance to win a copy – full details below.
Vince Frost practises what he preaches – and that is part of this book's appeal: his honesty in remaking his life for a more balanced, more generous and giving existence. The book uses phrases and quotes that drive his narrative, all designed with his distinctive punch, hence you are never in doubt as to what he means. He intersperses the book with interviews, asking a series of people he admires, from his naturopath to a high flying entrepreneur, a series of questions to draw out their personal story and what a successfully 'designed' life looks like to them. Here Vince Frost describes what he hopes the book can do for those that read it, and why it was so necessary for him.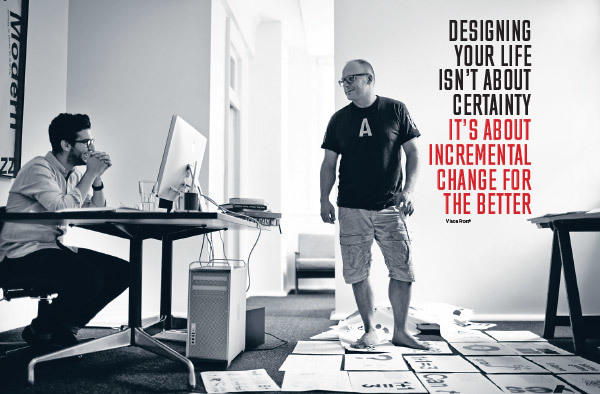 "I spend my working life helping other people work smarter. Every day my team and I enter organisations, identify problems and find solutions. We redesign not just how an organisation looks but how it articulates, how it flows. For the past 25 years, I have always been designing. I've built a thriving practice, amassed an enviable number of accolades and earned the respect of my peers not to mention numerous repeat clients. By all measures, I am a success.
But for years my private life was a mess. I was helping people work smarter. But I did not know how to live smarter. I was designing and redesigning everything but me. It wasn't a moment of revelation so much as evolution. I can't say when it happened but it seems I hired me to help myself live better by living smarter. I began applying my principles of design to my own life. And I found my flow: I am more reflective, more alive to my senses, more in touch with the people in my life and more aware of my value. In short, I am happier.
This book is the next step in my evolution. If my design process can bring value to me as a person, perhaps it can bring value to others. Or, more radically, bring others to recognise their own value. This book will not solve your problems. You have to do that yourself. And it will take lots of hard work. But I believe this book will inspire you to work better at living better.
I am designer. I am a doer. My ultimate measure of success is achieving what I like to call doability. It's not a real word. But its meaning is manifest. This book is more than words, more than images. It's about inspiring ideas to life. It's about proving the impossible possible."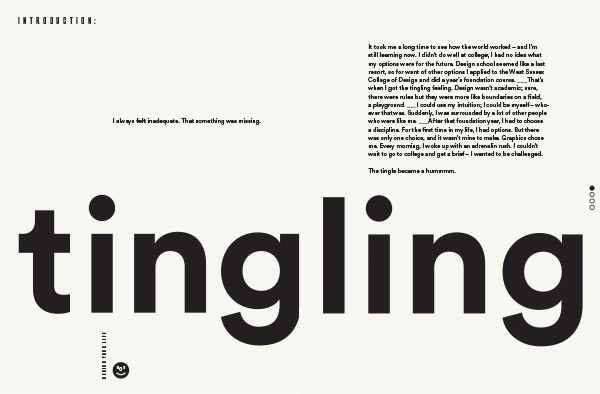 I always felt inadequate. That something was missing.
It took me a long time to see how the world worked – and I'm still learning now. I didn't do well at college; I had no idea what my options were for the future. Design school seemed like a last resort, so for want of other options I applied to the West Sussex College of Design and did a year's foundation course. That's when I got the tingling feeling. Design wasn't academic; sure, there were rules but they were more like boundaries on a field, a playground. I could use my intuition; I could be myself – whoever that was. Suddenly, I was surrounded by a lot of other people who were like me. After that foundation year, I had to choose a discipline. For the first time in my life, I had options. But there was only one choice, and it wasn't mine to make. Graphics chose me. Every morning, I woke up with an adrenalin rush. I couldn't wait to go to college and get a brief – I wanted to be challenged.
The tingle became a hummmm.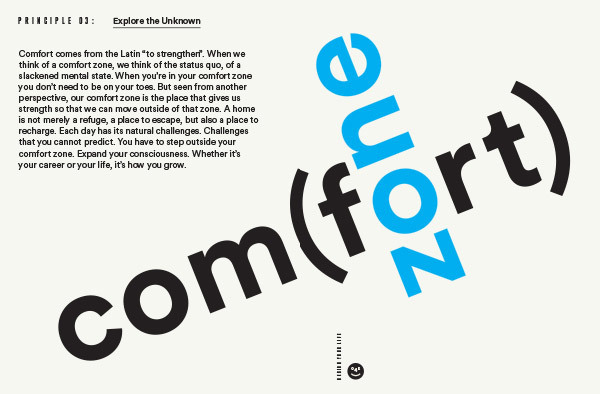 Explore the unknown
Comfort comes from the Latin "to strengthen". When we think of a comfort zone, we think of the status quo, of a slackened mental state. When you're in your comfort zone you don't need to be on your toes. But seen from another perspective, our comfort zone is the place that gives us strength so that we can move outside of that zone. A home is not merely a refuge, a place to escape, but also a place to recharge. Each day has its natural challenges. Challenges that you cannot predict. You have to step outside your comfort zone. Expand your consciousness. Whether it's your career or your life, it's how you grow.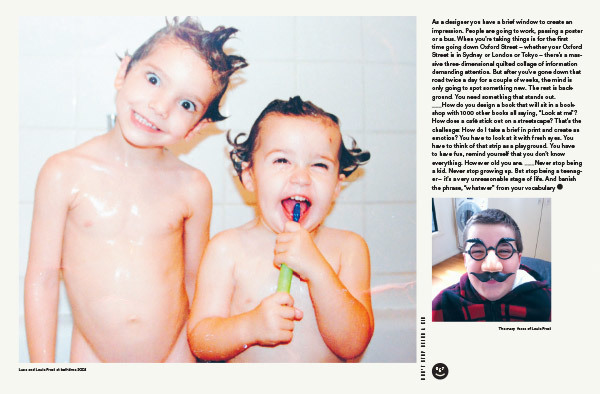 Don't stop being a kid
As a designer you have a brief window to create an impression. People are going to work, passing a poster or a bus. When you're taking things in for the first time going down Oxford Street – whether your Oxford Street is in Sydney or London or Tokyo – there's a massive three-dimensional quilted collage of information demanding attention. But after you've gone down that road twice a day for a couple of weeks, the mind is only going to spot something new. The rest is back- ground. You need something that stands out. How do you design a book that will sit in a book- shop with 1000 other books all saying, "Look at me"? How does a café stick out on a streetscape? That's the challenge: How do I take a brief in print and create an emotion? You have to look at it with fresh eyes. You have to think of that strip as a playground. You have to have fun, remind yourself that you don't know everything. However old you are. Never stop being a kid. Never stop growing up. But stop being a teenager – it's a very unreasonable stage of life. And banish the phrase, "whatever" from your vocabulary.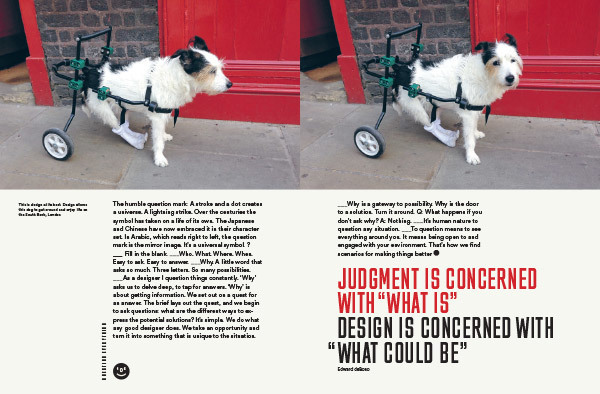 Question everything
The humble question mark: A stroke and a dot creates a universe. A lightning strike. Over the centuries the symbol has taken on a life of its own. The Japanese and Chinese have now embraced it in their character set. In Arabic, which reads right to left, the question mark is the mirror image. It's a universal symbol. ___? Fill in the blank. Who. What. Where. When. Easy to ask. Easy to answer. Why. A little word that asks so much. Three letters. So many possibilities. As a designer I question things constantly. 'Why' asks us to delve deep, to tap for answers. 'Why' is about getting information. We set out on a quest for an answer. The brief lays out the quest, and we begin to ask questions: what are the different ways to express the potential solutions? It's simple. We do what any good designer does. We take an opportunity and turn it into something that is unique to the situation.
Why is a gateway to possibility. Why is the door to a solution. Turn it around. Q: What happens if you don't ask why? A: Nothing. It's human nature to question any situation. To question means to see everything around you. It means being open to and engaged with your environment. That's how we find scenarios for making things better.
Extract from Design Your Life by Vince Frost.