With a family legacy in property development and careers spanning interior design to fashion styling, Melbourne-based sisters Elle and Alanah Giuliano were destined to launch their interior design and property styling business,
Twostyle
. Together the powerhouse pair brings a bold, contemporary edge to homes around the country—with a little help from the Temple & Webster
Trade+Commercial team
, who are always on hand to provide the duo with gorgeous furniture and decor. We thought it was about time we sat down with Elle and Alanah to discover their styling secrets, favourite decor trends and go-to T&W pieces.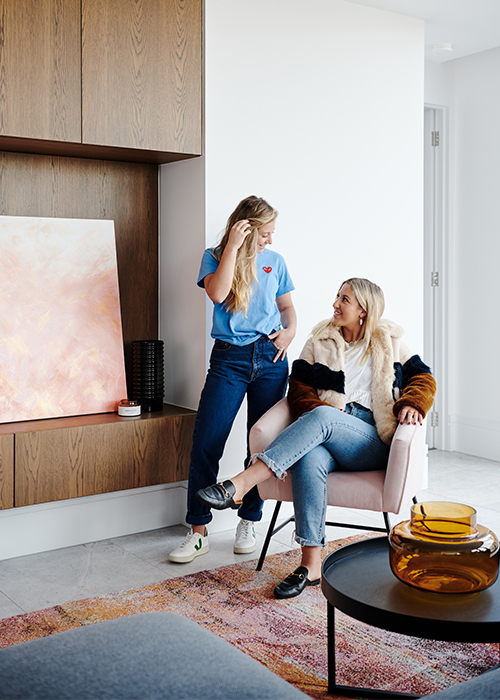 Twostye founders Elle (left) and Alanah Giuliano.
What inspired you to bring your fashion and design backgrounds together to start Twostyle?
ELLE:
We grew up surrounded by all things property and the building industry, with our family business specialising in property development, so there was always a passion for real estate, interiors and designing spaces. Alanah has an incredible eye—she has always had a knack for effortlessly putting things together. Her expertise and experience in the fashion and styling industry, teamed with my background in interiors, business and property, was the perfect combination to bring
Twostyle
to life. That and always dreaming of starting our own business!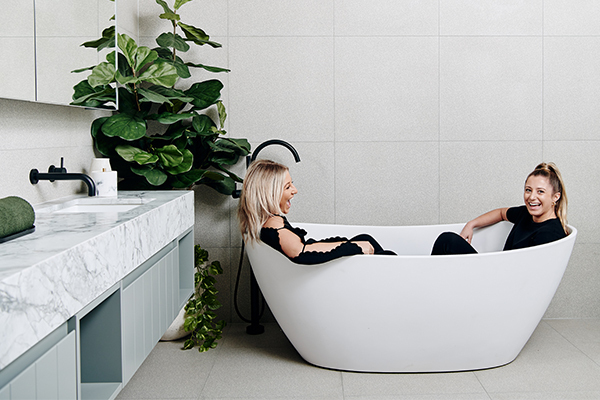 Despite its occasional challenges, Elle & Alanah love working together.
What's it like running a business with your sister?
ELLE:
It has its challenges at times! But, as cliché as it may sound, there is no one else I would rather spend all day glued at the hip. I could not have asked for a better business partner to share successes and challenges.
ALANAH:
We are so similar but can be polar opposites at times. Working together allows us to bring out the best in each other and, most importantly, our team. Our vision has always been to create an inspirational working environment and a sense of family. We work in an industry based on driving creativity, so elevating and driving our team is what we love doing together—it brings out the best in everyone.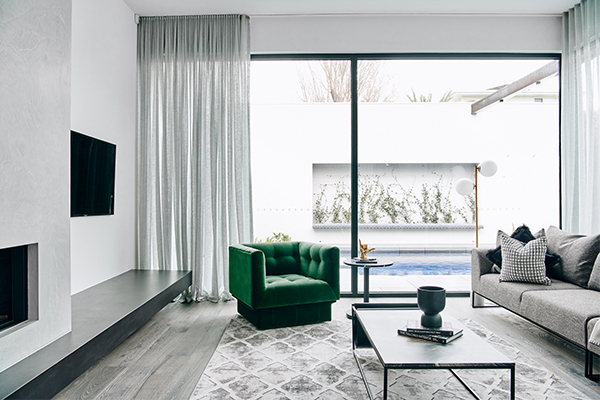 Twostyle transformed this property in Sorrento, VIC, including a T&W rug and lamp.
How would you describe your signature aesthetic?
ALANAH:
Bold, edgy and contemporary. Our signature look is a mix of new-age modern with contemporary classics, keeping our overall aesthetic minimal but never boring. We love creating all types of spaces and having the ability to morph with our clients' ever-changing needs.
What's the secret to nailing that bold, contemporary edge?
ALANAH:
I'd have to say pairing timeless, minimalist pieces with playful, eccentric and bold decor. Soft furnishings are one of our favourite ways to change the mood of the space.
Furniture
is fun, don't get me wrong, but
decor
is where the endless fun begins.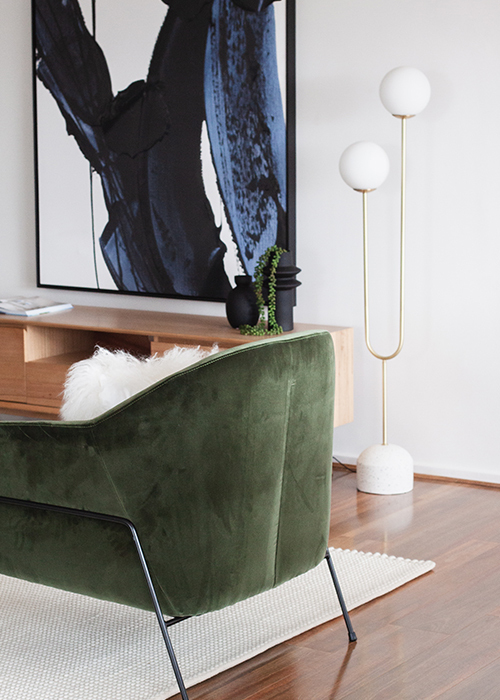 Decor ​​makes all the difference inside this Toorak, VIC, apartment, including a T&W rug and lamp, and artwork by Studio Gallery Group
What kind of T&W pieces do you usually reach for when styling for your clients?
ELLE:
Our absolute go-to's would be
armchairs
,
side tables
,
bedside tables
,
rugs
,
lamps
… Can we keep going!?
Are there any pieces you've loved working with recently?
ALANAH:
I love the
rugs
we get from T&W—they always complete the space, and the variety is honestly endless. We recently used the
Beige Basket Weave Wool-Blend Rug
in an incredible penthouse, and it complemented the space perfectly.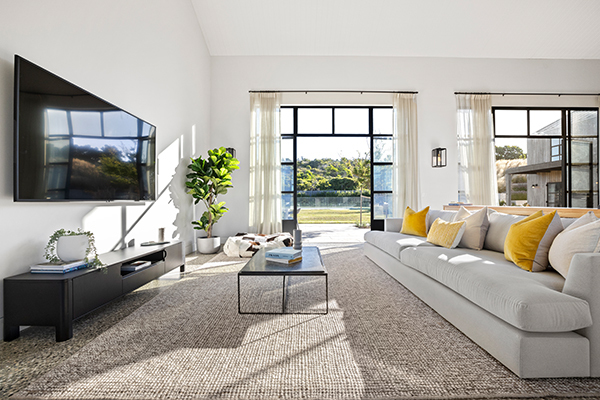 Contrasting textures and pops of yellow elevate a Farmhouse in Blairgowrie, VIC.
How do you approach elevating a space while working within its existing structure or colour palette?
ELLE:
Adding texture that complements the home is always key—and I like to keep a neutral palette on main finishes to ensure that the overall design is timeless. You can then add depth and personality to each space with
furniture
and
decor
.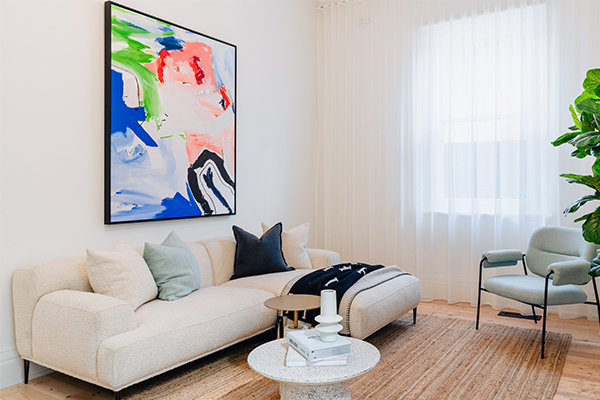 Vibrant artwork by Studio Gallery Group brings this neutral living room in Prahran, VIC to life, complemented by a T&W armchair.
What's your go-to piece for instantly transforming an interior?
ALANAH:
It has to be
art
. A large statement print or piece of art can instantly bring a space to life, and we love drawing inspiration and colour from different styles to elevate a space.
ELLE:
Artwork
! It adds a pop of colour that captures the eye—definitely a go-to.
What else can we use to makeover a space minus a renovation?
ALANAH:
Sometimes, all a space needs is a few pieces of decor to add vibrancy and a fresh feeling. Layer coffee table books,
vases
, a few new
cushions
and complementary
artwork
, and you are good to go. When styling, our go-to formula is to pair pieces in twos and threes—for example, a neutral piece, plus two pops of colour.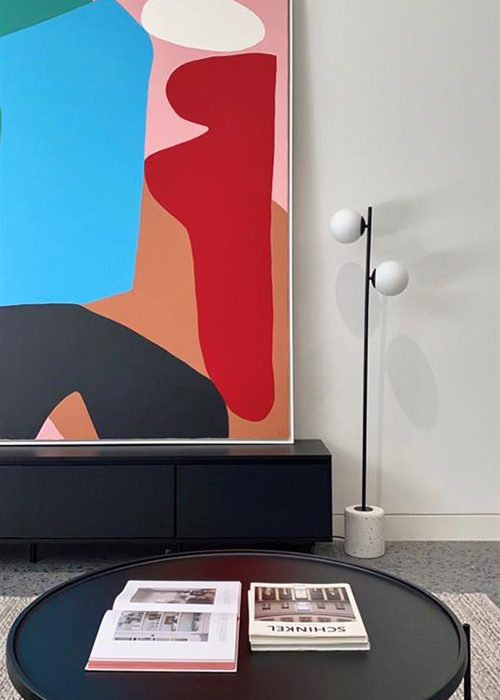 Styling featuring abstract wall art by Studio Gallery Group and a sculptural T&W floor lamp for a new home in Essendon, VIC.
What are some of your favourite sources of inspiration?
ALANAH:
The focus on elevating interior spaces in the hospitality scene has increased dramatically over the past few years and even more so as we came out of lockdowns around the country. I find myself noticing fixtures and finishes in venues and restaurants and drawing inspiration from their stylistic direction and interiors more and more. A current favourite would be
Yakimono
in Melbourne—urban, edgy and bold: like us!
ELLE:
For me, travel wins, always. It has been hard over the last couple of years, but looking at what others are doing around the world allows you to be inspired, stay ahead of trends and set your own style. I will be booking a ticket very soon.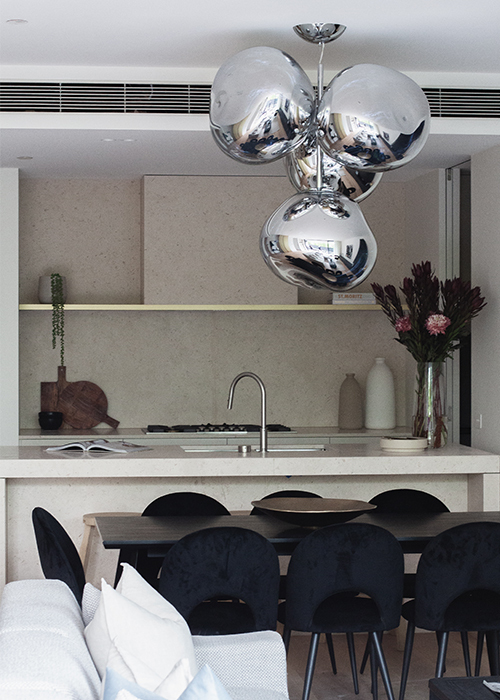 Velvet T&W dining chairs add to the luxe look of this penthouse in Kew, VIC.
Do you have any predictions for the next big thing in interiors?
ELLE:
We've seen organic minimalism coming through many interior spaces, and designers are beginning to bring this trend to life more and more. Think subtle colour palettes, natural textures and treatments, and organic fabrics, with much of this trend channelled from tropical and coastal villas overseas. The lack of travel over the past two years has certainly expanded upon the idea of bringing a holiday-like look and feel to the home, and we think it's here to stay.
Are there any T&W pieces you're personally coveting right now?
ELLE & ALANAH:
The
Formes Armchair
has to be next on our list. We are obsessed!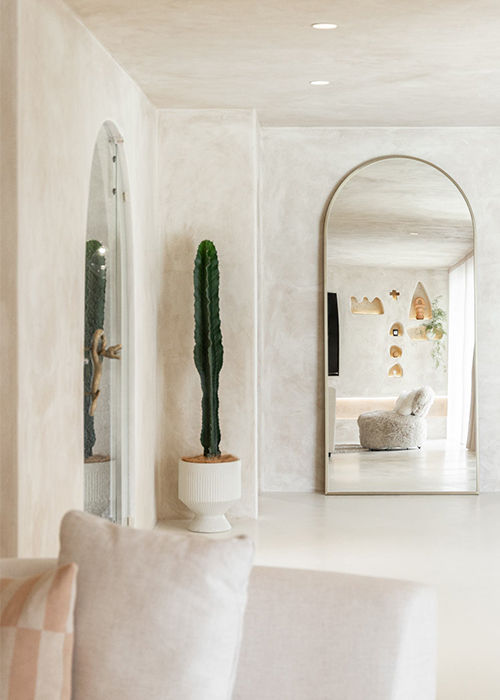 According to Elle, the organic minimalism trend is here to stay. Image via abiinteriors.com.au
Rapid Fire:
Linen or velvet:
Velvet.
Timber of marble:
Marble.
Current colour obsession:
All shades of green.
Favourite design era:
A mixture of modernism, post-modernism and art deco.
Must-visit Melbourne destination:
Kaprica
, Carlton. A must if you love Italian food.
Most memorable moment to date:
Moving into our current Twostyle warehouse and HQ.
Words to live by:
"When the going gets tough, the tough get going."