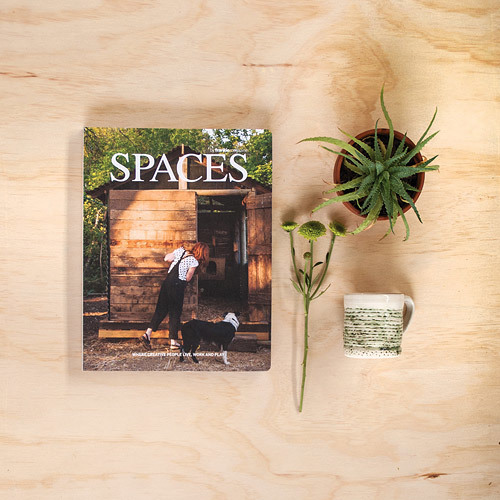 Fans of Frankie magazine have been hanging out for the Volume 2 of Spaces, a collection of Australian homes belonging to designers, photographers, foodies, artists and musicians. It's here! We share a sneak peek into three of the creative homes featured.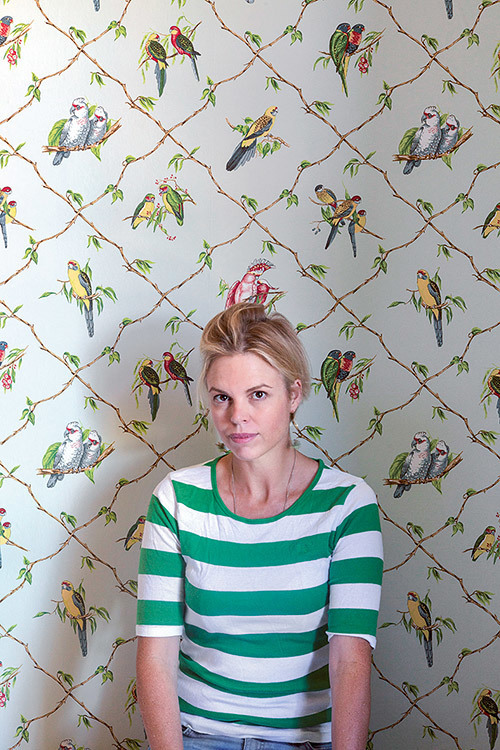 Ingrid Weir, a photographer & designer, uses the old schoolmaster's house in Hill End, NSW, as a laboratory for ideas.
There's something about the landscape in that part of the world, she says. "It's raw and authentic, not pretty country." She'd thought that one day, a long time in the future, she might have a place in the country, but found out on the grapevine that the Old Schoolmaster's House surrounded by an acre of land, was for sale.
When she first saw it, she says, "I didn't see it as a house, I saw it more as a project, of what it could be - there's a lot to play around with."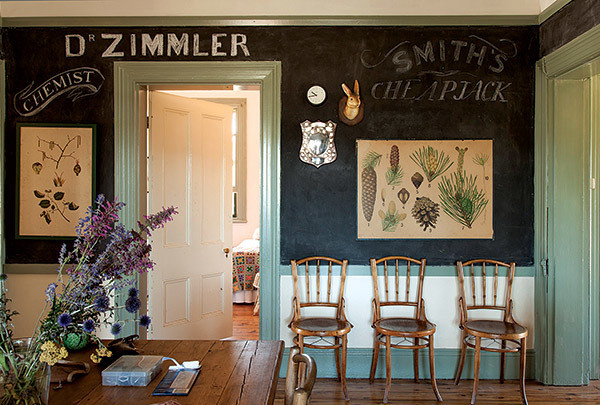 In thinking about the interiors, Ingrid partly drew on her many years working as a set and costume designer in film and TV. The difference here is that, for once, it's completely her point of view. And, unlike the transitory nature of film work, the Old Schoolmaster's House is here to stay. Her approach is imaginatively fictional, with little stories set up throughout.
In the dining room, in the middle of the house, walls have been painted with blackboard paint, and hung with old educational charts. Being a lover of typography, Ingrid has chalked in the names of shops that used to be in the town, 'Chemist Dr Zimmler, Smith's Cheapjack'. She found references to them at an exhibition in the State Library of NSW.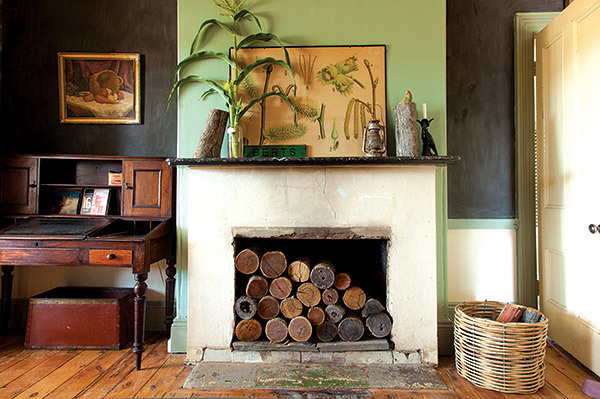 "I've just discovered the word 'sobremesa', which is that thing of sitting around the table for hours, talking after a meal," she says. "There's time to do that here in a way that's not possible in the city. This house has added a dimension to my life."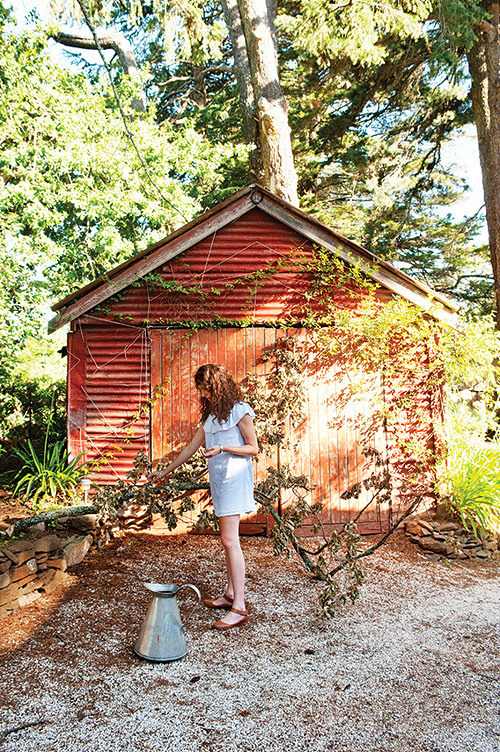 Laura Jones is an artist. She lives in a sublet in Exeter, in the the NSW Southern Highlands, has a lovely old garden, & a 20 minute commute down country roads to her studio.
"I go with the flow and seem to be a bit of a gypsy, taking opportunities as they arise," she explains. "I suppose the fact that I am even here reflects that about my personality." Set amidst picturesque green countryside, the pretty village looks very English with its clipped hedges, leafy streets, little lanes and quaint, historic buildings. WIth three businesses on its single shopping street, the town's population falls short of 1000, and it was a series of fortunate events that led Laura to become one of their number.
She has Andre de Borde (director of Gallery Ecosse in the village) to thank for her current place of residence - an early 1900s three-bedroom weatherboard cottage with a generous verandah, overlooking a green and shady sanctuary that looks like a scene from
The Secret Garden.
"He asked around, as you do in small towns, and found me this place," says Laura. "It has personality and he knew I'd like it. He's a great matchmaker."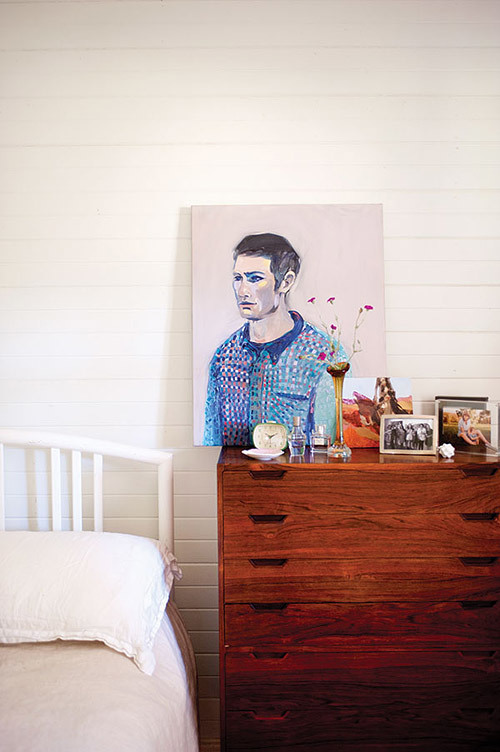 She's kept her space simple - it's fresh and peaceful, with personal touches in the form of patterned textiles, artworks and an abundance of floral arrangements adding warmth, colour and character.
Laura's cottage is part of a larger property with two other houses on it and she has access to the whole lot. "I'm free to wander around and pick flowers. It's like a park!" she says. "The garden seems to have been very well thought-out. There is almost always something flowering no matter what the season, which has been great for my paintings.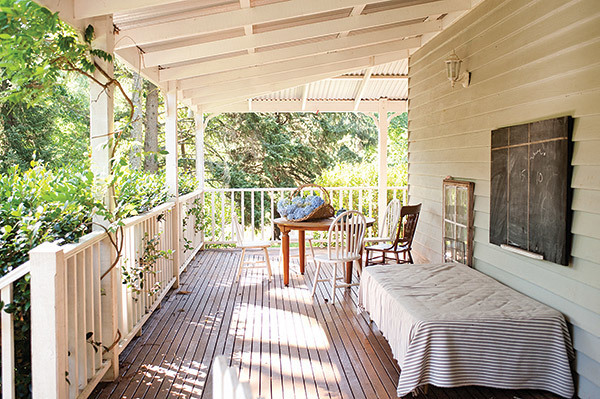 Laura has been a finalist in several art awards, including the 2012 Doug Moran National Portrait Prize, the Portia Geach Memorial Award, and has numerous solo exhibitions to her name. Her most recent, held at Gallery Ecosse, was all about flowers.
It was Laura's Mum who first taught her about flowers, then she worked as a florist when she was a uni student. "It was never something I thought of painting at the time, but when I stopped doing floristry, I kind of missed them," she says. A couple of still-life paintings was all it took for Laura to realise she was on to something. "I really felt like I had found my thing."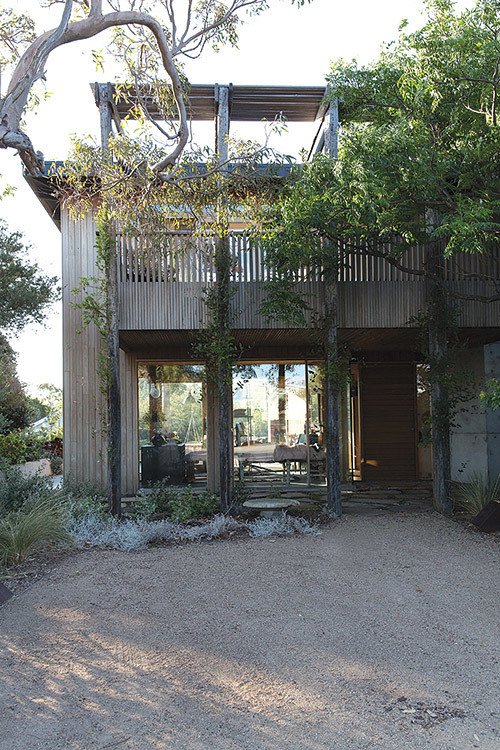 Kate & Mal Heppell spend time with their son Zig at a house they've rebuilt at Point Lonsdale, Victoria.
Kate designs bedding for Kip & Co, a business she runs with two friends; Mal is a landscape designer. At the moment, the family spends half the week living at Point Lonsdale and the other half in Hawthorn, Melbourne, but by the end of the year they would like to be out of the city for good. It's too noisy and chaotic for them. "By comparison, Point Lonsdale is like a retirement home," says Kate. "But we love that."
The couple started out with a clear idea of what they wanted: an Australian take on a Swedish-style home. One of their earliest and biggest decisions was to source materials locally, through sustainably minded Australian companies such as Eco Timber. They wanted the house to feel organic, and to fit in with the native flora. "Almost everything we used to renovate the house can be found in Victoria," says Mal, "which, as well as being better for the environment, also just means that it all works together aesthetically."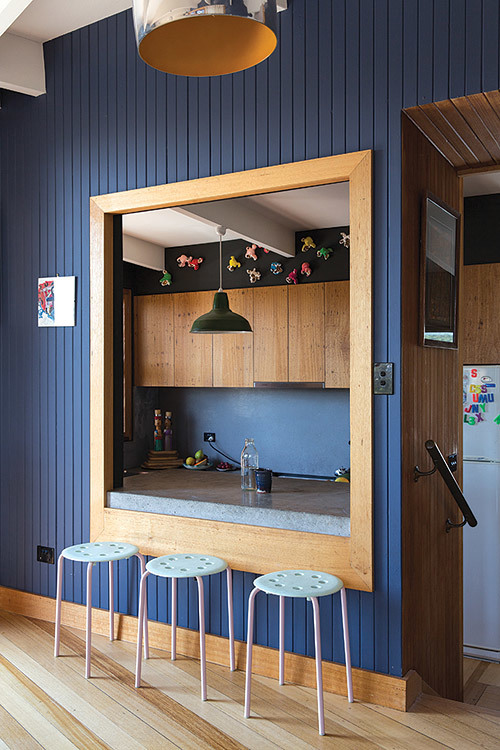 From the outside, the house is all sharp angles and timber, with its cladding of pale Victorian hardwood and a lovely big deck upstairs. Inside, it feels airy and tranquil, due in part to the couple's decision to keep the original open-plan layout.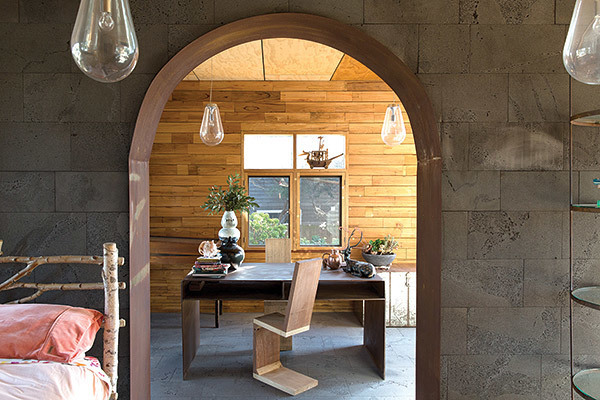 One of the biggest differences between the old house and the new is the downstairs studio, which Mal and Kate created by filling in the double carport. "Having somewhere to work down here was very important to both of us," Kate says. "I can work from wherever I am, and over the years Mal has done more and more design, which is something you can do from home." In the middle of the stone and timber space is a broad archway, a particular point of pride. "We made it ourselves, by ploughing straight through a triple brick wall," Mal says. "Everyone we spoke to - builders and architects - said, 'That's moronic.' But we went aainst their advice, and it just worked."
"It sounds so corny," says Mal, "but we did end up building our dream house. At times, we really just winged it, confidence in our own minds that it was going to look good, and I think that's what's made it so cool. Somehow, it all just works."
You can also follow Frankie on Facebook, on Pinterest or on Instagram @frankiemagazine.