The silly season is fast approaching and what better way to celebrate than with your favourite cocktail. Here, we share recipes for a few classics, plus the interesting stories behind them.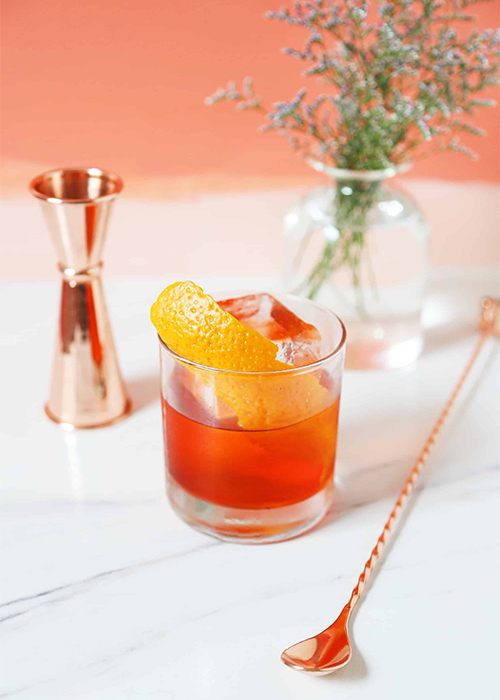 Image via abeautifulmess.com

The Negroni
There's no documented history of the Negroni, but it is believed that Count Camillo Negroni invented it at the Caffè Casoni in Florence, where he ordered an 'American' but swapped out the soda water for gin. It's safe to say that the switch was a success and, shortly after, his family founded the Negroni distillery and, in 1919, began producing a pre-mixed version called the Antico Negroni.
Recipe
25ml gin
25ml sweet vermouth
25ml Campari
Ice and orange peel, to serve
Pour gin, vermouth and Campari into a mixing glass with ice and stir well until cold. Strain into a cocktail glass, add one large ice cube and garnish with orange peel to serve.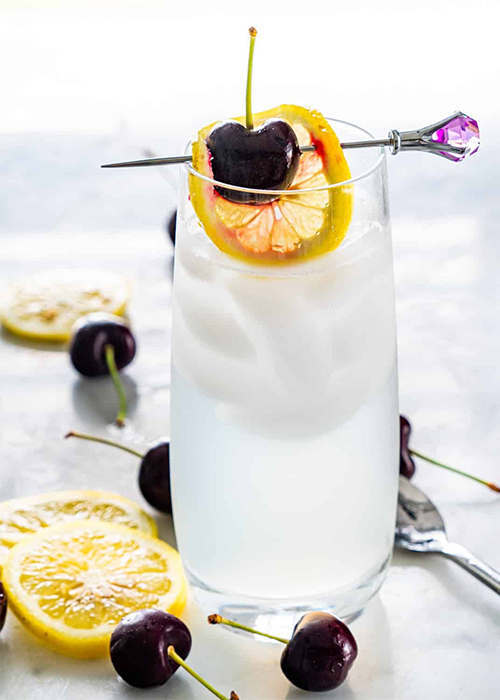 Image via jocooks.com

The Tom Collins
Some sources say that the origins of the Tom Collins began in 1860, when the head waiter of a popular restaurant in London invented it and named it after himself. Others claim the cocktail came about in 1874 after a popular joke did the rounds in New York, famously known as the Tom Collins Hoax. The joke involved telling someone that a man by the name of Tom Collins had been heard saying awful things about them, but he had just disappeared. They would rile up the person so much that they'd go on the hunt for the fictional Tom Collins, eventually asking the bartender, "Have you seen Tom Collins?", to which they would reply by handing them the cocktail.
Recipe
60ml gin
20ml lemon juice
15ml sugar syrup
Ice, to serve
Soda water, to top
Lemon wedge and maraschino cherry, to serve
​Add gin, lemon juice and syrup to an ice-filled cocktail shaker and shake well. Strain into an ice-filled highball glass and top with soda water, then garnish with the lemon and cherry.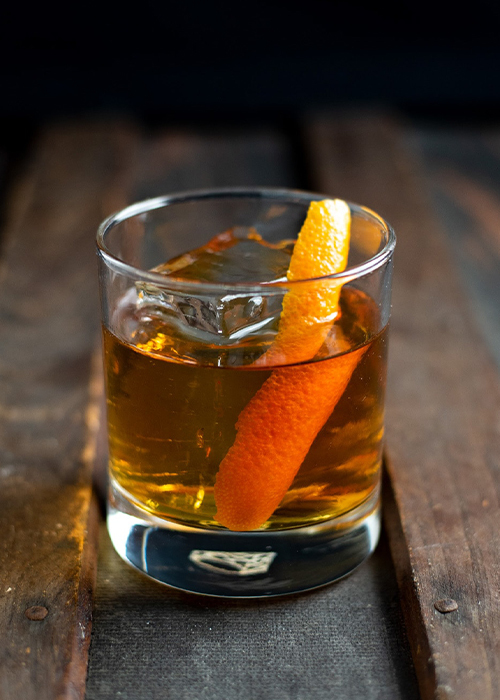 Image via kitchenswagger.com

The Old Fashioned
Before there was the Old Fashioned, there was just the plain old Whiskey Cocktail. It gained popularity with the youth around the 1840s and, by the 1870s, it became the favourite of bartenders for experimentation as new liqueurs became more readily available. This frustrated the old-timers, who just wanted an 'old-fashioned whiskey cocktail'. Post Prohibition in 1933, due to the scant access to good liquor, people took to muddling fruits into it to mask the taste of the bad alcohol. In the UK, this 'fruit salad' version was never adopted, although they did develop a penchant for the 'stirred down' method, where the whiskey and ice were added gradually and stirred for up to 5 minutes to develop the flavours. Since the end of the 20th century, this classic has mostly been associated with the older generation.
Recipe
1 tsp sugar syrup, or 1 sugar cube muddled with a splash of water
60ml bourbon or rye whiskey
2 dashes angostura bitters
Ice and orange or lemon peel, to serve
Combine syrup, bourbon or whiskey and bitters in a mixing glass. Fill halfway with ice and stir vigorously. Strain into a glass, over a large ice cube. Squeeze the orange or lemon peel over the glass to extract the oils, wipe the rip of the glass with the peel, then add to the glass to serve.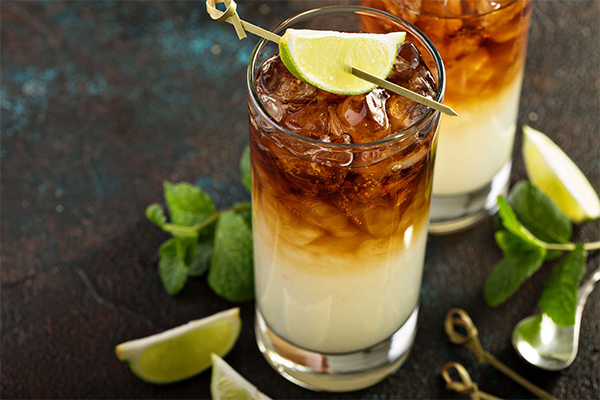 Image via thrillist.com

The Dark and Stormy
In 1857, a family known as the Goslings began producing dark rum in Bermuda, 51 years after settling there. At the time, they made what became known as Black Seal rum. The sailors there, who would quench their thirst with ginger beer from the factory owned by the Royal Naval Officer's club, developed a taste for adding a splash of Black Seal Rum to their ginger beer. When one sailor commented that the drink was the colour of a cloud that only a fool would sail under, the name was coined. Since you couldn't patent a recipe, they decided to trademark the name, so now a true Dark and Stormy must be made with Gosling's dark rum, although a lot of Australians get by with Bundaberg.
Recipe
60ml rum
150ml ginger beer
Ice and lime wedge, to serve
Pour rum over ice in a highball glass and top with ginger beer. Squeeze over the lime wedge, then drop in the drink to serve.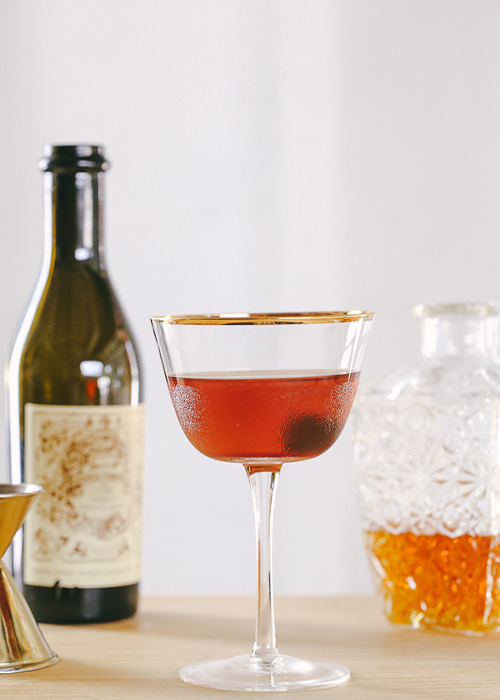 Image via sugarandcharm.com

The Manhattan
For a while, it was believed that the Manhattan was invented by Dr Iain Marshall in the early 1880s for Lady Randolph Churchill's party, held at the Manhattan Club in New York. This was proven a myth, seeing as at the time, she was in England, pregnant with Winston Churchill and most definitely not drinking cocktails. Then, in 1923, the Valentine's Manual of New York claimed that bartender William F. Mulhall of New York's Hoffman house recounted that the cocktail had actually been invented by a man at a bar on Broadway in the 1880s.
Recipe
60ml whiskey
30ml sweet vermouth
2 dashes angostura bitters
Ice
1 maraschino cherry
Add whiskey, vermouth and bitters to a mixing glass with ice and stir to combine. Strain into a martini glass and garnish with a cherry.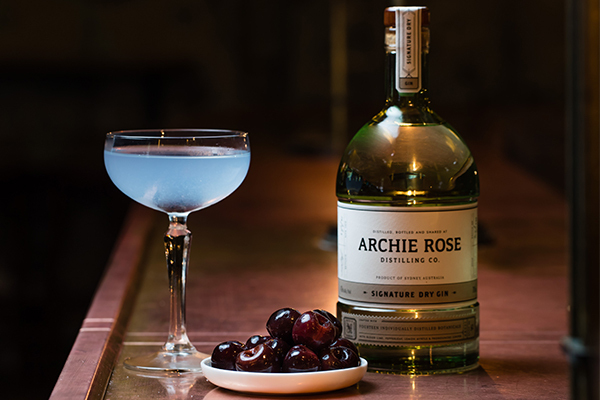 Image via Archie Rose

The Aviation
Hugo Ensslin's self-published
Recipes for Mixed Drinks
introduced the Aviation in 1916. Known for his artistic flair, he enlisted crème-de-violette to give the drink a floral tone and distinctive purple-blue shade. Unfortunately, due the French liqueur being so obscure and Prohibition's limited access to it, the drink became relatively unknown until the 1930s. The origins of the name was a combination of its pale 'sky-blue' colour and the early aeronautical boom at the time.
Recipe
60ml gin
10ml maraschino liqueur
20ml lemon juice
2.5ml crème-de-violette
Ice and brandied cherry, to serve
Add gin, maraschino liqueur, lemon juice and crème-de-violette to a cocktail shaker filled with ice. Shake until chilled. Strain into a chilled coupe or cocktail glass and garnish with the cherry to serve.

"An Aviation is a classic gin cocktail that heralds back to the first days of plane travel. Gin and Luxardo cherry liqueur find a perfect balance in sweet and sour, and the unique floral note of crème-de-violette means this cocktail is paired best with warm summer evenings. While being nowhere near a replacement for that longed-for international holiday, this golden era cocktail is sure to be the perfect take-off for your fun-filled festive season at home."
​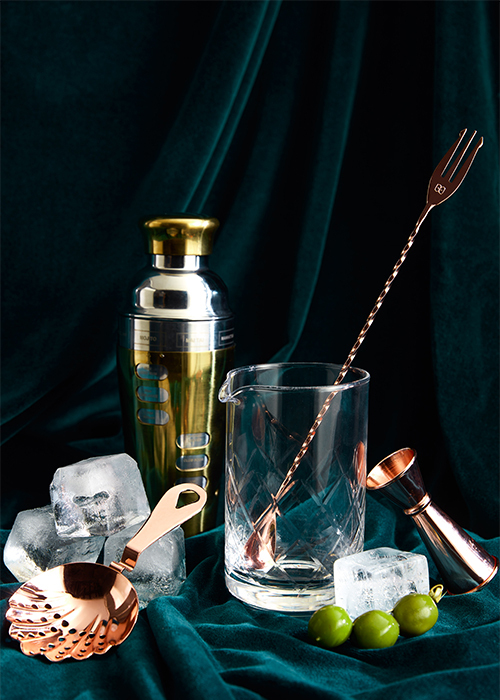 Shop our collection of cocktail glasses, barware and accessories now.