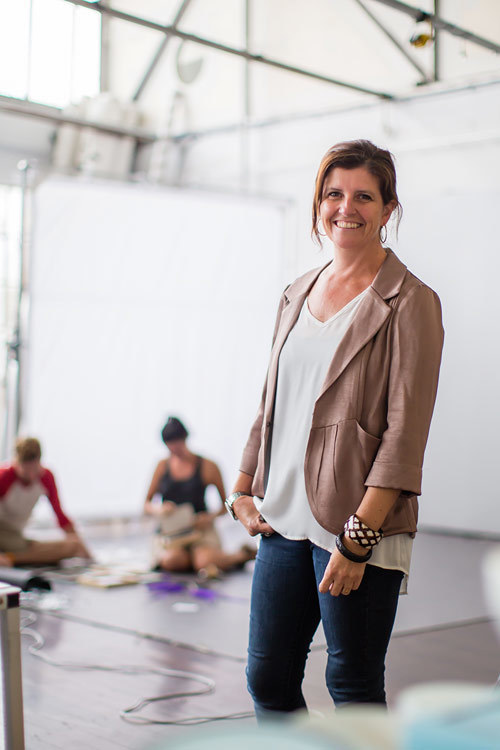 In last week's Judgment Day post, T&W's Chris Deal and Jessica Bellef visited iscd's North Sydney campus to choose a winner for the Rapee styling assignment. This week, we open the envelope and reveal the winner – Elizabeth Sietsma.
Having proved her mettle by presenting a successful styling concept for
Rapee cushions
, the T&W creative team welcomed iscd student Elizabeth to the studio for a no-holds-barred introduction to the sport of styling, T&W style.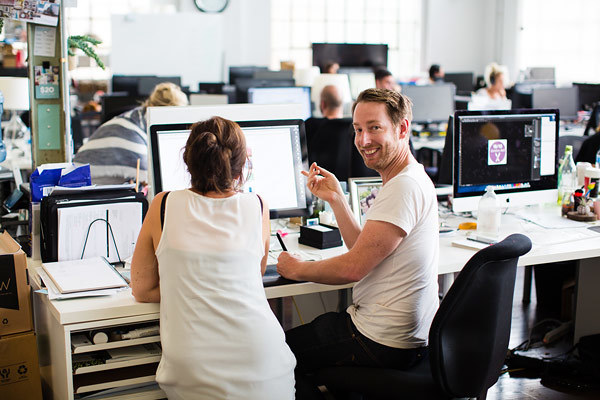 Straight out of the gates, T&W Creative Director Chris Deal spent some time explaining the T&W process, from the initial product selection by the buying team to the creative team's work producing beautiful images and the final preparation of each sale event by our production team.
Then it was into the hard yards: unpacking and re-packing many boxes of products and assisting stylists Adam Powell and Emmaly Stewart with a shoot for this week's Corban & Blair sale event event.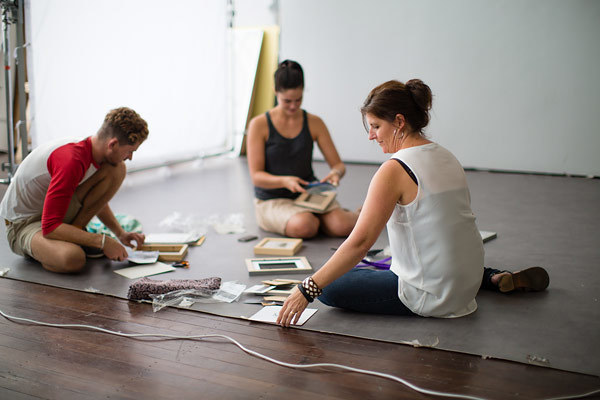 This was pretty much par for the course for Elizabeth, given her existing interest and skill in upcycling materials to create art (via her own small business Nest – Styling your Space).
Importantly, she was quick to pick up on the team spirit. "I don't want to sound clichéd, but there is such a great vibe there in the studio," she said. "Everyone is so casual but really professional, and everyone was really welcoming and so helpful with information and genuinely interested in teaching/sharing with me. I thought I was going to feel in the way - but I really didn't (even though I probably was!)"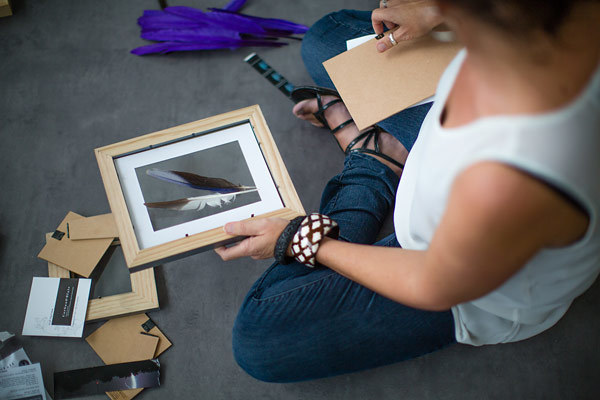 Proving she was no one trick pony, Elizabeth also spent time sourcing props with Jess, picking up editorial and social media tips from Victoria and of course soaking up everything she could from the styling team and our talented photographer Denise Braki. She explains: "I watched an open studio with a white melamine table turn into a beautiful, cosy French kitchen bathed in morning light, complete with windows and a hedge outside…of course the freshly cooked French toast with fig jam helped set the scene!"
We tested her creative staying power with a styling brief she received on her first day, and worked towards all week. "Looking at images of the samples for the shoot, Elizabeth and I sat down and talked through some initial ideas - the concept, colour palette, backdrops and props," explains Jess. "We looked through our image archive of shots we have done in the past, to find options for composition and angles. Elizabeth did some sketches and we workshopped those, then she dived into Prop Alley (where we store our props!) and pulled out suitable pieces that brought her casual but elegant tabletop scene to life, building the scene with a rustic table top and a deep navy backdrop. Elizabeth's addition of a beautiful cheese platter and greenery from her garden really set the scene."
Elizabeth ran with it, and this is where her
iscd
training really came to the fore. She explains: "The work we had to do painting all those colour chips for
Certificate IV
really works! Your eye does see the differences in colours and tones of colour when you are doing it a lot. Having the opportunity to work on a shoot brought all the elements and principles of design flooding back! Thank you Katie and Sharon at
iscd
for repeating yourself over and over and for all those exercises we had to complete!"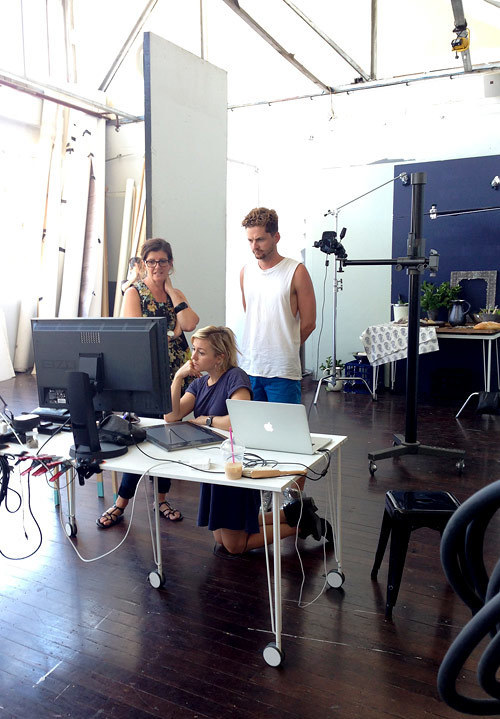 On game day, Elizabeth brought stamina, speed, strength, skill and, naturally, style. She worked with Denise, Jess and Adam to compose and refine the shot. "The spacing of objects in a scene or on a table is very different through a camera lens, so getting used to that is the key to a great shot," she said.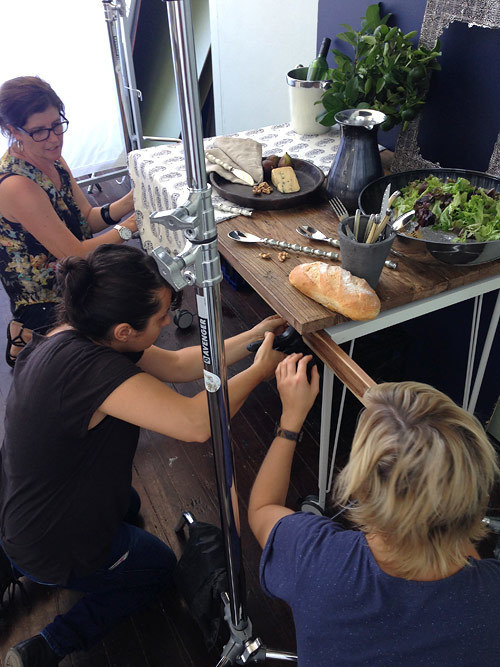 Having to roll with the punches is part of the process, and in this case it was Creative Director Chris Deal who threw a curve ball. His eagle eye noted that the bottom of the frame was a little bare, so Elizabeth and Jess faked a table edge using a piece of timber.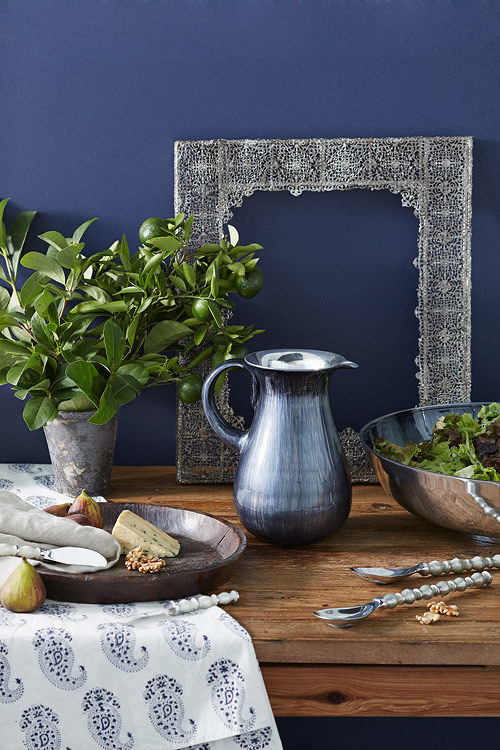 After solving this challenge with a healthy dose of smoke and mirrors, the team was on the home stretch and the final image was almost a formality.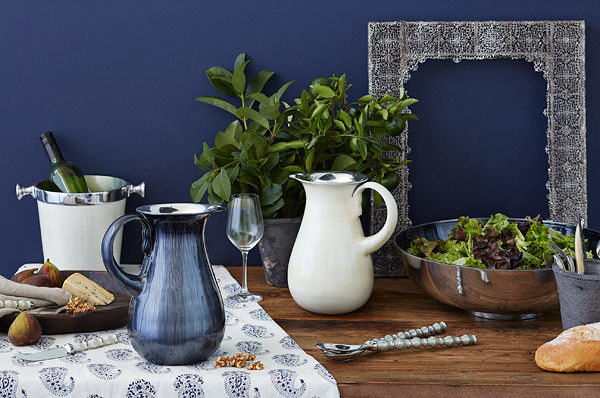 We asked Elizabeth what styling secrets she learned during her week with us, and she gave us two: imagination, and restraint.
"If you can stand it on a milk crate or clamp it with a stand, you can do anything you dream up. Just give it a 'story' in your head to give the shot direction, and away you go. At the same time, remember the age-old design statement: when you are finished styling a room, take something out. It works in a shoot too - don't overcrowd it."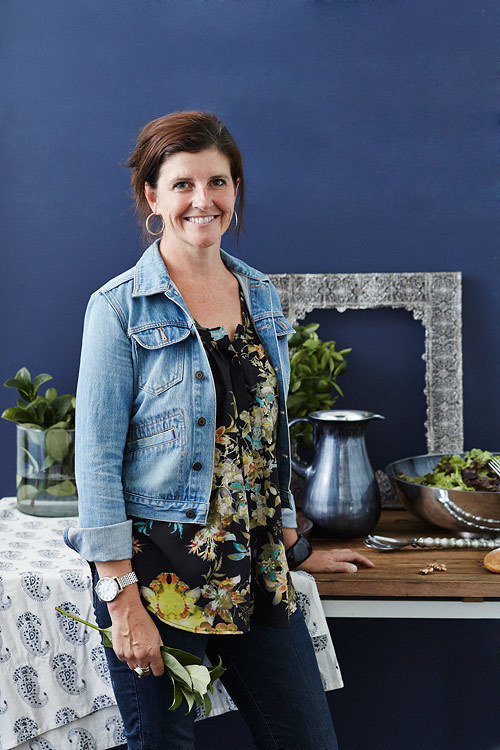 It was a pleasure having Elizabeth in the studio and we wish her all the best in her future styling journey. Here she is with her final shot, and what I think you'll agree is a winning smile.
Photography – Maya Vidulich (top 4), Chris Deal (middle 3), Denise Braki (bottom 3).