​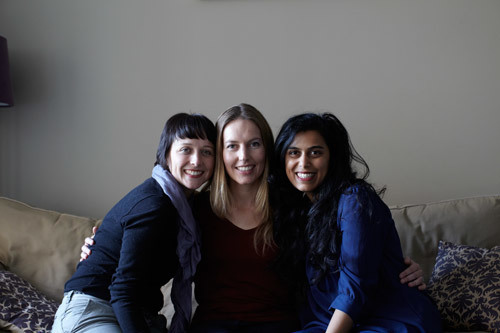 Artisan Magazine is a quarterly iPad magazine that focuses on stories of the local, personal and unique—all things handmade, simple and beautiful. We're pleased to introduce them to you - they'll be sharing stories here on the Temple & Webster blog, starting with a profile on Melbourne studio Ink & Spindle.
Artisan Magazine started as a collaborative project between three friends and colleagues: Natalie Hunfalvay, Leigh-Ann Thomas and Bhavani Konings (pictured above), who wanted to combine skills and share in the creative process.
They explain: "Telling stories through rich imagery and interactivity was really important to us and we found the perfect medium – an iPad Magazine. We want to tell stories that inspire us and bring out the artisanal side of life. We are interested in sharing stories about products that are designed in a sustainable way and about makers who work with care, consideration and craftsmanship. Even if you aren't an artisan yourself, by taking time to appreciate and incorporate artisanal ways into your lifestyle you can nourish yourself physically, emotionally and psychologically. Whether an interesting do-it-yourself project on natural dyeing, a food story and video on how to make cheese, a peek inside a beautiful rose farm or an artist studio—the emphasis is on highlighting the simplicity and beauty of 'local', small-scale artisans creating meaning through their work."
On a recent trip to Melbourne, the Artisan team caught up with the lovely duo behind
Ink & Spindle
, a unique textile studio run by two very creative women. Here's their story...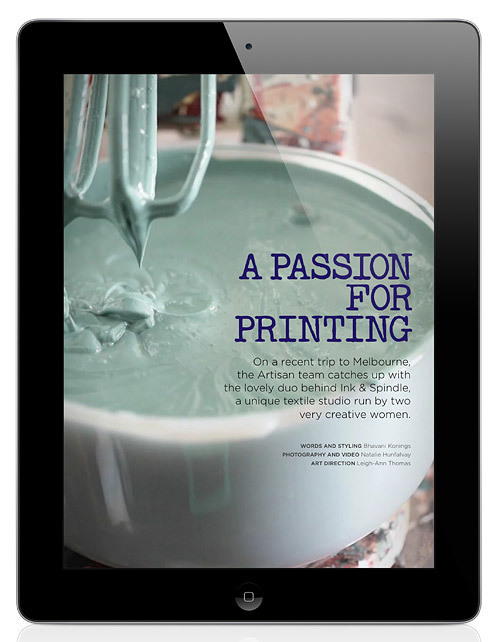 The Studio
Meet Tegan (Teegs for short) and Lara, two lovely ladies who run Ink & Spindle, a beautiful textile studio located in Melbourne. The studio, almost five years old now, has been a dream in the making. The ladies share their memories of passing by the 'grand old, saw-toothed, red brick warehouse', an old wool store. After plenty of hard work the old store has turned into a sweet little studio, showcasing such things as an amazing custom-built 10-metre table used in the screen-printing process.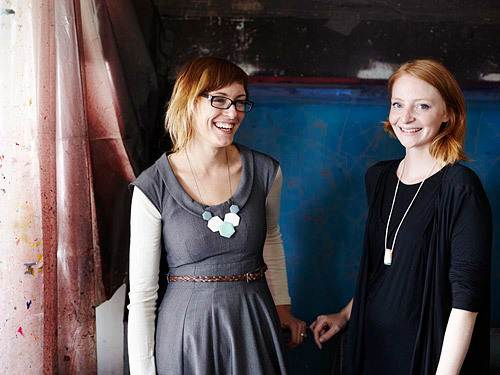 Both women have a long-standing love for textiles – working with fabrics, sewing and screen-printing projects were a part of both their childhood and teenage years. A natural collaboration ensued when Lara, a graphic designer and Tegan, previously a secondary school teacher with a background in Fine Arts and printmaking, combined their training and creative skills to develop a textile design and print studio. This was the beginning of Ink & Spindle.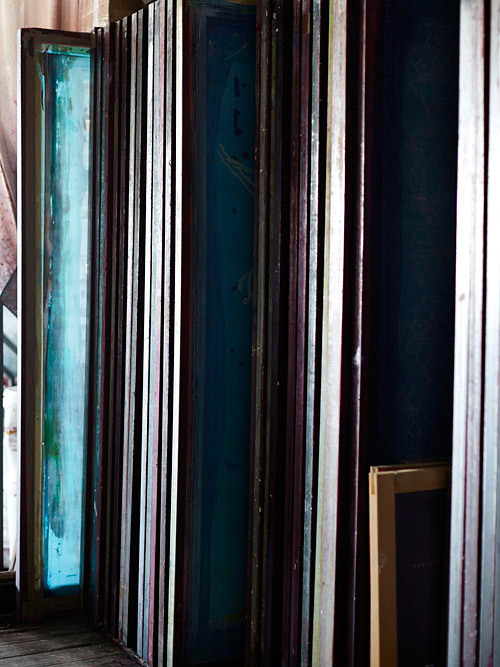 The Process
As with any other creative process, the starting point is an idea. Tegan and Lara may discuss their ideas over the printing table and some ideas can take months before they are fully worked out. Eventually their words evolve into artwork; 'it might be a charcoal, pencil or ink drawing, a lino print, or created directly in Illustrator'. Their work is scanned into a computer, touched up and a design is born.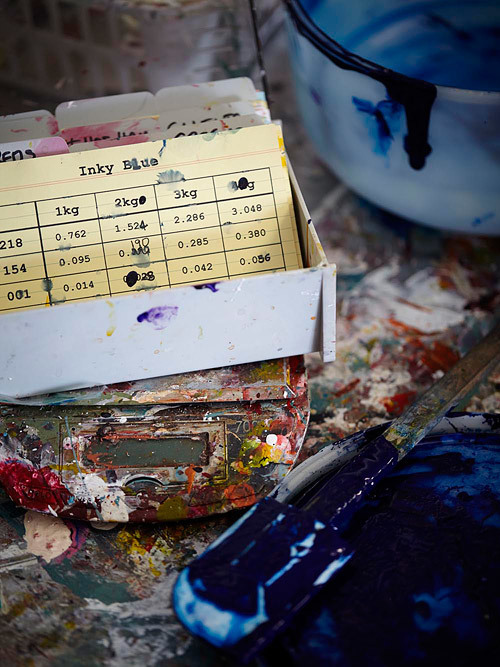 Not a simple process by any means; the repeat of the design cannot be generated by any automatic tool, and this complicates the technical aspect of their design creation. 'We have to take into account the limitations of our process and ensure that any repeat is disguised when hand printed. We need to factor in a margin for error (no two prints are positioned exactly the same) so very linear and small-scale designs aren't going to work.' As a way to work around some of these difficulties, the ladies choose to design more 'organic, flowing prints, with interlocking motifs that disguise the repeat line.'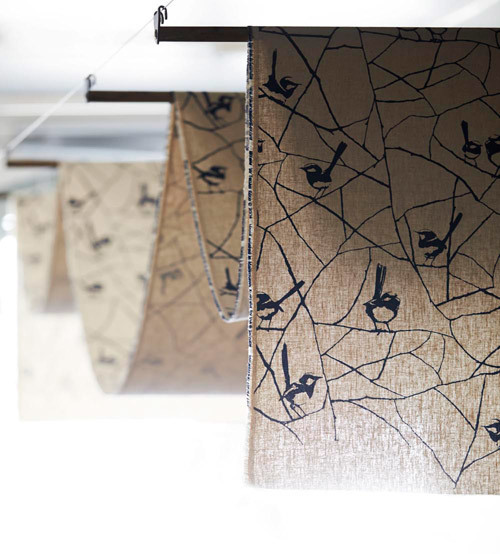 Once the design is finalized it is ready to be printed full-scale onto clear film – a process that is outsourced as it is specialized and the equipment is expensive. This process has resulted in a collection of large scale printing screens – each with a handcrafted print.
The team has a system in place, which matches mixtures of ink (all water-based and solvent free) by weight to Pantone colours. Using 'a set of kitchen scales, an old mixer and some spatulas', the ink is mixed to create a beautiful range of colours. The ink mixing seems a little bit like baking: 'our opaque white is very reminiscent of meringue and the chocolate looks very much like cake mix when it's being stirred around in the bowl!'.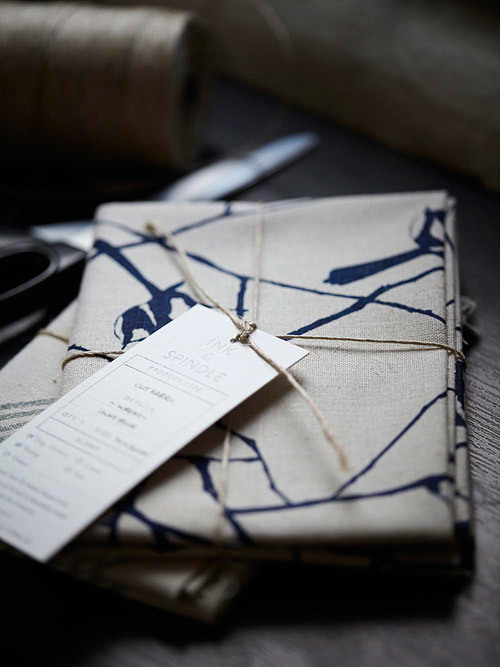 After the ink is mixed, the fabric – cotton, hemp, yak and 100% linen textiles sourced from organic and sustainable sources – is laid out on their work table. Each 'stop' has to be positioned so that the prints are exactly 50, 60 or 70cm apart. Every second section of the fabric is printed so that once dried the rest of the sections can be printed. After the printing is finished, the fabric is hung to dry, then sent to a heat set and then it's ready for use.

While a time consuming process from start to finish, there is no doubt the final product is worth the effort. Seeing as their personal decisions to live ethically and sustainably extend to their business decisions, the team also ensures to minimise waste and impact on the environment in their processes. Indeed, such efforts must be applauded in a time when so much mass-production interferes with the simple, beautiful and handmade.
Download Artisan Magazine via www.artisan-magazine.com, or directly from the App Store via your iPad (the link is here, or search for "Artisan Magazine").