The most prestigious event in cinema is just around the corner, so hold onto your
sofa
! Monday 28 March marks the
94th Academy Awards
for us here in Australia, and with names like Nicole Kidman, Kristen Stewart and Benedict Cumberbatch nominated to take home a highly-coveted Oscar, it's sure to be a night to remember. The red carpet has a way of making waves, with celebs over the years pushing (or completely trampling) the highly-enforced dress code. We take a look back at some of the most iconic red carpet moments and see what they would look like as T&W rooms.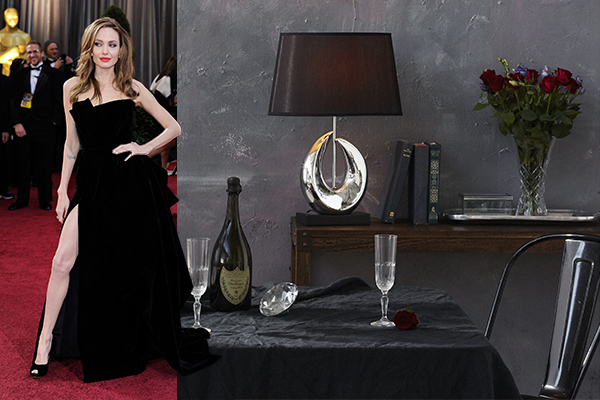 Image of Angelina Jolie via Marie Claire
Angelina Jolie, 2012
When Angelina rocked this seemingly standard (and by standard, I mean incredibly gorgeous but not controversial) Versace gown, it very quickly made headlines and even sparked a Twitter account commemorating the moment (@AngiesRightLeg). Elegant, timeless and with a touch of seduction, Jolie's look perfectly matches this opulent black dining space, with luxurious red roses and accents of silver.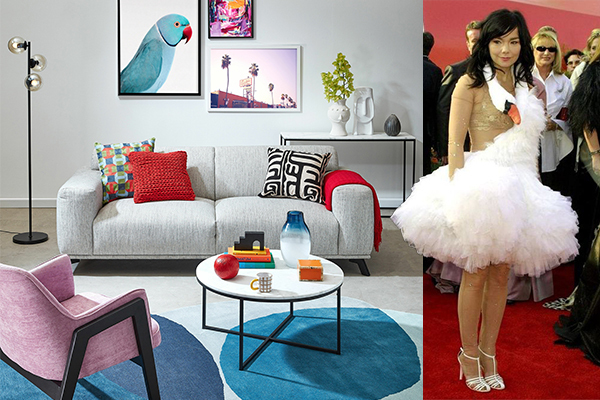 Image of Björk via Elle
Björk, 2001
Björk turned every head at the 73rd Academy awards in the Marjan Pejoski Swan dress, creating such a buzz that the dress now has its own
Wikipedia page
and has been referenced largely in pop-culture, from awards show jokes to film and TV shows such as
White Chicks
and
Hannah Montana
. Not only was the dress itself outside of the box, Björk went a step further and pretended to lay a golden egg on the red carpet. The whole moment was widely criticised, but just like this art-pop living room, it's quirky, a little outrageous, and fits Björk to a tee.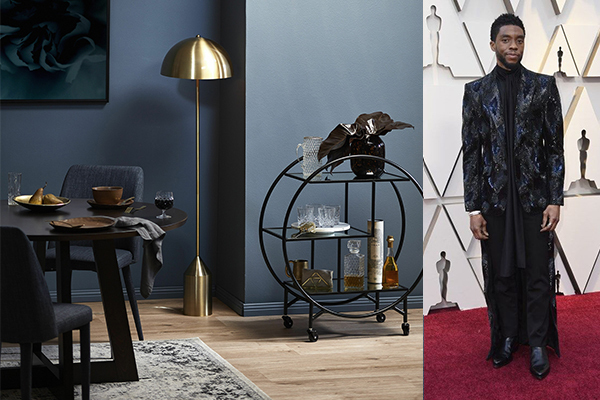 Image of Chadwick Boseman via Today
Chadwick Boseman, 2019
Just a year before the
Black Panther
star passed, he wowed in this custom Givenchy suit that features an intricately embroidered jacket with a long tail and a luxurious scarf in place of a tie. Though he wasn't an individual nominee that night, Boseman showed up in style to support
Black Panther
, which was nominated for Best Picture, Sound Editing, Sound Mixing and Original Song, and took home the Oscars for Production Design, Original Score and Costume Design. This navy and black dining room embodies unpretentious luxury, just as Boseman does.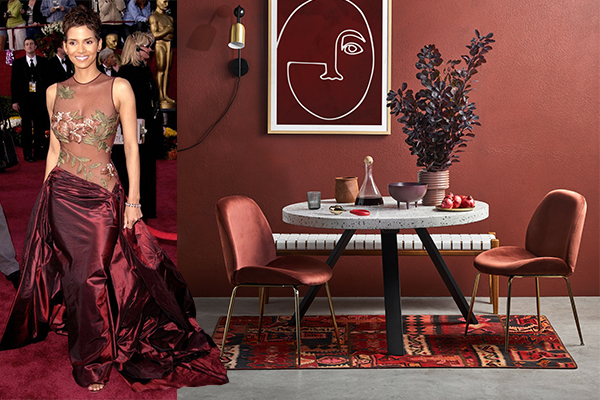 Image of Halle Berry via InStyle
Halle Berry, 2002
Halle Berry graced the red carpet before she won the Best Actress Oscar for her performance in
Monster's Ball
in this burgundy Elie Saab gown that ushered in a new style: the barely-there mesh dress with strategically placed embroidery. Fun, a little cheeky and effortlessly stylish, Halle's dress perfectly translates to this sangria-hued dining room, accented with a touch of greenery.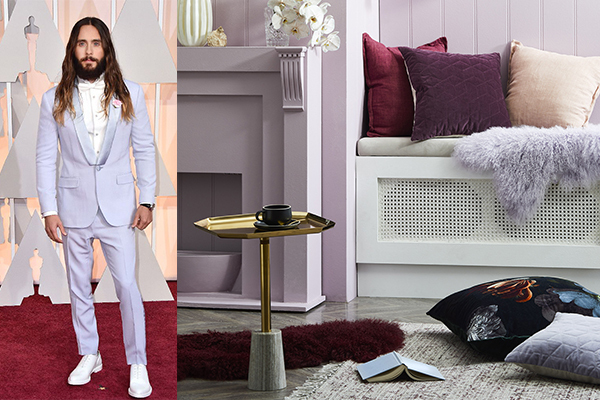 Image of Jared Leto via Pinterest
Jared Leto, 2015
After his Oscar win for his role in
Dallas Buyers Club
in 2014, Leto returned to present the award for Best Supporting Actor in a lavender Givenchy suit, paired with a crisp white bow tie and shoes. His pastel outfit pushes the dress-code envelope without completely breaking tradition, subtly moving away from gender conformity. This cosy reading nook emulates the soft tones paired with strong lines and hints at florals without being too feminine, just like Jared's pink flower brooch.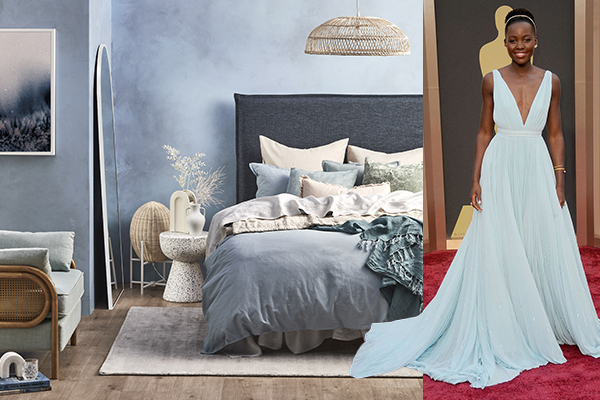 Lupita Nyong'o, 2014
If there's an actress known for shaking up a dull red carpet with a splash of colour, it's Lupita Nyong'o. This flowing custom Prada gown is described by Lupita as 'Nairobi blue' in honour of where she was raised in Kenya, and it completely steals the show. As did she when she took home the Oscar for Best Supporting Actress for 12 Years a Slave. The outfit's softness, layering and hue remind us of this cosy, icy blue bedroom. We would live in both of them.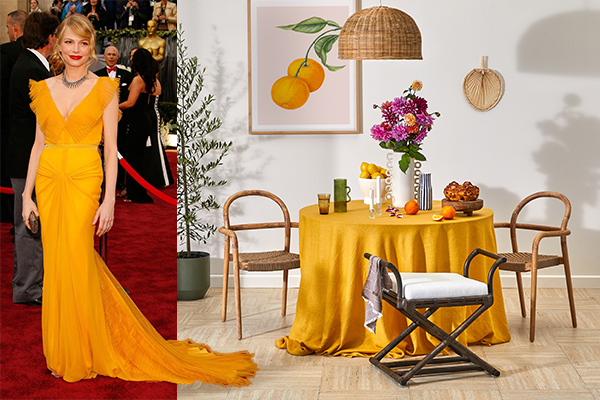 Image via Michelle Williams via Harper's Bazaar
Michelle Williams, 2006
Michelle Williams cemented herself in fashion history with this canary yellow Vera Wang dress and to this day, it's remembered as one of the best looks on the Oscar red carpet ever. The iconic look was fitting for such a big night as she was nominated for Best Supporting Actress in Brokeback Mountain, and though she didn't take home the individual Oscar, Brokeback Mountain did win three other categories that night. Joyous and vibrant, this citrus-inspired dining area reflects Michelle's bold twist on a classic look.