Pantone
has revealed their colour of the year for 2018 - ultraviolet is set to take design, interiors and fashion by storm, so what's the fuss about and how can you bring this bright hue into your life? Our stylist (and colour lover) Allira Bell created this stunning scene to inspire you to work purple in your own way and shares her advice on how to incorporate it into your interiors.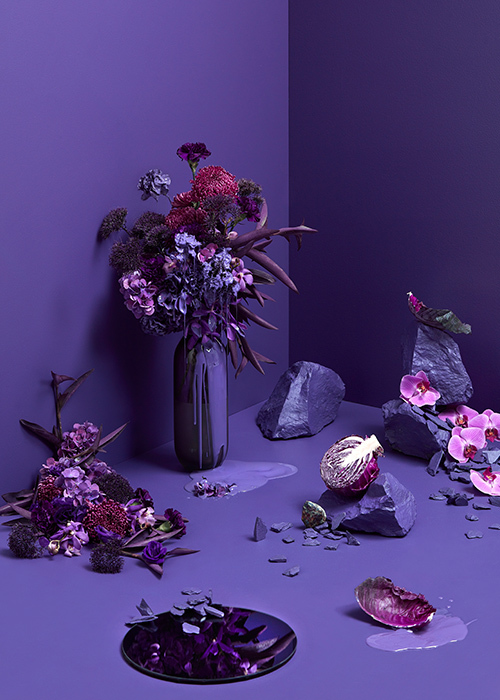 What is ultraviolet?
This rich shade is described by Pantone as a "dramatically provocative and thoughtful purple shade" which "communicates originality, ingenuity and visionary thinking that points us towards the future". The colour experts also said colour 18-3838 "symbolises experimentation and non-conformity, spurring individuals to imagine their unique mark on the world and push boundaries through creative outlets".

Where will we see it in 2018
Stylist Allira Bell says brighter colours like ultraviolet will start to make their way into interiors as people search for a different look in the new year. "Purple has taken a backseat in recent years, but we're now seeing it flourish in saturated colour schemes and jewel tone palettes alongside navy, emerald and magenta. In fashion, we have seen lilac emerge as respite from millennial pink and this shade has also trickled into interiors".

​How can you work it into your home?
If you're nervous about introducing such a bold colour, Allira suggests starting simply with a beautiful vase of flowers, or statement cushion. "Bring ultraviolet into your scheme with things that are easy to change out, but that have a big impact. This colour is all about adding the unexpected into your space, so have fun with it and allow it to be the focal point (in just the right amount)!".
"If you're ready to fully embrace ultraviolet, invest in bedding or artwork with purple as the feature colour - it will draw the eye without being overwhelming. Ultraviolet is perfectly accented by indigo blues, soft lilacs and purples with a red base. If you're already on the terracotta bandwagon, ultraviolet will work really well peppered into this scheme too."