T&W Senior Stylist Adam Powell shares the secrets of the beautiful Easter tablescape he created for our Porto dinnerware sale event.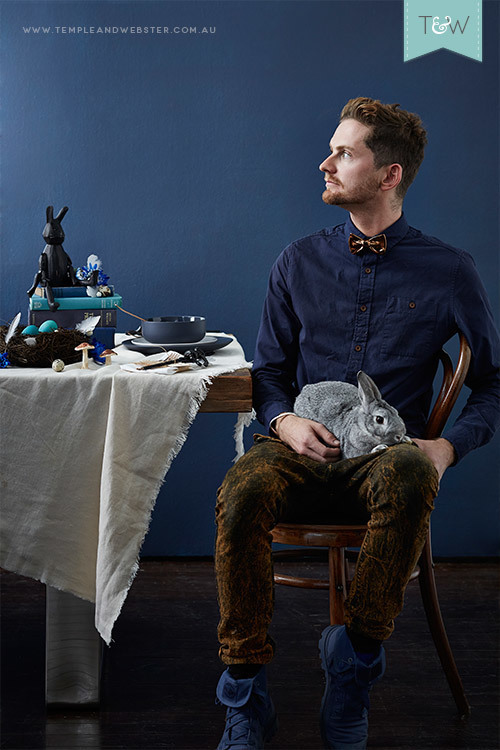 We asked the lovely Adam Powell to create something special for Easter using
Porto's on-trend copper pink cutlery
. We didn't expect him to pull a real rabbit out of the hat. Meet Mr Belvedere, the star of the shoot and the furry friend of T&W Buying Assistant Steph. We can't promise you an Easter bunny, but we can promise some of Adam's tips and tricks to help you create a similar look, or add your own personal twist to his ideas.
Pick a scheme
Given the copper-toned
Porto cutlery
, Adam went for high contrast. "I decided to go for a more moody setting this Easter so I chose black and navy as my colour theme, tying it altogether with natural elements such as the eggs/ feathers and nests." he says. "An easy way to tie a table together is to choose a few colours and repeat them throughout the table."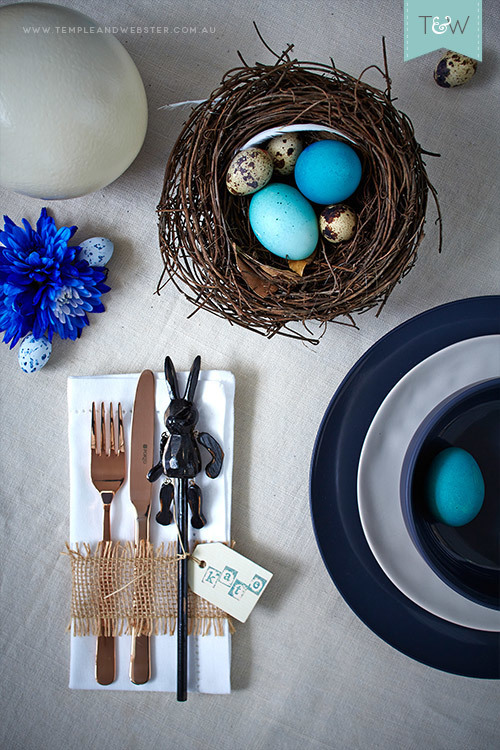 Do it yourself
He sourced the nests from
Tamara Turnbull's
Paddington store,
I Like Birds
, but you could make your own (
here's a tutorial on Homelife
). He also dyed eggs of various sizes blue. Here's how: "The recipe I like to follow when dying eggs is 2 cups of warm water with 1 tablespoon of vinegar and 2 tablespoons of food dye. There are lots of natural ways to dye eggs if you choose to, but I've found that food colouring is by far the easiest and quickest. The length of time the egg is submerged in the water determines how light or dark it is. 3-4 minutes is best for a soft 'duck egg blue'. Once out of the water, prop the egg on a drying rack or some sewing pins stuck into cardboard to prevent marking where the water runs off the egg. The tip here is the vinegar which helps to bind the colour to the egg. The shinier the egg (such as the ostrich eggs), the more vinegar you'll need to help the colour stick. Also keep an eye out for white eggs, they will give a softer and clearer colour. If you want to play around with the texture of the egg a little more, try getting an old toothbrush and some paint and flicking some paint at the eggs to give them a speckled look."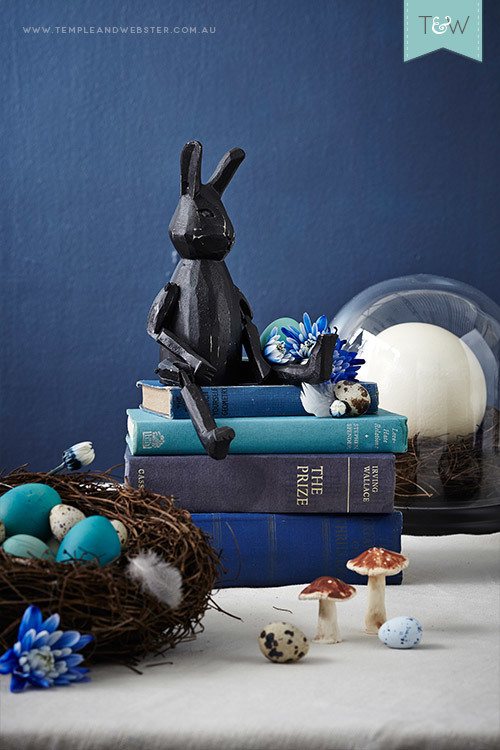 Levels of interest
The black wooden bunnies (sourced from
I Like Birds
) sit atop stacks of vintage books. Adam explains: "To create interest on the table it's important to have multiple height levels. I had a look around my home to see what I could use in my colour palette to help achieve this. The vintage books are perfect, you have good control of height, they are a great platform to place things on and help to add to my fairytale story." The glass cloches highlight the large eggs; you could create the same effect with an upturned glass or vase.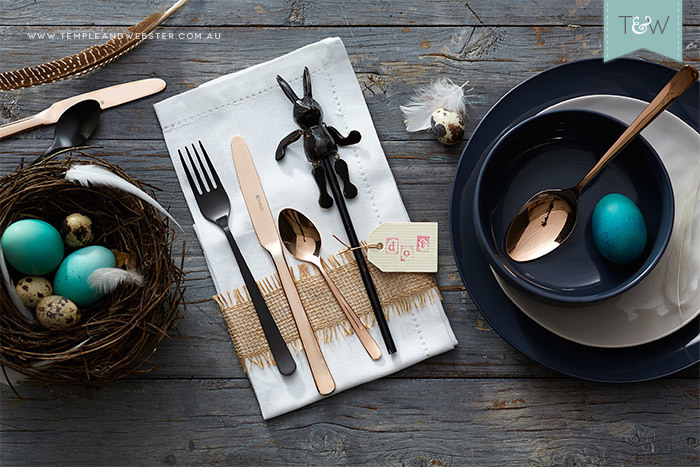 Here's all the elements of the final setting, complete with a hessian fabric tie for the table napkin and a hand-stamped place card. "Try to find a playful and unique touch to add to each place setting," says Adam. "I added rabbit pencils as a talking point and take-home gift."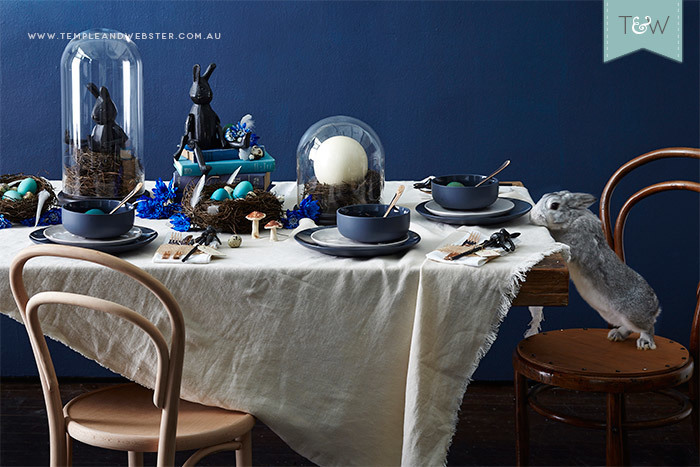 All that remained was for Mr Belvedere to take his place. A consummate professional, he worked his angles perfectly and made all the right moves. Actually, he jumped up onto the table seconds after this shot was taken, but once he discovered the black rabbits had very wooden personalities, he was more than hoppy to exit stage left. We hope we'll see him again soon. Happy Easter from all of us.
For more inspiring ideas and egg-celent DIY projects, check out the Easter Tabletop Pinterest board created by T&W's Head of Styling Jessica Bellef.