Looking for the perfect
side table
to complete your living room? Here, we share tips on side table locations; the best height and depth for side tables; how to shop for side tables on our site, and how to find the right shape and style for your space.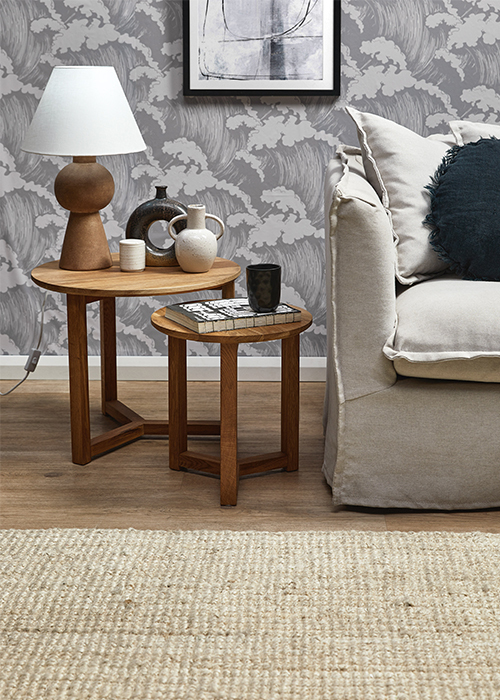 Work out the function of your side table
Before you shop for side tables, it's worth asking yourself these questions to determine the size of the table and whether you require storage features such as shelves or drawers.
- Is the side table decorative or functional or both?
- What will be on your side table - a
table lamp
,
ornaments
, books, or a combination of these things?
- Will you use your side table to hold food and drink? If so, perhaps consider a side table with a glass, marble or stone tabletop.
- Will you need to store things inside your side table? If so, perhaps consider one with drawers or shelving.
- Will the side table be placed somewhere permanently, will you move it around or will you store it elsewhere when it's not in use? If the latter, consider a side table that's light and portable.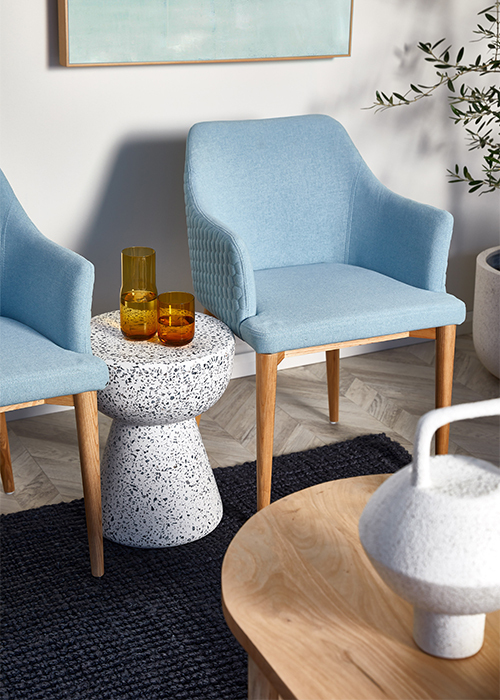 Work out placement of your side table
Once you work out the function(s) for your side table, think about where you'll place it in your living room. There are generally four locations to consider:
One either side of a sofa
One separating two perpendicular sofas
One beside an armchair or between armchairs
One in the corner of the room
If you have a small living room, but require multiple side tables especially when entertaining, consider a
nest of tables
.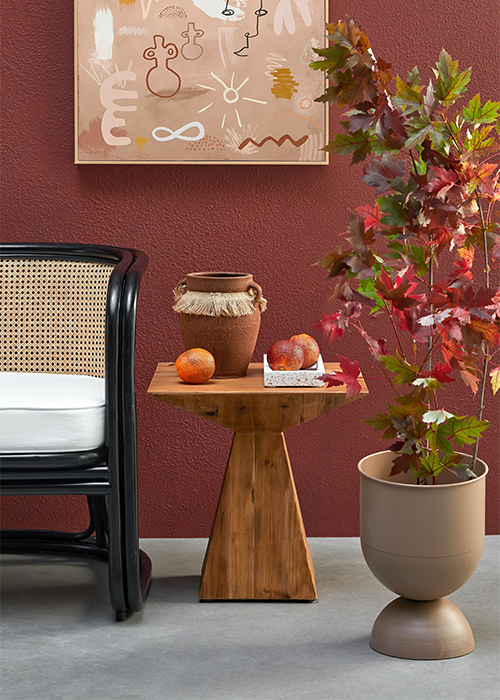 Best height and depth for a side table
Apart from the size of the table surface, you need to make sure that your side table is the best height and depth to complement your sofa or armchair. Typically, the best height for a side table is lower than the chair arm and higher than the chair seat, unless you want a more modern look, in which case, you can opt for a slightly taller side table. Otherwise, for optimum comfort, allow 5cm from your sofa or armchair arm. In terms of depth, a side table should always roughly be either the same depth or within 5cm range of the depth of your sofa or armchair.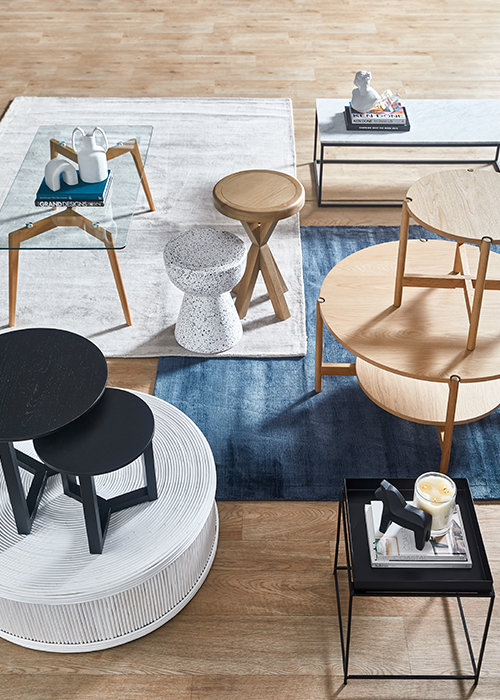 Filtering your search
One of the handiest features on the Temple & Webster site is that you can Shop by Type. When you get to the
Side Tables page
, you can search by various categories including
Nest of Tables
,
Round Side Tables
,
Marble Side Tables
and
Timber Side Tables
.
There are also
Drum Tables
for more decorative perches;
Tray Tables
for TV dinners; and
Table Sets
should you require multiple matching side tables.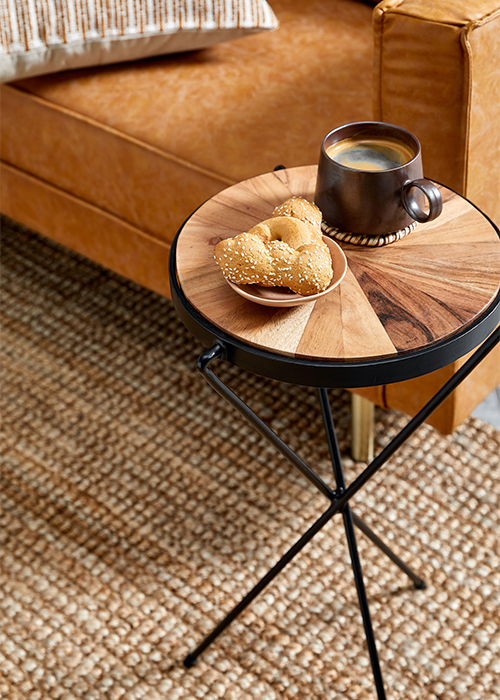 You can also further refine your search by using the filters down the left-hand side of the page, so you can see Side Tables in specific Shapes, Colours, Materials, Styles and Features, such as drawers and shelving. Use the sliders or enter in measurements in centimetres and click 'Go' to see side tables in particular sizes so you always get the perfect fit.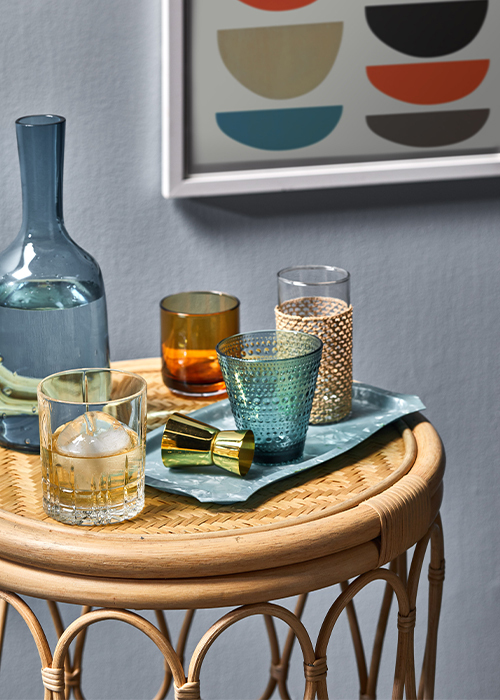 Side table shapes
Round side tables
are better suited to smaller spaces as they take up less precious footprint. They are also a more preferable choice if you have young children in your home as they do not pose a safety risk.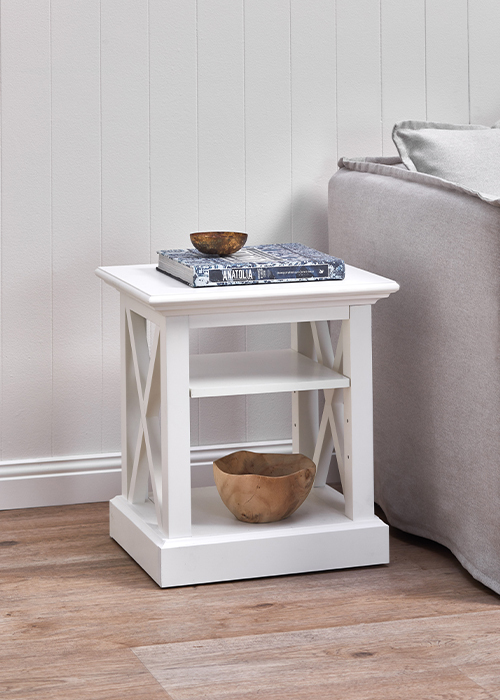 Square side tables
tend to offer more surface space for a lamp and other accessories, so think about what you'll put on top. Square side tables are also a natural fit tucked into corners or flanking a sofa and chair at a right angle.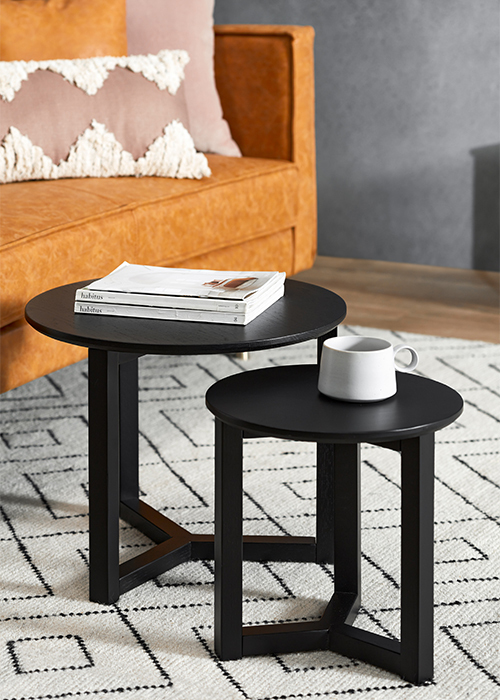 Side table styles
Side tables are often one of the last pieces of furniture that we choose, allowing us to consider the style of the main living room items such as sofas and coffee tables, and working with those colours and materials for a balanced look. This doesn't, however, mean that side tables have to exactly match your sofa, coffee table or another existing side table.
Check out our video on
How to Choose the Perfect Side Table
for more styling tips and remember you can always use alternatives such as
accent stools
and
ottomans
as side tables too.
Shop our side tables now.