A gallery wall, as much as it's appealing, can also feel daunting. How much space should you give it? What arrangement do you go for? How do you pick the pieces? What's your theme? Then, there's also the question of how you actually do it. Let's break it down for you.
Watch our How to hang a gallery wall video for a quick snapshot, then scroll down for more detailed information.

​ ​

How big should a gallery wall be?
A gallery wall can be as tall and wide as you want it to be, but it doesn't have to be expansive to look good; you might just want to pick a few pieces for a section of your wall, rather than cover the entire wall. Small nooks such as entryways and stairwells, or rooms that you might normally dismiss for art such as bathrooms, could even benefit from a gallery wall.
What arrangement should you pick for a gallery wall?
This is entirely subjective and depends on your style and the intended space. Do you want a more formal look with works of the same size hung in a grid? Or, do you want a more relaxed look, where a range of styles and frames are arranged loosely together? Here are some arrangement ideas to consider.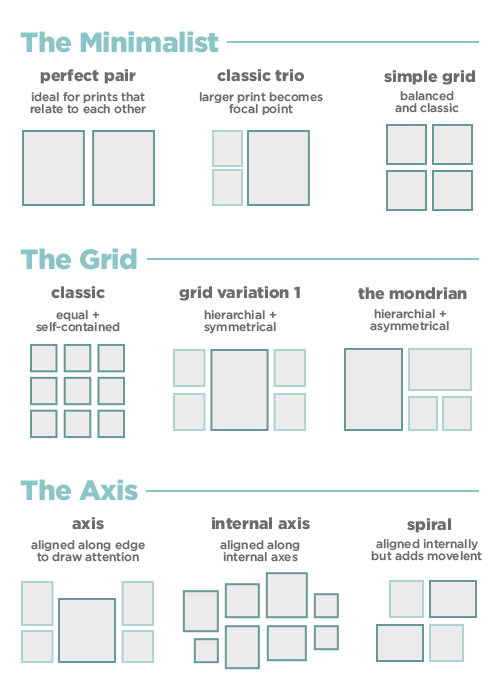 How do you pick art for a gallery wall?
Similarly, what you decide to include in your gallery wall is entirely personal. Perhaps start with your favourite piece of art as an anchor. Ask yourself what you like about it? A theme for your wall could be as specific or as broad as you like. It could revolve around a particular colour palette, type of art (oil paintings, watercolour artwork, drawings) or medium (posters, photographs, tapestry). Think about what you have, and what you love, and start with that.
What if all the art for my gallery wall is random?
Don't be afraid of an eclectic gallery wall. Each piece you love tells a story in itself. You can easily create cohesion with framing mats and frames.
How do you create a gallery wall?
1. Lay all the pieces you want to include on the floor. Play with the arrangement until you're happy with the balance, leaving an even amount of space between each piece.
2. Use butcher's paper and a ruler to measure and cut templates to the size of each artwork.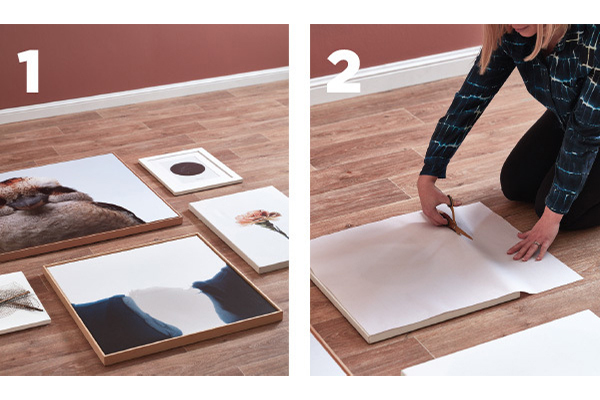 3. Copying the layout you've arranged on the floor, use blu tack or masking tape to attach the templates to the wall.
4. Mark the hanging points with a pencil, then drill, nail or stick on hooks using the templates. Remove the template as you hang each artwork.