Create the Insta-worthy bed of your dreams with our stylists' 5-step guide.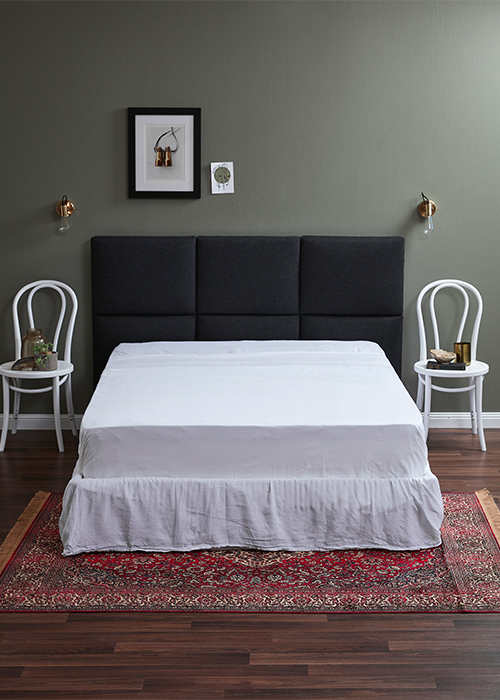 Address what's around the bed
When creating your perfect bed, it's not just what goes on the bed that counts. You're never going to be able to relax if you have a pile of laundry in one corner and a stack of magazines in the other. Clear the space around your bed so you can walk around it comfortably, and add a
jute rug
, soft
cowhide rug
or
sheepskin rug
beside the bed for a soft landing and extra warmth underfoot on cooler nights.
Make sure your
bedside tables
have adequate space for your essentials. The tables don't have to be fancy; here, we've used a pair of
bentwood dining chairs
, which work just as well.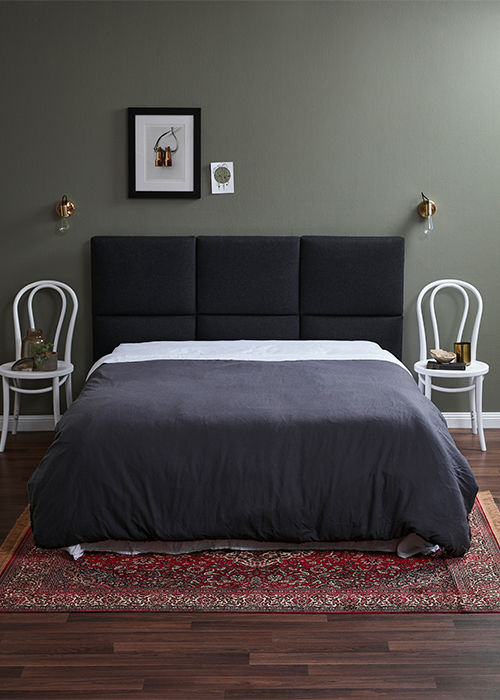 Lay down quality bedding
We spend more than a third of our lives sleeping, so it's definitely worth investing in some quality
bedding
. Buy the best
bed linen
that you can afford and stick to neutral colours so that it never goes out of style. Softness, durability and breathability are what you should look for when choosing
bed sheets
and
quilt cover sets
.

"Bamboo is the ultimate feel-good material. Not only is it sustainably produced but it also helps to regulate body temperature and softens with use."
​
Pure cotton sheets
are the ideal easy-care base to build your look, and are perfect for keeping you warm in winter and cool in summer. A cotton and linen blend will get softer the more you wash it, and helps to create the more relaxed effect that looks great on a layered bed.
A
waffle quilt cover
in a moodier colour like slate grey helps add cosiness and texture. Texture is especially important if you're keeping the colour palette limited, as it's these subtle elements that will give depth to your bed styling.
Don't forget to lay a
bedspread
over the top for that luxury hotel feeling.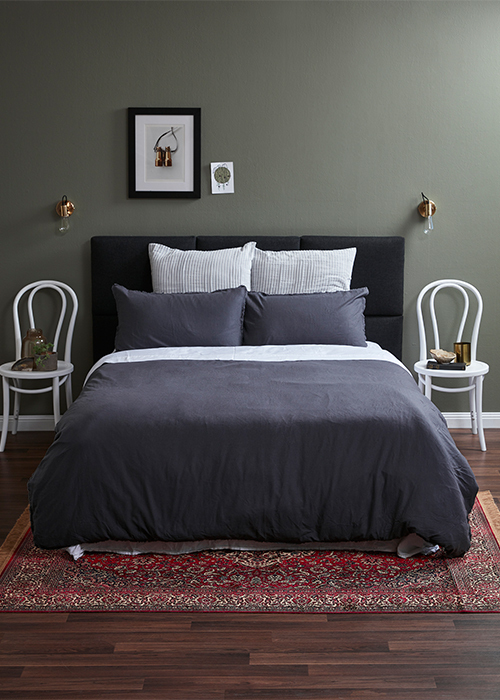 Build the pillows
Pillows
are one of the most important factors when it comes to getting shuteye (and when it comes to creating a beautiful bed!) Here, two
European pillows
in linen pillowcases add texture and depth behind the standard size pillows - they also make things extra comfy if you love to sit up and read in bed. If you've got an ornate bedhead that you don't want to hide, two standard pillows stacked one on top of the other is another great option - the key is to use your pillows to start to build layers of height, texture and colour on your bed.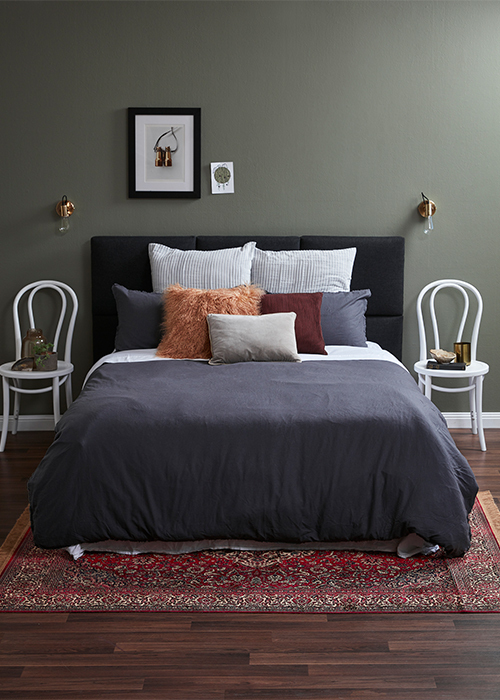 Add the cushions
While throw
cushions
are the mortal enemy of many partners, choosing the right combination for your bed need not be a source of stress. Keep things simple by focusing on fewer cushions of different shapes and sizes in one or two tones. Here, we've chosen this fluffy cushion in a warm blush to add interest, a deep red cushion with a corduroy pattern and a smaller cushion in a neutral grey. For a more formal bed, try an even number of cushions placed symmetrically. For a more laid-back look such as the one here, an odd number with a more random placement works best.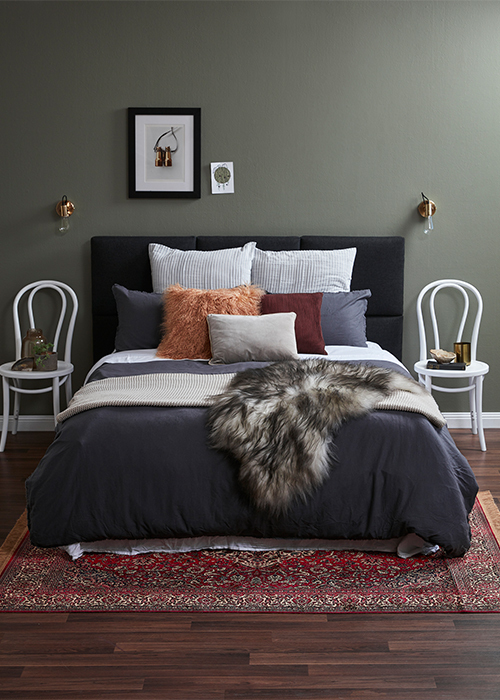 Layer the throw or blanket
The finishing touch to any layered bed is always a soft
throw
(or two). Again, keep things similar tonally. We've chosen a chunky grey knitted throw to drape across the width of the bed, and a grey and white sheepskin placed to one side to amp up the cosiness.
As with cushions, style and placement can make all the difference - try a tasseled or or textured blanket draped over the edge of the bed if your vibe is more relaxed, or place a neatly folded knit or velvet throw across the width of the bed to create balance in a more classic scheme.

"It's natural for us to want our bedroom to feel safe; a place to rest and simply be. Create a sanctuary by keeping bedroom decor and the colour palette within a similar tonal range. By limiting contrast, we avoid the eye being drawn to unnecessary focal points, giving ourselves more opportunity to relax."