Wondering how to DIY the installation of your new ceiling fan? From the different ceiling fan parts, to how high your fan needs to be, we've put together some tips on how to install a ceiling fan.
It's also worth noting that if you have a wall-controlled ceiling fan, you'll have to call in a licensed electrician to undertake the installation. This is because wall-controlled fans require you to run an extra wire, which is a risky thing to install if you're not a professional (and, not to mention, illegal without an electrician's license.)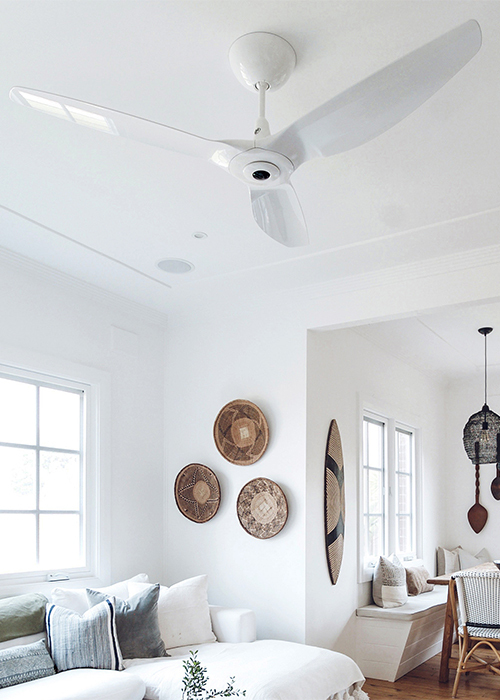 Ceiling fan parts
First up, it's helpful to know exactly what you're dealing with. This means understanding the various elements that make up a ceiling fan, like the ball joint, bracket screws and downrod. Keen to get a firmer grip on different ceiling fan parts? We've done the hard work for you!
Ceiling fan box
– This electrical box is used to house electrical wire connections and support heavy fixtures.
Mounting bracket
– Also known as a 'hanging bracket', this is a brace that connects the fan to the electrical box on the ceiling. The mounting bracket can be installed straight or at an angle, if you have sloped ceilings.
Ball joint
– This nifty mechanism consists of a ball with an attached rod that sits inside the canopy. Essentially, a ball joint allows you to install a ceiling fan on an angled ceiling.
Canopy
– This is the bowl-shaped decorative cover that is used to conceal the electrical wiring between the ceiling and the fan.
Downrod
– This is the pipe that connects the motor to the ceiling mount. In addition to stabilising the fan, it also promotes air flow and ensures a safe distance between the blades of the fan and the ceiling, as well as the blades of the fan and the floor.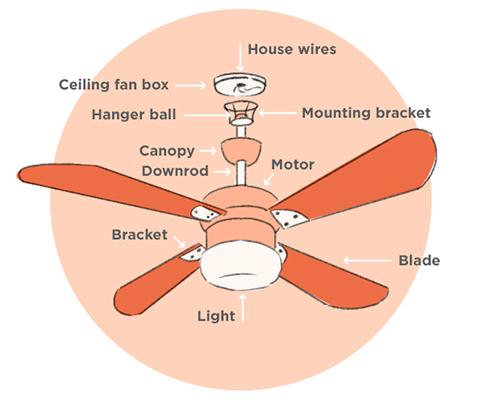 Recommended ceiling fan installation height
Regardless of the height of your ceilings, all ceiling fans should sit at least 2.1m from the floor to the blades, and a minimum of 300mm from the ceiling. This provides optimal air flow and enough distance from the floor so that no one will suffer an accident.
Additional downrods or extension rods
If your ceilings are above the standard 2.4m, you can purchase an additional downrod (also known as an extension rod) to lower your fan.
Extension rods are generally 900mm in length, but there are also 1800mm extension rods available. If you require an alternative length, extension rods can easily be cut to size. For this reason, it's always best to go for a longer rod than you think you'll need.
Ensuring the right length of your downrod or extension rod is pretty crucial. By having your fan at the ideal height, you can enjoy greater air flow throughout your space.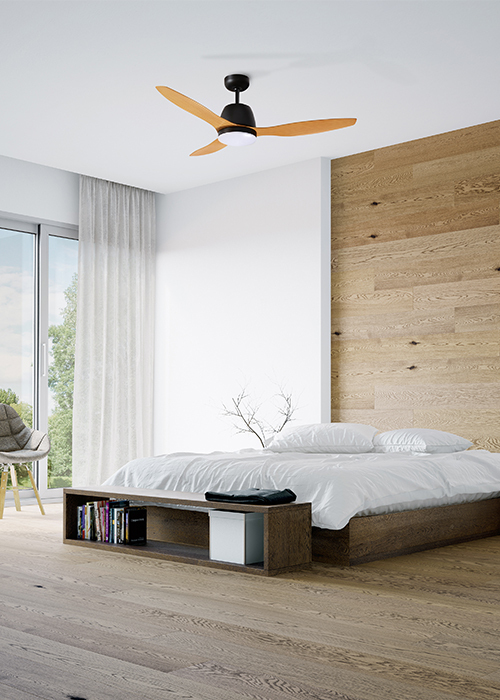 ​
Cutting a downrod
If you do need your downrod to be a custom size, it's very straightforward to have it cut to the right length. While it's certainly possible to cut a downrod yourself, you may want to enlist an expert to do it for you. They'll guarantee a clean cut and an accurate length, so your ceiling fan sits at the perfect height.
S

hop our

ceiling fans

now.