1. A comfortable, stylish nursing chair; a well-made glider will get almost as much use as a cot;
2. A chest of drawers that doubles as a changing table (such a space saver);
3. Storage baskets - for keeping the nursery tidy and for a stylish place to keep nappies, toys, and other essentials.
4. A soft, easy-to-clean wool rug to give the nursery warmth and be the hub of the room when it comes to tummy time and playing.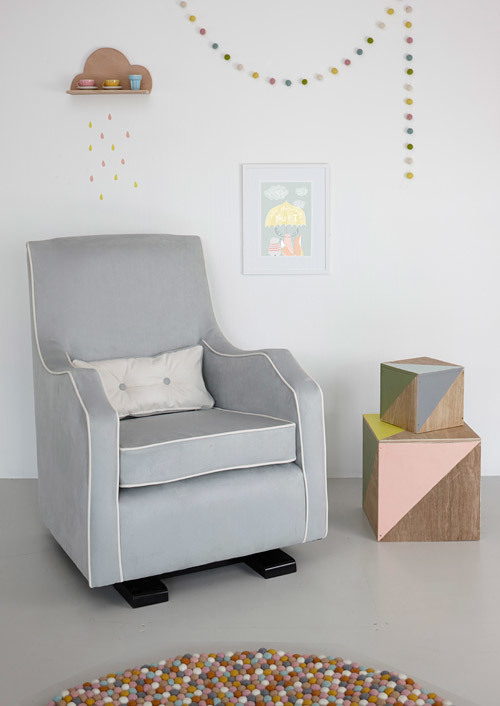 What is the most serviceable, and long-lasting colour scheme for a nursery?
There are so many possibilities for long-lasting colour schemes for a nursery, especially for transitioning into a "big kid's room". Layered neutrals like greys, creams, and whites with a lovely pop of colour always work– or be bold and paint a single wall in a strong teal or navy. It's hard to go wrong with colour these days, but on that note, good lighting can have a massive affect on how a room looks. If your nursery does not get great natural light, then try to choose lighter colours to keep the room looking bright.
Transitions in age demand new set-ups. Can you recommend how to best move from one stage to the next; ie. baby to toddler, toddler to child?
It really depends on your budget and whether or not your child shares a room with his/her sibling, but in general a great way to go would be to choose pieces that can grow with your child. For example:


I love cot beds because they can convert into toddler beds easily and with little expense.


Choose a rug that will work in a baby's room or kid's room. A well-made rug will last 8-15 years; that will see your little one well into their teenage years!


Play with wall art - it's amazing how a few prints and framed posters can completely transform the look and feel of a room.


When choosing a nursing chair, be it a regular armchair, rocking chair or glider – select one that will work as a reading chair in later years, giving it life beyond the nursery.


When designing your nursery, see it as a work in progress. Add and change it over the months and years, and involve your child – it's such a magical space with limitless potential. Have fun, it's the one room in the house where you can, without question, go a little wild.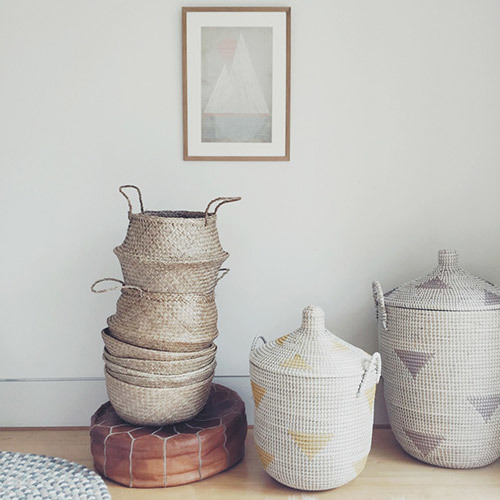 What is your number one tip for storage and the instant tidy up?
Baskets, baskets, baskets. I did a count and I have 35 in my house! I use them in the kids' room for toys, Legos, and books. I particularly love the baskets with lids because, in a matter of a few minutes you can scoop away toys, pop them in a basket, lid on and completely out of sight. Can you tell how in to baskets I am? It's not healthy.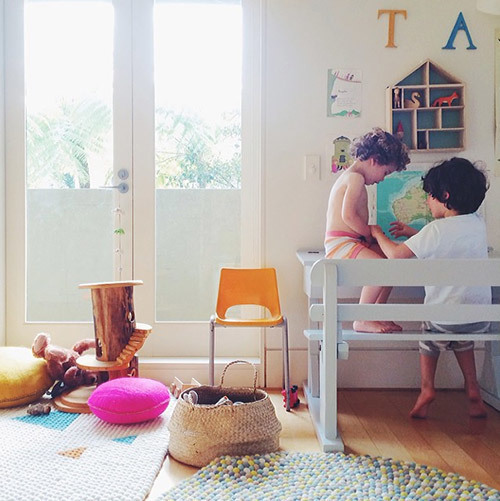 Do you have a great DIY styling idea?
I love a bit of DIY. Most recently I found an old 1950's school desk which was in very bad shape. I refinished it and put it in my boys' room – they adore it and it really is the centrepiece of their bedroom.
What have you found, with your own children, the best way to spend a rainy afternoon?
Building a fort, baking a cake, and eating it, preferably in the fort. In fact that is exactly what we are doing today!