While shopping centres have had decorations up for months, the start of December heralds the real beginning of the festive season - and for the superstitious, the acceptable time to put up the Christmas tree. To help you prepare, we're sharing our favourite Christmas decor look for this season, as well as some handy tips and tricks for how to decorate your tree for the perfectly imperfect 'a-stylist-did-this' look. Read on to find out more and pick up a beautiful new Christmas tree and decorations to match on Temple & Webster now!
1. Choose your tree
Picking the perfect tree is the first step to Christmas decoration success; these days it's hard to go past the look, convenience and memories made by going with the faux. The latest faux trees are unbelievably realistic, easy to care for and assemble and unlike their real counterparts, won't worry those with allergies, or die before the big day. There is a huge range of styles available, from classic pines to more contemporary and minimal birch trees in a variety of colours. When it comes to preparing for decorations, faux trees are ideal as their branches are pliable and easy to arrange for a full and symmetrical look. Having one faux tree that stays with your family over the years is also something that big and little kids can both treasure and a great way to carry memories from year to year and generation to generation.
2. Plan your look
Our favourite Christmas look this year is a pared-back take on traditional reds, greens and metallics with a hint of laid-back Australian style through the addition of texture and earthy colour. On the tree, we started with classic white lights, followed by layers of red and silver ornaments. To add some sparkle, we introduced gold glitter and iridescent red pinecone decorations (who remembers making these at school?!). Delicate raffia angels and stars add a relaxed feel to the tree and a gold star on top completes the look.
3. Let there be lights!
Now it's time to get down to business, starting with lights. Choose a set with a cord close to the colour of your tree so it disappears into the foliage - or even better, pick a tree like
this one with built-in LED lights
! Start wrapping your lights around the outer branches of your tree, but don't stick to the perimeter the whole way around. As you wrap, choose a few key branches and bring the strand of lights all the way to the trunk, wrapping back around your chosen branch towards the tip. Continue distributing lights around your tree, repeating this step on a couple of carefully selected, more prominent branches - this trick will give your tree more depth and your ornaments extra sparkle!
4. Operation ornaments
Time for finishing touches! Lay all of your ornaments out so you can see what you have to work with and so you know what gaps you need to fill with
new ornaments
if you're changing up your look from the previous year. Start by hanging your favourite statement ornaments in the most prominent positions at the front of the tree - you'll then be able to decorate around them and fill in the gaps with smaller, complimentary baubles and ornaments. Like your lights, be sure to hang some ornaments close to the branch tips and some further in towards the trunk to create depth and interest. Step back every now and then to make sure your decorations look balanced.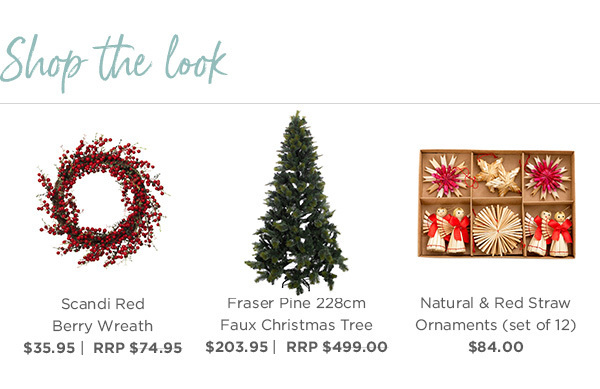 Scandi Berry Wreath
,
Fraser Pine Christmas Tree
,
Natural & Red Straw Ornaments
Shop everything you need for Christmas - from trees to ornaments, decor, tableware and more on T&W now!