Find practical tips for creating functional zones for education and entertainment for your kids.
LEARNING ZONES
A long
dining table
or
extendable dining table
may be sufficient for homeschooling, but if kids are starting to get distracted, or are distracting parents who also have to work from home, perhaps it's time to create some individual learning corners.
While setting up a designated space is worthwhile, it's also important to remember that children rarely sit still, so don't worry if they move around from one location to another. In fact, learning in different places can improve your kids' productivity.

"Open plan living can be tricky, especially if multiple family members need a workspace. Make use of an underutilised wall by placing desks side by side, creating a quiet zone for work or study."
Younger kids
If your child is under seven, consider setting up a learning area with
kids chairs and tables
, so they can be more comfortable and confident with furniture suited to their size. If they have a space of their very own, they're also more likely to entertain themselves and give you some breathing space. If you have the space and/or have more than two little ones, consider a larger round table. If you need to push the kids table against a wall or tuck it away in a corner, you'll be better off with a square or rectangular kids table.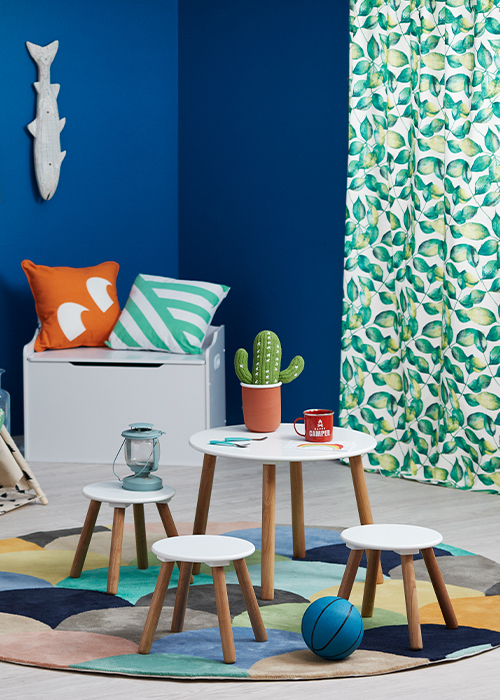 Organise stationery and art supplies in a
storage trolley
or
kitchen trolley
, so you can wheel things out as they are needed, then put them out of sight when 'school' is over. Be creative with
storage boxes
and use a
lazy susan
to make everything as accessible, but as organised, as possible. Also, don't forget a
rubbish bin
or waste
basket
for pencil shavings and discarded drawings.
Older kids
Older kids may need a traditional study
desk
for one so they can focus. Zone an area within the living room or their bedroom, using versatile desks such as
writing desks
,
corner desks
and
desks with hutches
. Place a
bookcase
around it to designate the quiet zone and to provide handy storage for their books, files and stationery.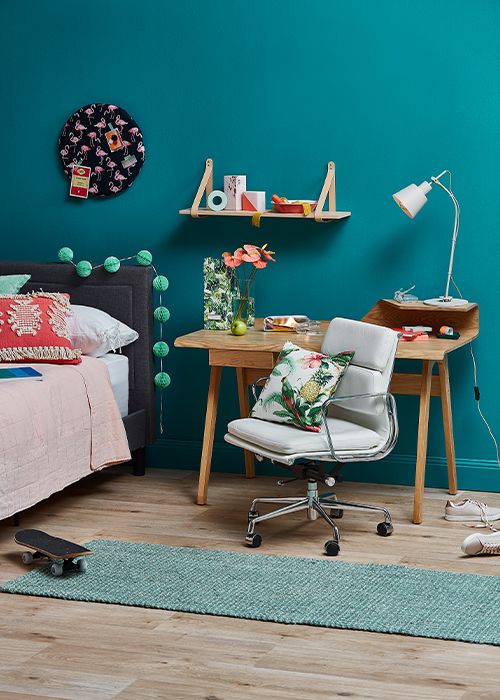 ​Consider mixing up their seating depending on the activity. Try a
bean bag
or cosy
tub chair
for reading, a
gym ball
to bounce on while doing maths, and an
office chair
for writing. Some kids, similar to some adults, might also prefer to stand for specific tasks. Consider setting up the laptop for Google Classroom meetings at the kitchen counter for instance.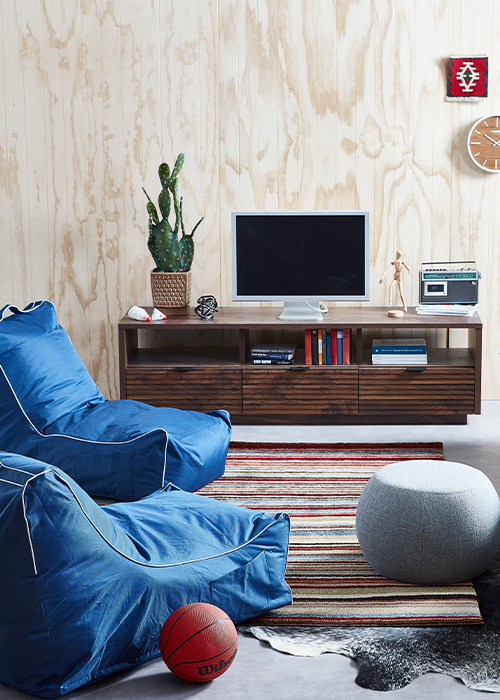 READING ZONES
Encourage your kids to read more by creating reading zones for them. From cocoon-like retreats for little ones to enjoy their picture books, to corner benches for your teens to sprawl across, discover
how to create reading nooks
for different readers whatever their age, lifestyle or book.
CREATIVE ZONES INSIDE
While we may prefer concealing toys,
puzzles and board games
, kids tend to use them more when they're on show. Open shelving is fantastic as kids can see and reach for what they want, and it generally makes tidying-up faster. If you're using
bookcases
for younger kids, make sure you anchor them to the wall for safety.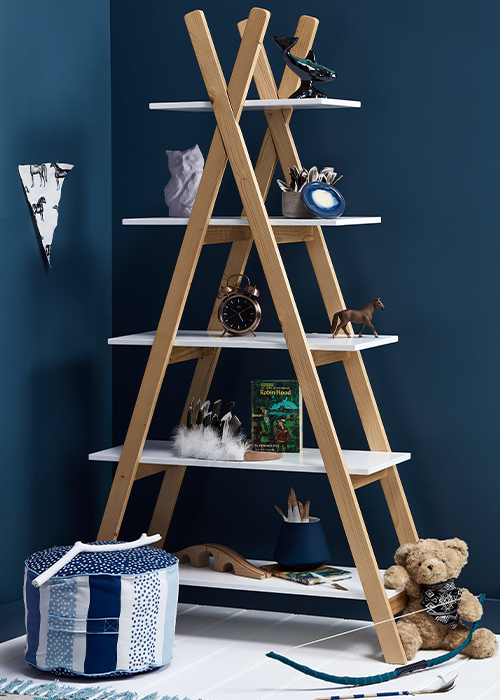 Instead of large boxes, opt for smaller
clear containers
so your kids can easily find what they're looking for. Add a few boxes and baskets with handles so they're easy to move around the house, a large colourful
rug
to demarcate the play zone, and a few
floor cushions
to make them more comfortable.
​

"It's no secret that kids love to play on the floor! Choose rugs with soft natural fibres and fun patterns to make their play time even more enjoyable."
Looking to set up a play area in the sibling bedroom and short on space? Perhaps it's time to think about a
bunk bed
to free up some floor. This
single over double bunk bed
includes a trundle that can be used for sleepovers or storing extra toys, plus it has shelves to display books and trinkets.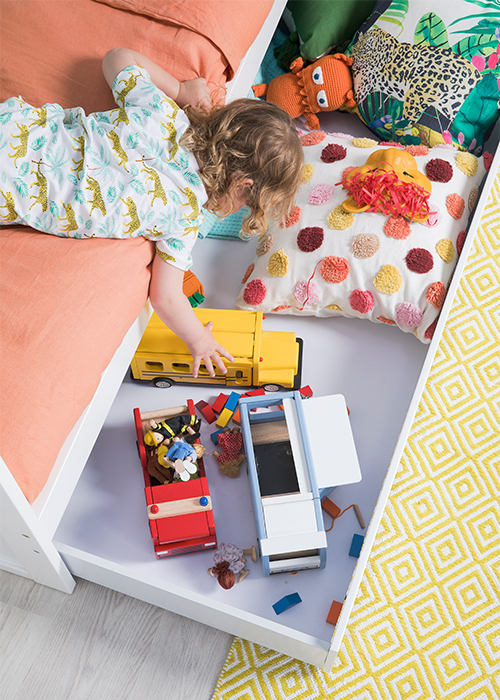 Wall hooks
are having a moment in interiors and, with materials ranging from brass, wood and terrazzo, they can slide into any interior scheme. Get creative and cluster them on your walls to keep the floor free of clothing and bags. Hooks are also a good way to display your kids' favourite costumes and outfits, and keep them within easy reach.
Instead of storing your kids' artwork in drawers, pick their best ones and create a
gallery wall
in their bedroom or the living room. The kids will love their artwork on display, it will add character to your home, and the gallery wall could even act as a marker for a creative play zone.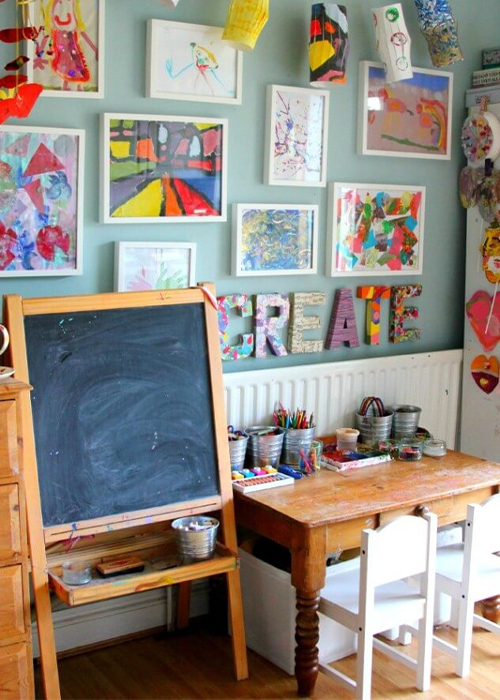 Image via The Artful ParentCREATIVE ZONES OUTSIDE
Set up an outdoor play area in your backyard, balcony or front entrance that inspires open-ended stories and games.
Younger kids
With playgrounds still off limits, consider creating your very own outdoor entertainment for little ones with
playhouses
,
swing sets
,
trampolines
,
sandpits
and even the ultimate
mud pie kitchen
.
Older kids
Create a homemade sports field complete with
soccer goals
,
sports cones
for markers, and
outdoor benches
for family spectators. If you don't have the space, giant wooden games add novelty and make an otherwise indoor activity more physical and fun. Try a
giant wooden domino set
,
giant wooden tumbling block set
or
giant chess set
.
Children of all ages will also enjoy planting seeds and watching herbs grow. Designate an area in the garden for them to look after and let them decide what to grow. You could even kit them out with their own
gardening tools
, gloves and wheelbarrow.
And even when schools, playgrounds, sporting grounds and entertainment venues re-open again, take comfort in the fact that your home has been fully set up for all your kids' needs.