Whether you're looking for entirely new
sets of bath towels
or just looking to replace a few worn
hand towels
, we help you choose the best towel for you and your bathroom style, considering size, softness and weight. Plus, also find tips for towel care and maintenance to make sure your new bath essentials look and feel as plush as when you first bought them.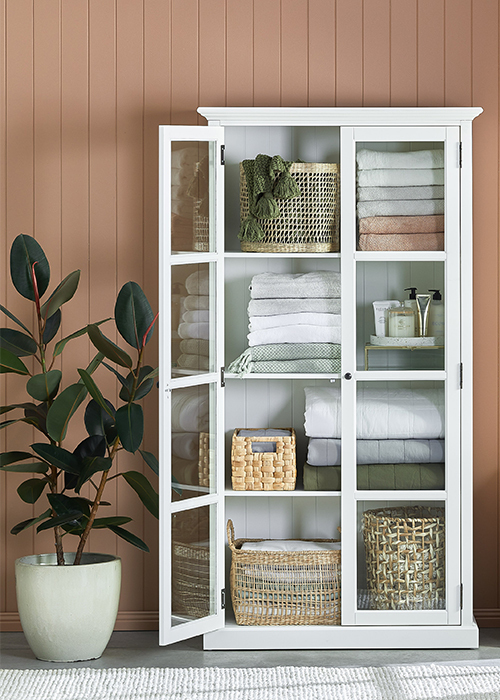 Types and sizes of towels
When buying towels, think about the number of occupants and the number of bathrooms that you have. On our site, you can buy towel sets or buy towels individually by type so that you can adjust them to your needs, as well as mix and match colours, patterns and textures.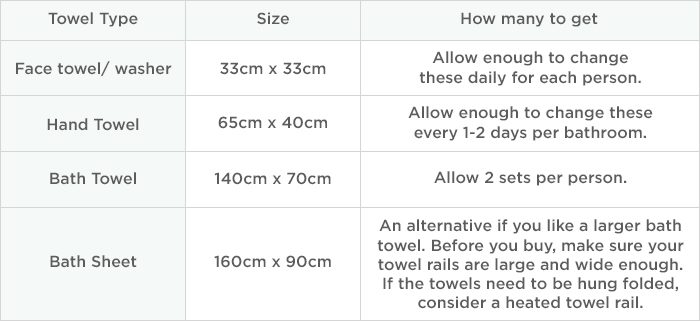 Materials
Cotton
100% cotton towels
are renowned for softness, durability and absorbency. Cotton is grown all over the world, but the finest cottons are generally agreed to be Egyptian cotton grown in South America and Egypt, of course, and pima cotton which is grown in the US. These varieties have longer fibres, which means the yarn is stronger, smoother and more absorbent, as well as less likely to produce lint.
Egyptian cotton bath towels
are thick, soft and fluffy, which gives them a luxurious feel, making them the fabric of choice for that five-star spa vibe.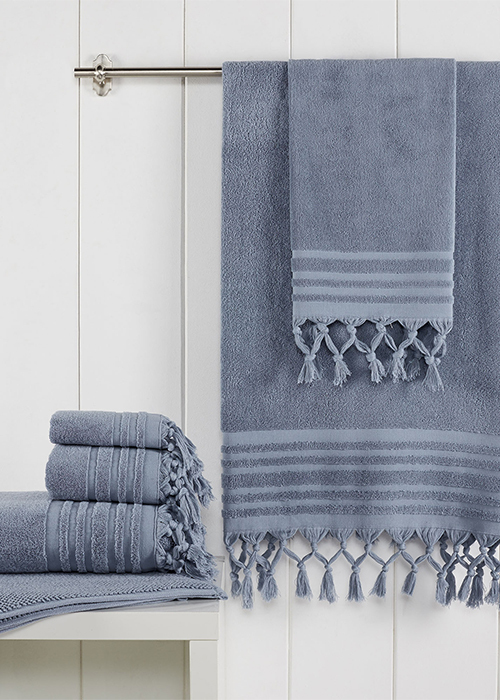 Turkish cotton also has long fibres and is known for strength and absorbency, however, it tends to be slightly less absorbent than Egyptian cotton. This means that it also dries extremely fast, which is great if you use your towels frequently and hate the feeling of dampness.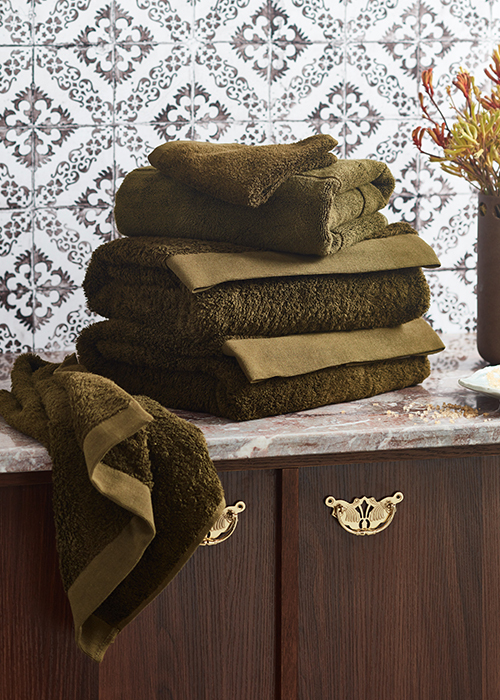 Bamboo
Bamboo bath towels
are increasingly popular for their silky lustre and amazing absorbency. It's also an eco-friendly choice as bamboo is a renewable resource. Bamboo is also naturally antibacterial and mould-resistant with inherent hypoallergenic properties, making it ideal for allergy sufferers. Bamboo is often mixed with cotton blends to provide the best of both worlds at an affordable price.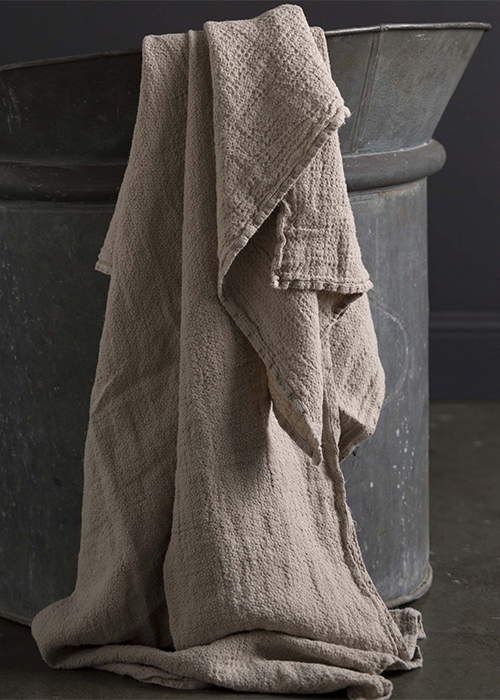 Linen
Woven from natural fibres, linen is a more durable and lightweight alternative to cotton.
Linen bath towels
absorb water more quickly and their naturally antibacterial properties mean that they are less likely to have mould or mildew.
​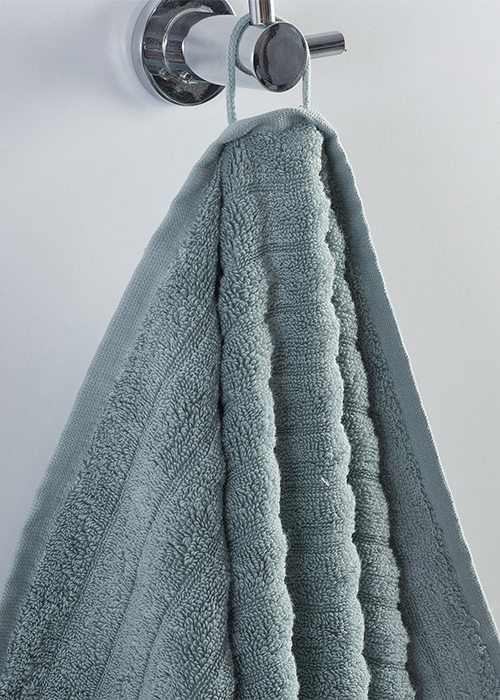 Weight or thread count
Similar to bed sheets, the weight of a towel is determined by its
thread count
which is measured in GSM (grams per square metre). This measurement refers to the density of the fabric; in other words, the number of threads in the height of the loop, and the thickness of the yarn in a given area. The closer the loops and the heavier the yarn, the greater the weight.
Most towels range between 300 and 900 GSM; the lower the count, the lighter the towel. A low GSM doesn't mean an inferior quality of towel; it just means the towel will be less thick, heavy and fluffy. Low GSM towels are perfect if you want something quick-drying and lightweight. For a thick or spa-like towel, consider ones that are 800+ GSM.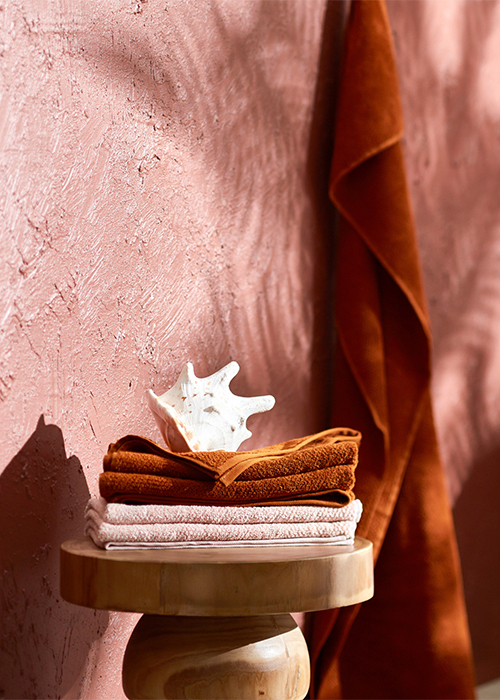 Towel construction
How a towel is woven will dictate how quickly water is absorbed and how it will feel during and after use. Here are some of the most common production terms when it comes to towel construction.
Cotton terry cloth
To make cotton towels, the cotton fibres are woven to create lots of little loops known as terry cloth. These loops create a highly absorbent surface area.
Velour finish
Some terry cloth towels, especially
beach towels
, come with a smooth velour side. This is when the terry-looped fabric is sheared off, creating a luxuriously soft and smooth surface. While it feels comfortable to touch and lie on, it is far less absorbent than the looped side.
Combed cotton
Towels made with combed cotton means that their fibres are combed to remove shorter threads and debris, leaving the strongest and longest threads to be woven into the towel. This process ensures durability and prevents pilling.
Ringspun cotton
Ringspun cotton is made with long and short fibres twisted to create a smoother, finer yarn, unlike terry cloth which is made with larger thread loops and woven with extra yarn.
Zero-twist cotton
Generally, yarns are made from short fibres that have to be twisted in order to make the yarn. This results in yarn that is harder and less absorbent. Zero-twist or low-twist cotton is stronger, finer and more absorbent than regular cotton.
Waffle weave
While not as soft and plush, waffle weave towels are extremely absorbent and fast-drying thanks to the honeycomb pattern that creates a greater surface area.
Flatwoven
The flat woven hammam towels or
Turkish towels
are flatwoven and do not have any pile, which makes them both absorbent and quick to dry. They are thin and very light, so they're ideal for travel and trips to the pool, beach or gym. They can also be used as sarongs, wraps or picnic rugs.
​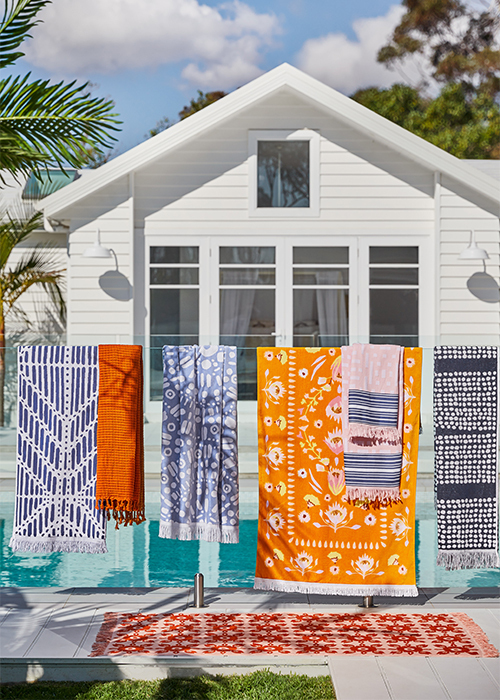 Looking after your towels
The first wash
Always wash your towels before using them for the first time. They have often been treated with fabric softeners by the manufacturer, which means they don't absorb water properly until after their first wash. A cold first wash will also set the colour and reduce any initial shedding of lint.
Washing towels
Wash your towels on a cold or warm (never hot) wash. Don't use fabric softener, as it will affect absorbency. Wash dark coloured towels separately for the first few washes as the colours may bleed. To maximise the absorbency of towels, add a cup of white vinegar once a month when washing.
​
Drying towels
Tumble-drying keeps towels soft and fluffy, but all that heat can damage them in the long term. Try part air-drying and finishing the process in the dryer. If you hang-dry towels, shake them while wet and then again when dry to fluff the terry loops.
​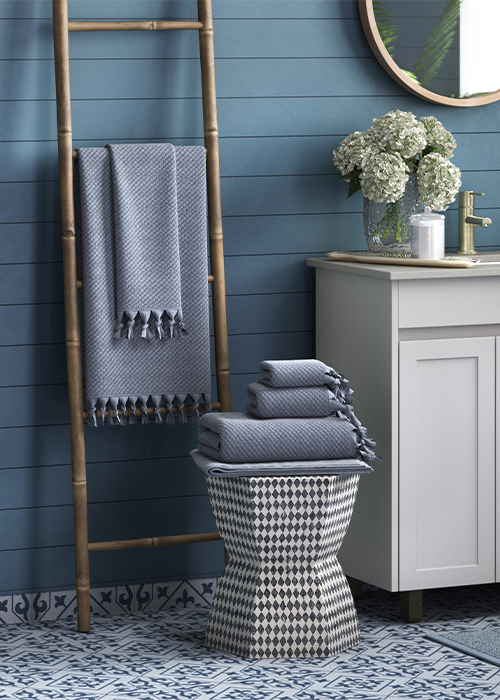 Shop our bath towels and beach towels now.