Furniture is the key to making a space feel and function the way that it does. When furnishing a hospitality venue, it's even more critical that the choice and placement of furniture, particularly tables and chairs, are carefully considered so that customers have the best experience possible.
When deciding on tables or chairs for your venue, we recommend that you start by thinking about what your guests will use the space for. Will it be somewhere your guests go for a short amount of time such as a cafe, or will it be somewhere they spend extended periods of time, such as a fine dining restaurant or hotel resort? Once you have this in mind, you can begin to research the design, shape, finish and durability of your required furnishings. But where do you start when there is so much to consider?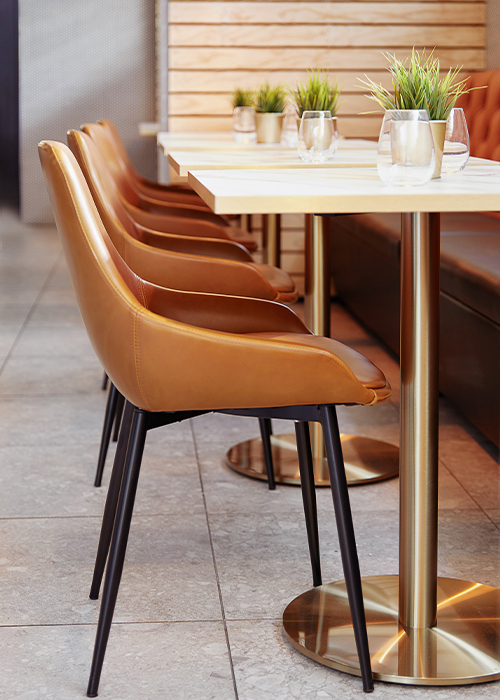 Let's start with tables
The standard choices for table tops are round, square and rectangle. Round tables generally have a diameter range of 60-120cm, square 60-80mm and rectangle either 150, 210, 240cm long, by 70-80cm wide. Combining a mixture of round and square tables can be useful to make the most of corners, whereas choosing rectangular or square tables gives you the flexibility to combine settings depending on the number of guests you have at one time. As a general rule, the following can be used:
- 60cm sq/diam - 2 people for casual dining
- 70cm sq/diam - 2/3 people for casual dining
- 80cm sq/diam - 2/3 people for dining
- 90cm sq - 4 people casual dining/2 people formal dining
- 120cm sq/diam - 4 people for dining
- 150cm rectangular - 6 people for casual dining
- 210cm rectangular - 8 people for casual dining
- 240cm rectangular - 10 people for casual dining

Image via kpetersen.com
​

Table Finishes
Wooden tabletops are always a popular choice, with a variety of wood designs to choose from including Sheswood, Natural, Walnut and Light Oak. Man-made options like Melamine or pressure moulded solutions are the clear trend when it comes to wood-look finishes, as not only can they be UV stabilised, they are also easier to clean and maintain. Classic black and white are also always on trend and can be elevated to a luxe design with marble effect finishes.
Tops can come in one moulded piece with veneer or Acrylonitrile Butadiene Styrene (ABS) edging, in the same or contrasting finish. ABS is a durable, impact resistant & heat tolerant plastic that protects the edge of tables from chipping. It also has the added bonus of being fully recyclable.
Table Bases
The choices in table base heights are dining (70cm) or bar (105cm). The bigger the tabletop, the bigger the base coverage needed to ensure the table is sturdy. Bigger tabletops may require two bases or even a frame base.
Styles are generally Modern Disc/Square, Paris Cafe, Spider, Cross or A Frame. Standard colours are Black, White and Stainless Steel. Brass and Gold are also popular choices if you're trying to achieve a luxe interior.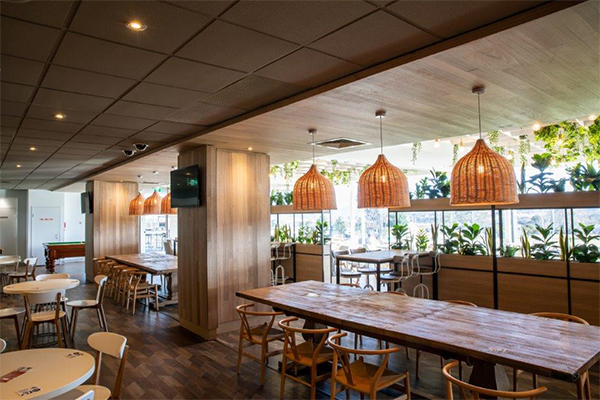 Seating/Chairs
Cafe and dining tables use dining chairs or stools whereas bar height and Bistro tables need bar height stools (75cm). Counter height stools are aimed at domestic kitchens and are rarely suitable for commercial fit outs. The choice of with or without arms or backs and style should be made with demographics, usage and design in mind.
You need to allow room for the customers' legs to fit under the tabletop when the chair or stool is in use. Consider if the chairs need to be pushed or tucked under the tables when not in use.
Durability
No matter what style of table or chairs you buy, they need to be durable and able to withstand high use from customers who probably don't treat their furniture at home in the same way. Consider cleaning needs, frequency of use and look for a minimum 12-month warranty for commercial use when making your choice.
Indoor/Outdoor use
If you plan to use your tables and chairs outdoors, only use products that have specifically been rated for outdoor use. They will have UV stabilisation and will perform a lot better in harsh environments.
Stackable and foldable
There are many stackable and foldable products on the market that allow you to store your furniture when not in use. Foldable and removable table bases are a great solution for table storage. Chairs can also be moved into storage easily with a chair trolley.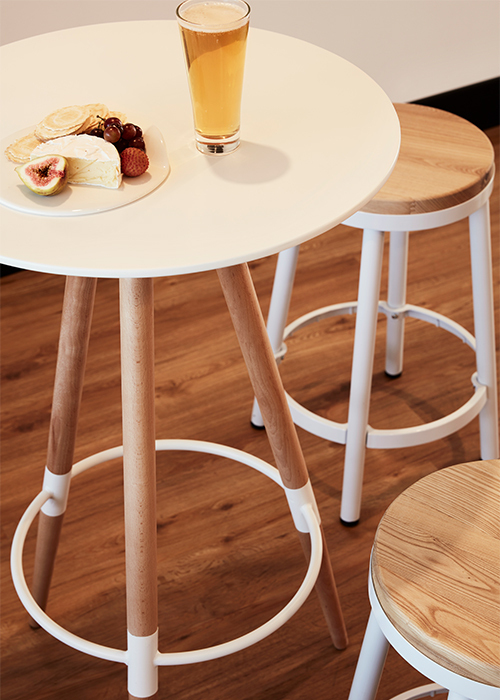 Whatever your project, the Temple & Webster Trade+Commercial team are here to help. Contact us at business@templeandwebster.com.au today to see how we can help you with your next project, or sign up to our Trade program.