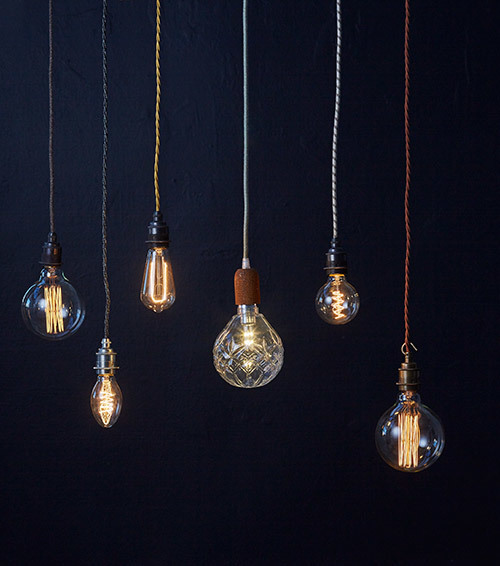 Whether you're after bright task lighting, or the complexion-flattering glow of a perfectly placed lamp, our handy guide is full of bright ideas for choosing the right globe. Click here to download the guide and keep it handy, or read on for details.
THE RIGHT FIT
There are two types of base for a light bulb. The type you need depends on the fitting of your light or lamp.

SIZE MATTERS
Those letters and numbers you see? They refer to the fitting (B for Bayonet, E for Edison) and the size of the base, in millimetres.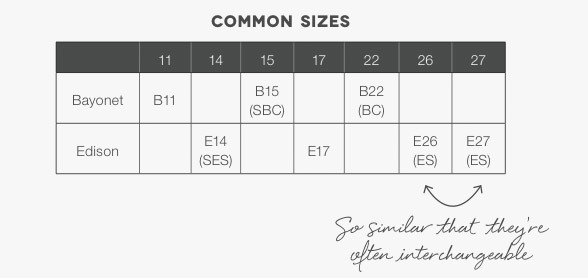 JUST YOUR TYPE
Once your fitting and size are sorted, you need to decide what type of light you want. Bayonet and Edison bases are available in all these bulb types.
Incandescent bulbs
are the traditional household type. They're often warm toned and can be used with a dimmer – flattering for skin tones!
LED (Light Emitting Diode) bulbs
are great for directional light, but not diffused or soft light. Some can be used with a dimmer, some require a special LED dimmer.
CFL (Compact Fluorescent Light) bulbs
offer a variety of colour tones from warm to cool. They're not recommended for outside and they sometimes struggle in cold climates. They're good for infrequently used light sources that are not switched on and off regularly.
Halogen lights
provide a white light, similar to natural daylight, and can be used with a dimmer. These are popular in ceiling mounted downlights.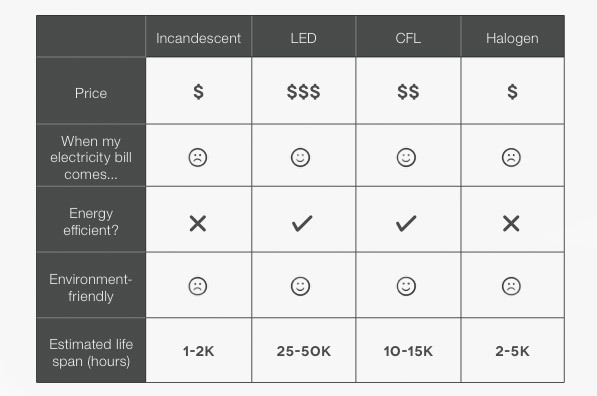 WHAT'S WATT
Wattage refers to the power usage, not the output of light or brightness of the bulb (for that, look for the lumens indicator).
Many energy-efficient bulbs list the equivalent wattage for a traditional bulb. For example, a 13W CFL may be equivalent to a 60W incandescent.
Many table lamps and pendants will list a maximum wattage between 40 and 60W. This does not mean that you need to use the maximum wattage in order to have a bright light. Using an LED or CFL bulb with a lower wattage will achieve the same result as an incandescent or halogen bulb with a similar brightness.
Remember: Never install a bulb with a higher wattage than the recommended maximum. It will produce excess heat and could damage the light fixture or become a fire hazard.
GLOSSARY
Bayonet: A type of bulb fitting with radial lugs that requires a push and twist installation.
Edison: Also known as Edison Screw, this bulb fitting screws in.
Kelvin: This refers to the colour temperature. 2.700K is a warm white, 4000K is a cool white.
Lumens: The amount of light emitted per second. This will tell you how bright the bulb is - the higher the number, the brighter the bulb.
Wattage: The amount of electrical power consumed by the bulb, not the amount of light it generates.
Click here to download our free Buying Guide to keep this info handy, or pin it to your handy hints board on Pinterest!