To round off 2014, we're having another look at our Find your style series by Verity Magdalino. Here she vibes on boho style.
Have a well-worn suitcase and get dizzy at the thought of a Parisian flea market? Then you, my little bowerbird, are more than likely a savant of Boho style. How to know if you're a Boho guru:
You're an obsessive collector
Other people's trash is your treasure. Your home is a celebration of your colourful free-wheeling spirit and is filled to over-flowing with your unique collections of vintage embroidered kimonos, Moroccan tagines, Victorian glass jars, antique lace and exotic finds from your years of trotting the globe. When it comes to interior style you are a maestro of mix and mis-match.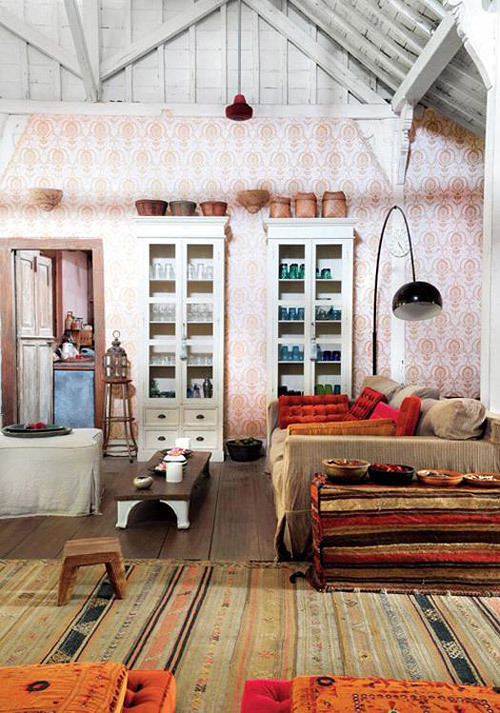 A Balinese villa via Examiner.com
Your favourite colours are as soft as icecream
The tones that make your heart sing are inspired by the soft, sugary hues of ice cream. Mint, raspberry, lemon and peach sit ever so charmingly against your favourite mood calming neutrals of vanilla and latte.
Your friends refer to you as the walking travel guide
For you travelling is as essential as breathing. When you get even as much as a day to yourself, you're off in search of adventure, whether it's beachcombing in Byron Bay or trekking the Hill Country in Sri Lanka.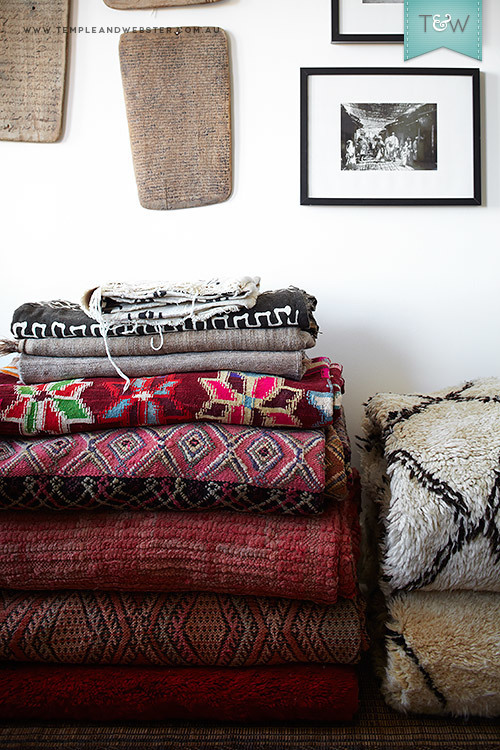 Moroccan rugs collected by Cassie Karinsky of Kulchi.
You don't mind the crumpled look
Flaking paint on your French antique furniture, crumpled linen sheets, hand-stitched patches on your Chinese silk embroidered bedspread, for you the more casual your chic, the more story it has to tell. But you don't mind a bit of new either. The art is in the mix.
Your favourite stylist is Sibella Court
A self-styled bowerbird and nomad, Sydney stylist Sibella Court's interiors store,
The Society Inc
is an ode to the modern day gypsy. Shell chandeliers, beaded lace curtains, gold-fringed velvet cushions… If you could, you would lock the door, and live there.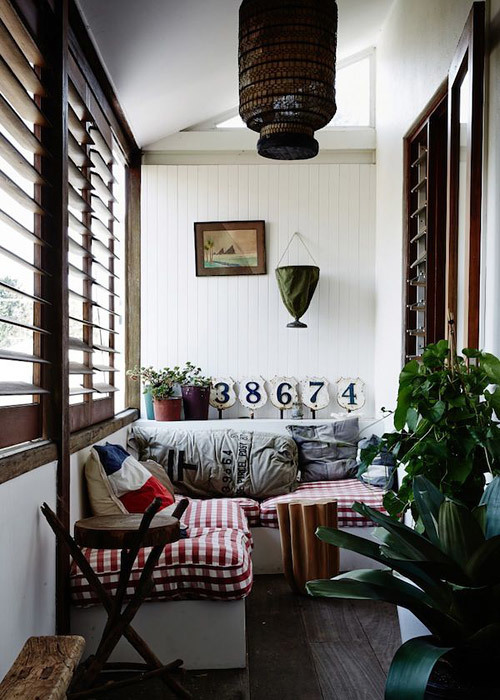 Sibella Court's home recently featured on The Design Files. Image – Sean Fennessy.
You are a master of artfully arranged clutter
Open shelves are your kind of storage as they're specifically designed to show off your vast assortment of white bowls and drinking vessels, collection of Victorian silverware and that intriguing brass sculpture you found in the souks of Marrakech. Your idea of interior nirvana is a comfy couch festooned with mis-matched cushions, and a ceiling-to-floor open bookcase.
Bookshelfporn.com
is quite possibly your most favourite website ever.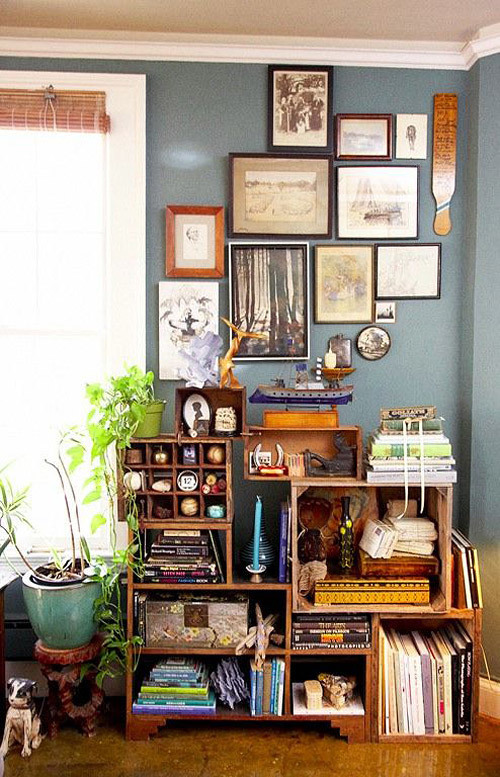 Image via The Selby.
You know your bergamot from your patchouli
In your highly sensory world, scented candles are the bomb. But not just any old beeswax will do. You may be partial to pre-loved objet when it comes to candles you demand quality. Handmade, all natural and preferably sourced from your favourite concept boutique on the Left Bank. If you could, you'd have every room in your home imbued with the clove and vanilla fragrance of Cire Trudon's Abd el Kader.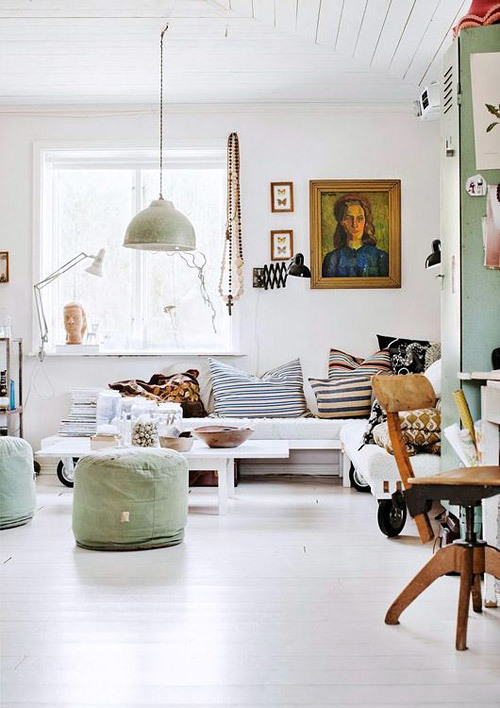 Image via
SFGirlbyBay
.
Your heart flutters at the site of ikat
You love an ethnic-inspired print, embroidery or hand-woven rug. You know your Javanese batik from your Guatemalan ikat, and your recycled wooden floors are scattered with Turkish kilims, Moroccan Beni Ouarain rugs and the warm sandy tones of Mauritanian mats. You're also partial to a floor cushion or two, hand embroidered of course, which you bought home from your last visit to the Hmong hill tribes in Northern Thailand.
Your favourite sport is trawling second hand stores and markets
If vintage shopping were an Olympian sport, you'd be three times gold medalist. Your skill is not only the ability to sniff out a bargain at 20 paces but also in re-conditioning old into new. Putting the love back into a neglected piece of furniture with a little DIY is an afternoon well spent.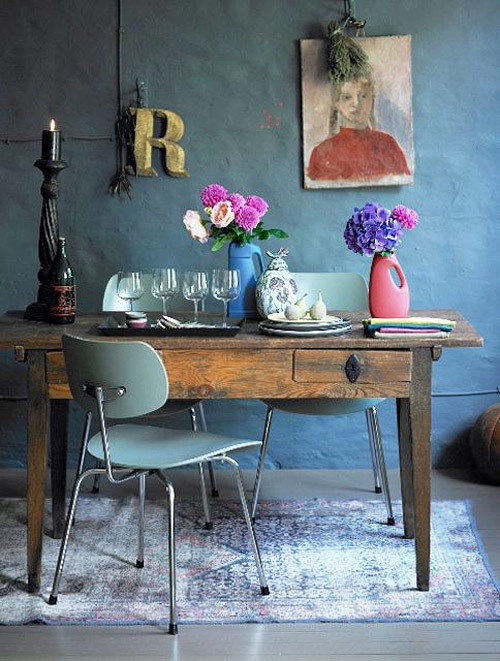 Image by Julia Hoersch.
You are your own favourite artist
While you love supporting your artist friends by investing in original pieces, you are also highly skilled at creating a feature wall, hung in an ad hoc French style, from any one of your collections of objet trouvé. Right now it's the golden autumn leaves from your backyard, pinned to a corkboard. But you're already thinking ahead to next week, and hanging up that collection of framed Peruvian butterflies. What a joy!
Inspired? Visit our Boho Style Pinterest board for these images and more.