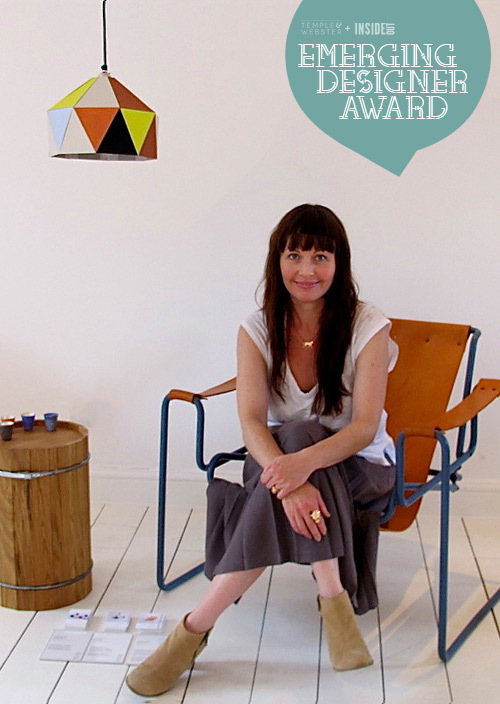 We're very pleased to announce that we've teamed up with Inside Out magazine to create the Temple & Webster and Inside Out Emerging Designer Award. This interview with Tamara Maynes is the first in our new series profiling emerging designers working in Australia. As an Australian company, we're always interested in supporting local design and we've worked hard to identify some upcoming stars with products we love. Verity Magdalino will be interviewing them all for the Temple & Webster blog over the summer, and you'll also see them Inside Out magazine's blog Homelife.
After you've met each of the designers and seen their work, you'll have a chance to vote for your favourite. Your votes will narrow the choice down to three finalists, then our expert panel, including Temple & Webster Editorial Director Karen McCartney and Inside Out Editor Claire Bradley, will choose the winner of our Emerging Designer Award just in time for Australia Day.
The winner will receive $5000 from Temple & Webster, and will also be featured in Inside Out magazine. We're hoping to lift the winner's profile across the Australian home and interiors media and help launch them on to even greater things.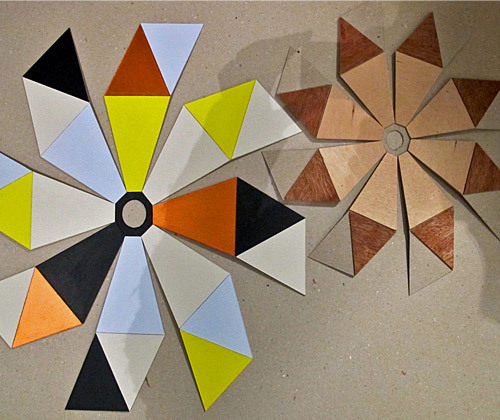 Who?
Tamara Maynes (pictured at top) is a designer/maker who produces a range of collectables and DIY craft kits in addition to running craft-making workshops and producing her own blog.
Why we love her:
Tamara is a champion of all things hand-made. Her modern take on traditional crafts includes macramé owls in contemporary colours and the genius DIY Quilt Light, a downloadable template, which enables you to create your own lampshade from any material you choose.
Tamara, how would you describe your design philosophy?
I'm a hybrid maker-designer. I want to give things value. I grew up surrounded by hand-made things and have always had an appreciation of craftsmanship. I find it frustrating people don't value the work that goes into creating something by hand and I have a real desire to communicate that in everything I do. When I design a product it's always based on a craft technique or has a DIY aspect. My aim now is to take my philosophy to a broader audience.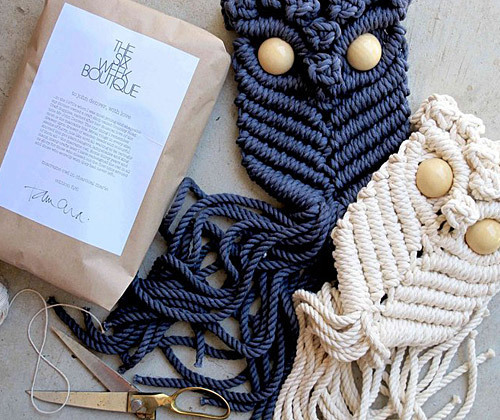 Where does your love for craft come from?
My parents. I grew up on a farm surrounded by people doing macramé and making leather sandals and I picked it up straight away. There was a lot of sitting round the table at night and making. When I became a teenager I realised, rather than just making something from a book, I could design something myself.
What inspired you to start creating DIY kits?
I moved from Sydney to the Southern Highlands and opened an online store. Getting back in touch with living in the country reminded me of being on the farm and making, and after years of designing it gave me the urge to do handcrafts again. I put a range of DIY cross-stitch kits together and they went off when I put them in the shop. A month later I revamped a macramé owl, and that's when things went crazy. I like craft that isn't obvious. I don't think of myself as a crafter. The general public has jumped on the whole "craft-thing", and it has its place, but personally, I'm more about craftsmanship.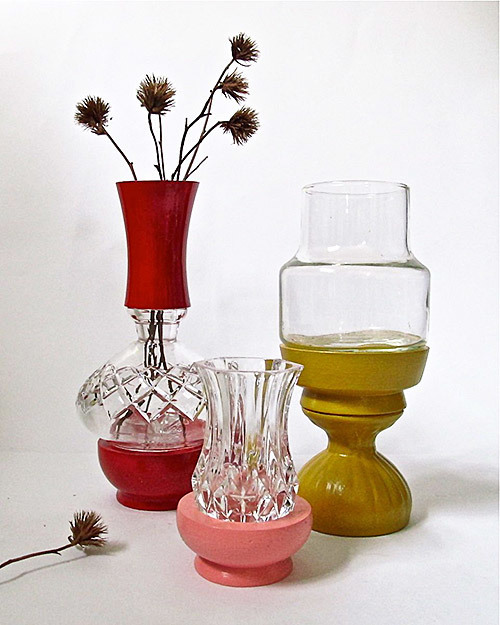 Inside Out Upside Down upcycled one-off vases. Originally designed as a sustainable DIY project for one of my contributions to Inside Out Magazine, now for sale at my online store The Six Week Boutique.
Where do you find inspiration?
I post a lot of my inspiration on
my blog
. It's like putting a mood board together and it helps me collect my thoughts and keep me focused. I really love seeing images of homes, which use craft in a modern way. I also have a library from my mum of craft books from the 70s and 80s. They appeal to my love of re-designing things to make them look better. They also wake me up to other techniques. And, like everyone, I'm always on the computer scouring markets and second-hand stores.
What are you currently working on?
Re-branding. I find because I'm an all-rounder with all of these different disciplines people get confused, so I'm making my business into a creative boutique studio where I have an obvious range of products and services to offer. My belief is all things made can be beautiful no matter the material, such as a my family jewels diamond template crafted from cardboard - a new DIY product offered on the Six Week Boutique. I also want to create a line of furniture inspired by Australia's colonial heritage. I'd really love to find someone to collaborate with on this.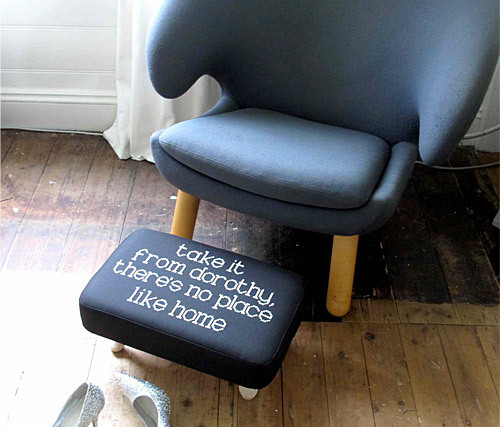 Take It From Dorothy one-off hand-embroidered redesigned 1960's footstool available at The Six Week Boutique.
How important are the materials in your work?
A key part of my work is to give people the opportunity to value things and what they're made of. For Quilt Light you buy the template, print it out and apply it to any material you want. People send me photos of their creations and I love that it makes them think.The most popular, easiest and affordable material is cardboard. For the Milan Fair I made a Quilt Light out of a removalist carton, which still had the red stamp-like printing on it. It's was hugely popular, and proved that you can make something that looks beautiful out of a cardboard box.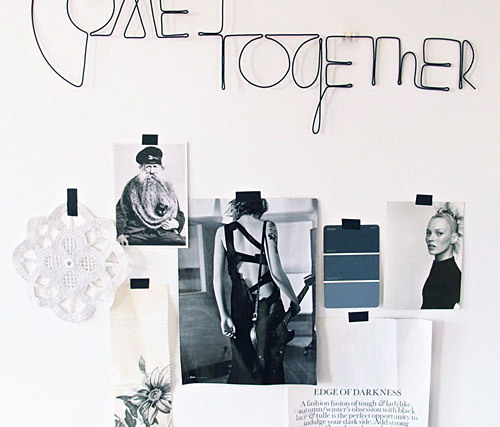 'Come together' wire wall type
What have you got in the pipeline?
Ultimately I'd love to have a studio space with a team of people who focus on one craft or technique for a year and execute it in a multi-disciplinary way, which would then be shared with the public via products, exhibitions and workshops/teaching. I like the idea of having a small team revive different fields of craftsmanship.
What would be your dream project?
To be taken on as a creative director; I have so many other skills outside of design and making and I'd love to bring them all together.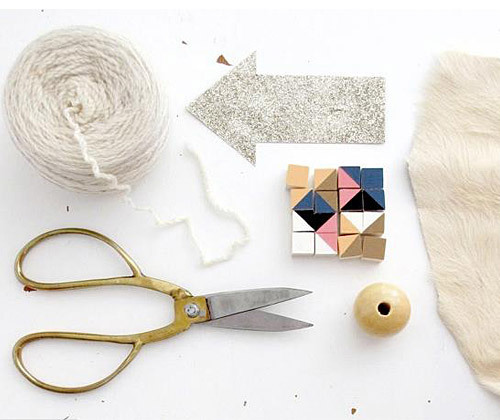 If you had one design/styling tip what would it be?
Always add something handcrafted. I love mixing contemporary with vintage and adding something handmade is the finishing touch, as long as it's in a modern way. That's what I do in my own home. Wherever you look there's always an element of design, an element of vintage, and there's always something that brings me back to what we are capable of creating with our hands.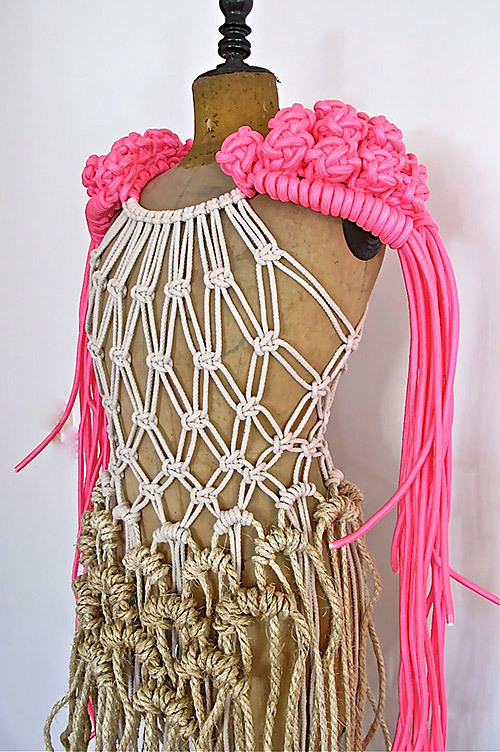 Macrame dress
knotted from hardware rope. Commissioned by stylist Jane Frosh for installation in the foyer of the QT Hotel Sydney.
All images courtesy of Tamara Maynes.
Tamara will be teaching a macrame class at
The School
in 2013.