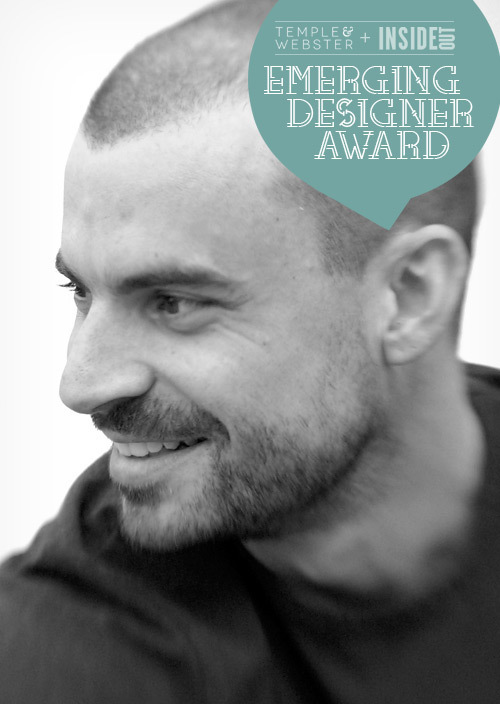 Verity Magdalino speaks with industrial designer Chris Hardy, our fourth nominee for the Temple and Webster / Inside Out magazine Emerging Designer Award. You can also read Lee Tran Lam's interview with Chris on the Homelife blog.
Who?
Chris Hardy is a Canberra-based designer with a penchant for beautifully minimal product, furniture and lighting design.
Why we love him:
His pared back aesthetic is based on a thoughtful, considered approach, which balances the practical demands of user experience with a genuine desire to create delight. We can't wait for the launch of his next idea, based on his PhD work into the physical and psychological effects of coloured light. Lights that not only look beautiful but help raise your energy levels? Yes please.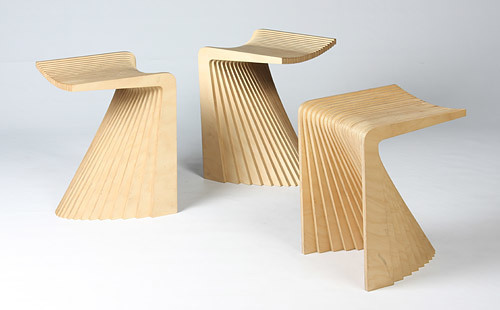 How would you describe your design philosophy and aesthetic?
My aesthetic is visually reduced and minimal. I try to solve functional ergonomic problems in the cleanest most efficient way. In terms of general philosophy I focus on the user experience. I'm also passionate about Australian design and trying to keep work in Australia in terms of manufacturing. I try and make products that are as sustainably sympathetic as possible.
Where did your love for design come from?
I was born into it. My father is an artist and I grew up going to exhibition openings rather than football games. I have an uncle who's a painter and sculptor, an older brother who's an architect, a younger brother currently doing an internship at InDesign, and cousins in film and fashion. It was pre-destined. I had no real choice.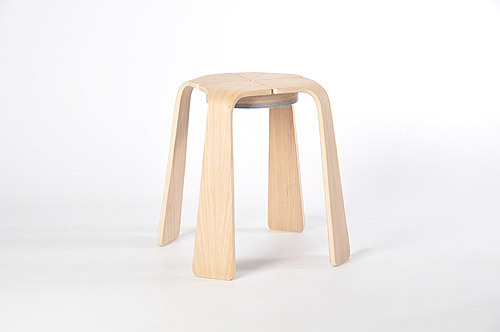 What inspired you to create your most recent piece, the Bootcut stool (above)?
I was inspired by industry feedback from interior designers that there were no stacking stools designed in Australia so I wanted to try and address that. It's materials-driven. The aesthetic comes from the sheet-like nature of the laminated timber. Instead of hiding the cross-section join in the stool, which was created to save on materials, I made a feature of it. The seat laid flat would take up a huge amount of timber so I designed the stool to have four separate sections.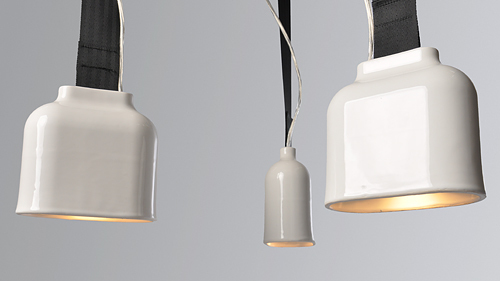 How did the concept for the Bell Pendant (above) come about?
I have a background in ceramics having worked at Caroma Industries, so really wanted to play with ceramics again. It's an age-old material, long lasting, with a beautiful quality and I wanted to contrast this with an unusual hanging method such as a seatbelt strap, which I hadn't seen used before. It's a directional work that I think works best in clusters. I envisage them hanging in a row above a bar.
The idea evolved out of sketching and everyday experiences. It's hard to nail down where the original concepts come from. As a designer you have your brain switched on all the time and consider things that other people wouldn't.
Do you have a favourite design from your collection?
The low Oru chair
(below)
. The idea was kicking around in my head for ten years before I made it. It was a nice process, sketching, creating CAD models and then the first prototype with the idea evolving at every stage. But my real favourite thing is always the next design I'm working on.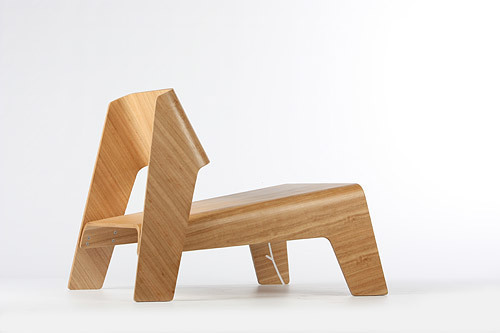 What are you looking at now for inspiration?
I sketch a lot. I have a whole process of sketching and playing with models and I draw inspiration from everyday life and the zeitgeist of Australian design.
What are you currently working on?
A PhD in the application of coloured light to interior environments in terms of design and emotional context. I've learned a lot about how light effects people at an aesthetic level, a psychological, and physical level. From insomnia to how being exposed to a burst of blue light for an hour can raise energy levels, and how pink light can calm people down.
I'd like to produce a range of task lights that uses these principles but does so in a unique way involving computing and the type of accelerometers you have in your phone. I'm also looking at the concepts of surprise and play in terms of design and how it all boils down to emotion.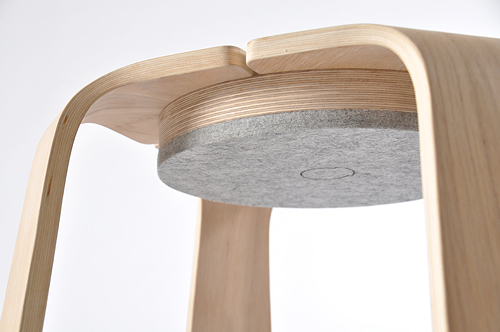 Above: Detail from the Bootcut stool
What would be your dream project?
Getting my design company up and running as a full-time occupation. That would be fantastic.
Images courtesy of Chris Hardy.We're profiling local up-and-coming talent all summer, along with Inside Out magazine's blog, Homelife. After you've met each of the designers and seen their work, you'll have a chance to vote for your favourite. Your votes will narrow the choice down to three finalists, then our expert panel, including Temple & Webster Editorial Director Karen McCartney, Inside Out Editor Claire Bradley and Louise Olsen, co-founder and designer at Dinosaur Designs, will choose the winner of our Emerging Designer Award just in time for Australia Day. The winner will receive $5000 from Temple & Webster, and will also be featured in Inside Out magazine and across the home & interiors media. So far we've featured Tamara Maynes, Kate Stokes and Tate Anson.