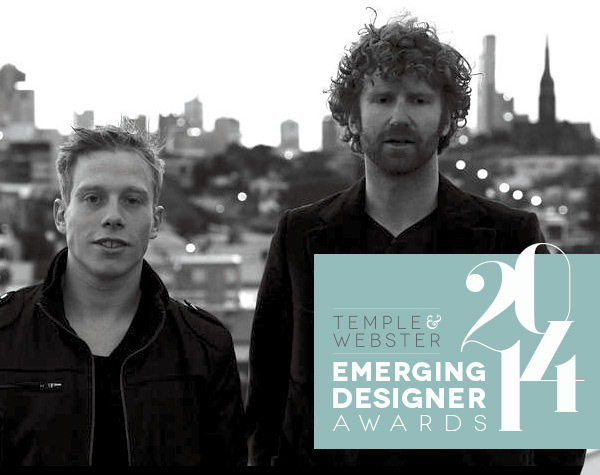 David Harrison introduces us to Edward Linacre (above right) and Viktor Legin (above left), whose Copper industrial design consultancy is one of ten nominees for the Emerging Designer Award 2014. Voting starts on 2 May.
Edward Linacre and Viktor Legin have recently established Copper, a new design consultancy working on projects varying from lighting design to medical and environmental products. Viktor had previously worked for Melbourne design firm Map International for several years overseeing the product development of numerous furniture and lighting designs. His deep knowledge of manufacturing capabilities allows Legin to produce immaculately resolved and highly sophisticated products with a contemporary minimalist edge. He was awarded
The Good Design Award
, Australian International Design Awards 2010 for his 'Easy Up' down light. After studying and interning in product design in Germany, Ed Linacre returned to Australia to work for Melbourne consultancy Cp Design (now Annex Products) for 3 years before setting up his own studio. His inspiration comes from the fundamental structures, geometries and innovations of nature. Many of his lighting products in particular are constructed using repeating elements that appear rich and complex in the final form but are simple and economic to fabricate and assemble. Linacre received the
James Dyson Award
(Worldwide) in 2011 for his
Airdrop irrigation system
and was runner up in the 2013 Design Report Award for young designers showing at Salone Satellite in Milan.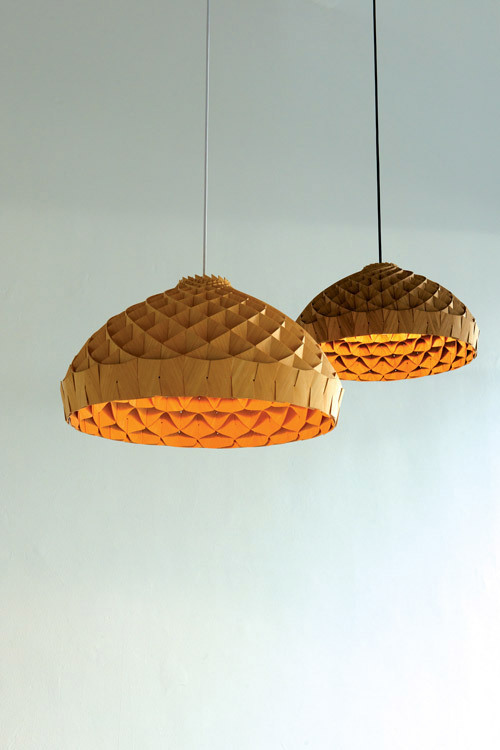 Ed's Nest light, which pays homage to honeycomb, was exhibited at Salone Satellite 2013, Milan..
What is your biggest motivator, muse or inspiration when you are designing?
Edward: It depends what is being designed. Nature is a constant inspiration to me and drives many elements of my design process, from an organic or geometric aesthetic considerations, to the embedded recycling in natures closed loop system of production where waste equals food. Our product industries ultimately need to mimic this. Many of Nature's innovations have solved the environmental problems with which humanity still grapples. A simple beetle extracting water from the air in the desert inspired my drought response irrigation system. Solutions like these are invigorating. We need innovation in our urban environment, systems and materials that will hopefully build a relationship with our natural environment that is one of cohesion and cooperation, not repulsion. As product designers of the future, it is our obligation to consider the environmental consequences of our actions. It's really a choice between being a part of the solution or a part of the problem. Also, seeing someone express pleasure through something I have been involved in creating is a big motivator.
Viktor:
My main motivation would have to be the possibility of my work being a part of someone's life or home. As I become quite attached to some design products in my life I feel honored that others may have the same connection to my products. It can feel like a massive responsibility to make products that people can love and live with.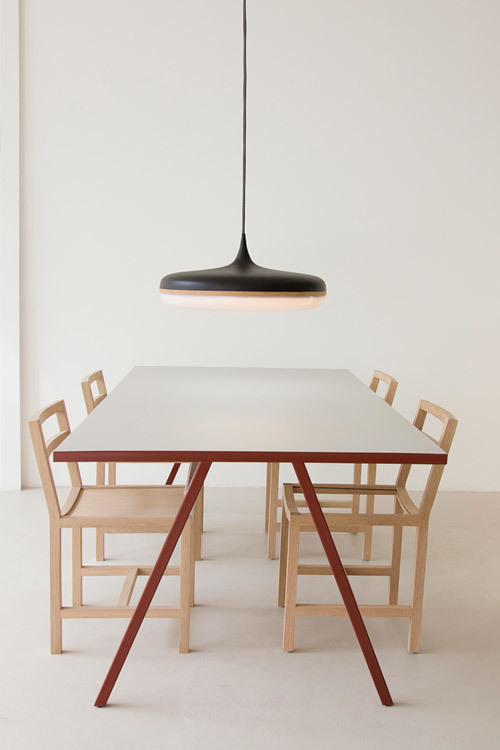 Viktor's Droplet pendant light is inspired by a droplet of water frozen in time and is available with a black or white aluminum spun top and an American Oak or black walnut ring.
What has been the single most pivotal point or event in your design life so far?
Edward:
Either the legendary staff at Brighton Bay Design Art and Photography ordering me to change from graphic to industrial design, or my decision to study product design in Germany. I spent a semester tutored by Werner Sauer (Wilkhahn) and was able to pick up an internship afterwards
at international consultancy Wiege, which threw me right in at the deep end. This completely changed my conceptualisation of the design industry and gave me much-needed perspective. Germany took my overly experimental design nature and refined it into a productive machine, gave me direction, and strengthened my understanding of resolution.
Viktor:
As a boy I spent many hours in my father's workshop, building toys. In the late 90's when the yoyo craze hit I built my own using milk bottle lids, wax and bearings. I guess my advantage was that I knew what I enjoyed doing and what I was good at early in life. Possibly the most pivotal point in my life that lead me down the creative path was rebuilding my family home with my father. For the first time I experienced the feeling of creating something with purpose that I felt was a part of me and my family. It feels as if since I graduated I have been blessed with many opportunities such as working at MAP, being a finalist in Australian Design Awards, exhibiting at a range of exhibitions and lecturing at RMIT and Swinburne. All those components made it possible for what I believe was the biggest milestone for me which is starting my own business. Launching Copper Industrial Design has probably been the most rewarding experience so far, It has forced me to commit to my dream in a big way and start growing as a designer.
Ed explains his AirDrop irrigation system, winner of the James Dyson Award in 2011
What existing object or piece of furniture do you wish you had designed?
Edward:
The bicycle - my daily transport
Viktor:
I would have loved to have created anything close to Nikola Tesla's work. He is probably a figure that is most inspiring to me. The quality and volume of his work is truly astonishing. I think being a designer is being an inventor.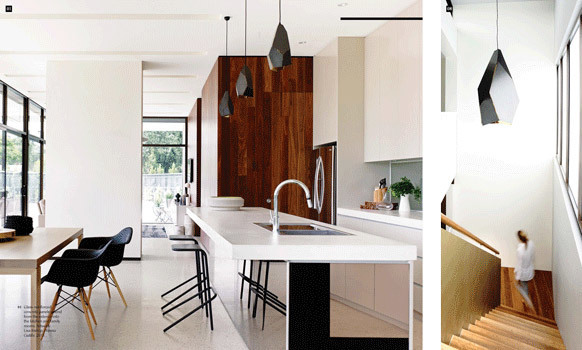 Ed's Topaz Pendants recently appeared in Houses magazine, in a project by Doherty Design Studio and Craig Rossetti Architects. Images - Derek Swalwell.
Edward, there appears to be a lot of mathematics going on in your designs; is this something that intrigues you?
Edward:
Yes. I enjoy the resolve of mathematically driven form. I'm obsessed with polyhedra, fractals, and of course natural geometries, the way a sea shell and galaxy share the same mathematical spiral sequence. A digital representation of an ancient mathematical design process, basket weaving, underpinned the Weaved lighting range; a true amalgamation of modern manufacturing and the artisan techniques. The resolve of mathematics assisted the creation of a structure that is lightweight yet robust, complex yet easily assembled, a form that is more sculpture than product, yet affordable. Digital exploration of random crystal formations led me to create an asymmetrical faceted shade folded from a flat sheet of brass; the Topaz pedants.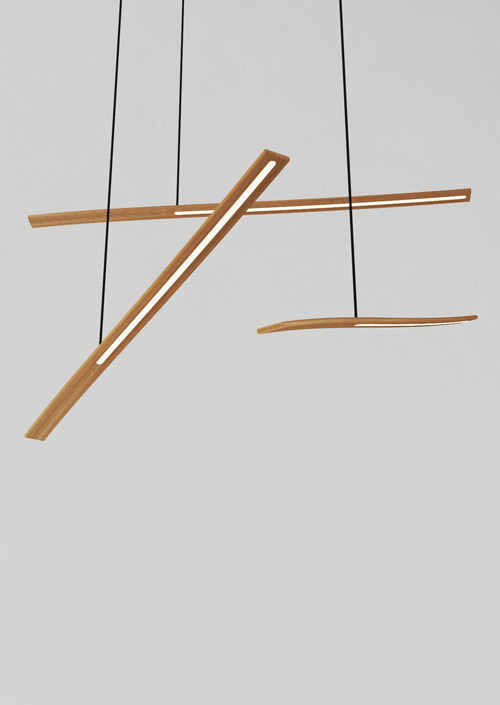 Viktor's Balance pendant light are thin, steam-bent timber LED lights that can work alone as a task light or in a cluster as feature lighting. The sliding counterweight allows the user to set the light to the desired angle.
Viktor, unlike many young Australian designers who produce their own work, your designs are quite technical and require sophisticated manufacturing. What attracts you to this approach?
Viktor:
What attracts me to this approach is the challenge and thrill of achieving something seemingly difficult in a smart, sustainable, easy and affordable way without compromising quality. I think it is important to stay true to your vision and not give up too easily on your idea. I believe almost anything can be achieved if enough thought has been put into the process. Sometimes conventional manufacturing methods can be limiting which is why having a good relationship with your manufacturer and coming up with alternative methods is critical. If you can get them to share your vision you know you can get it done the way you want it. The more minimal a design seems the harder it may be to achieve in most cases and I try to strip back my design as much as possible. A strong work ethic and a touch of perfectionism has been a key in my design method. Learning to be a self critic has helped me improve my work. A strong understanding and constant research into materials and manufacturing methods takes up a large portion of my design process.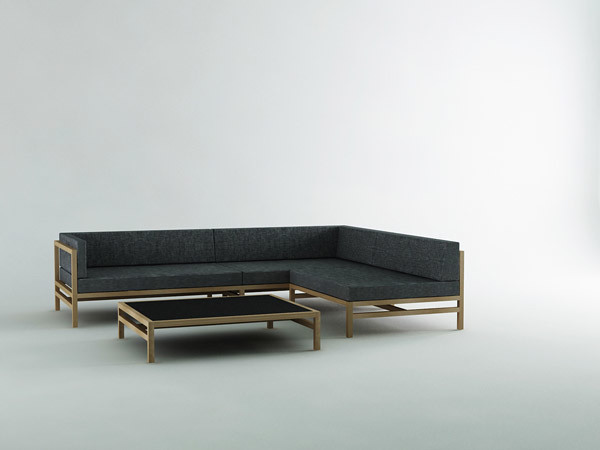 How do your skills complement each other in Copper?
Edward:
I design and Vik sands blue foam, and that's how Copper succeeds. No really, Viktor is a skilled cross-disciplinary craftsman with a brilliant design-engineering mind; the consummate perfectionist.
Like Germany did, he continues to help me resolve my work. He is a minimalist, a disciple of the" less is more philosophy", while I explore intricate constructions, mechanisms and patterns. Both of us have a love of natural materials, tangibility and a strong environmental philosophy. Together we can offer a client everything they desire. When you team up with someone who you can rapidly develop an idea with, someone you respect; who you can take criticism from, give it out, have a laugh and move on, you're on a winning relationship and productivity goes through the roof. Another passion we share as a team is teaching. I lectured ID at Swinburne for 3 years, Viktor 5, and last semester we took our first class with 2nd and 3rd year RMIT students. We ran the class like an extension of our studio, taught at our office, requiring real interaction with manufacturers, and fully resolved, market-ready products as an outcome. The students have achieved so much this year already,
Eight of them reached the finals of the Edge at AIFF,
one of whom took out the Concept award and is off to Milan for Salone de Mobile. We are very proud and feel lucky to have snagged a couple as interns.
Viktor:
Ed truly makes a great cup of coffee and is good at writing emails. Besides that he is a genius designer. Ed and I first started working together on his honors project "the air drop". Instantly we both recognized that as a team we are capable of some amazing things. We both have a very different aesthetic and skill set which somehow works. Since our skills don't overlap our capabilities are amplified and we can deliver a diverse range of products and designs. Ed and I have contrasting styles as I am a minimalist and Ed explores geometric complexity but somehow we complement and enhance each other's work. He tends to make me think outside the box and I seem to keep him more grounded. We seem to be on the same wave lengths most of the time and have a brotherly relationship. We have overcome tough times together and it has made us a stronger team with big dreams. Music is a big part of both our lives and we have the same taste in music and humor. This makes our work environment filled with laughter and banging techno to the early hours of the morning. Such a workplace feeds our creative spirit and enhances our positive outlook on life.
For more, visit the Copper website or follow Copper on Facebook or on Instagram @copper_id