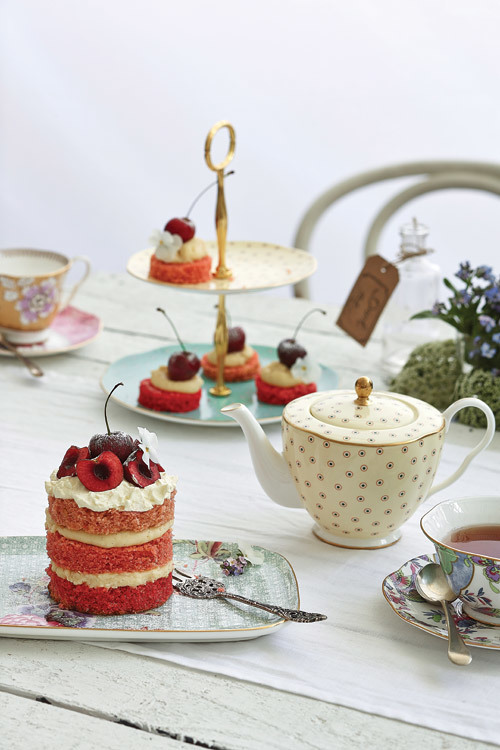 Jono Fleming took advantage of our Mad Hatter's Tea Party sale event to create a sponge cake with a difference...
You just can't beat the classics. Relaxing on a classic chair, listening to classic rock, and cooking classic food. Sometimes good old-fashioned recipes are the best way to approach cooking. You can't beat your favourite meal, whether it be spag bol or roast chook, and when it comes to dessert, there's nothing more classic than a good sponge cake.
That being said, there's no rule that classic has to be boring. The beautiful Wedgwood china puts a new spin on the classic tea set, with bold fresh pattern and vibrant colour, so I've shaken up a classic sponge with a bit of colour and a new, on-trend ombré look. It's a simple dessert, but the custard, cream and cherries (you could also use berries) take it up a notch to something a bit special. Call it classic, with a twist.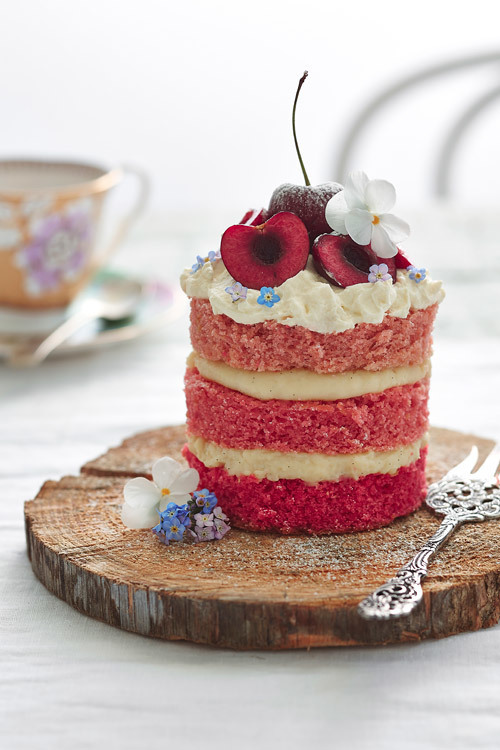 Ombré Sponge Cake with Custard and CherriesIngredients (makes 8 - 12 mini cakes)
Sponge cake
500g self raising flour
500g butter, at room temperature
500g caster sugar
8 eggs
2 teaspoons baking powder
red food colouring
Custard
2 cups milk
1 vanilla bean, split lengthways, seeds scraped
Rind of one lemon
4 egg yolks
¼ cup caster sugar
1 tablespoon cornflour
Whipped cream and cherries to finish
Preparation
Preheat the oven to 180 degrees C.
Measure out all the sponge ingredients into a large bowl and mix with an electric beater till smooth. Divide the batter evenly into three bowls. To the first bowl, add a few drops of red food colouring and stir until the mixture is a pale pink. To the second, add a few more drops and stir until the mixture is a darker pink. To the third, add even more drops and mix until you have a vibrant pink colour.
Grease three baking trays and spread each mixture into a separate tray. Bake for 15-20 minutes or until the sponge is baked through. Use a knife or skewer to test the middle of the sponge; if it comes out clean it's cooked. Remove from oven and let cool completely.
While the sponge is baking and cooling, make the custard. Put the milk in a saucepan with the vanilla beans, pod and lemon zest and bring to a simmer over a medium heat. Remove from the heat and cool for 10 minutes.
Meanwhile, beat the egg yolks with the sugar and cornflour until pale and thick. Pass the milk mixture through a fine sieve to discard any larger bits (like the vanilla pod) and pour over the egg mixture, whisking continuously (an extra set of hands helps at this point). Once the mixtures are combined, return to a saucepan and cook for 5 minutes over a low heat, or until the custard thickens. Make sure you stir continuously; when the mixture coats the back of a wooden spoon, you know you have the right consistency.
With an egg ring, cut out little circles of sponge cake and starting with the darkest pink as the base, place a layer of custard in between each layer, going dark to light. To finish, top with whipped cream and some cherries.
Follow our Dish of the Day Pinterest board to keep track of all Jono's recipes and styling.