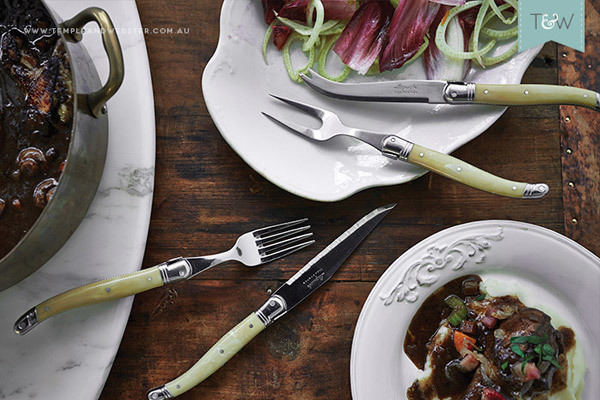 To celebrate Bastille Day, we revisit Jono Fleming's Coq Au Vin – French flair in the form of a classic comfort dish.
As far as I'm concerned, you can't talk about French cooking without talking about
Julia Child
. For the uninitiated, Julia Child was an American chef, author and television personality famous for bringing French cooking to the States. Brought to life by Meryl Streep in the recent film
Julie & Julia
, Child made French cooking accessible to the average American in her 1961 book
"Mastering the Art of French Cooking"
, which has since become a guidebook for the culinary world.
Child was known for being quite the personality, tall, loud and with a voice that commanded attention. Especially when she'd offer up culinary philosophical nuggets like: "the best way to execute French cooking is to get good and loaded and whack the hell out of a chicken". Quite the opposite to the often subtle artistry of the French food she expertly executed.
For Bastille Day, we've decided to take a leaf out of Julia's playbook and have a crack at an old French classic, Coq au Vin. Served with a creamy mash, this dish literally translates to chicken in wine. It's a rich, rustic and hearty dish that looks a million Euros and is deceivingly simple to prepare, leaving you with plenty of time to sit back, relax with your guests, and decide just how much of that bottle of red Julia would be happy to dispose of. Bon appetit!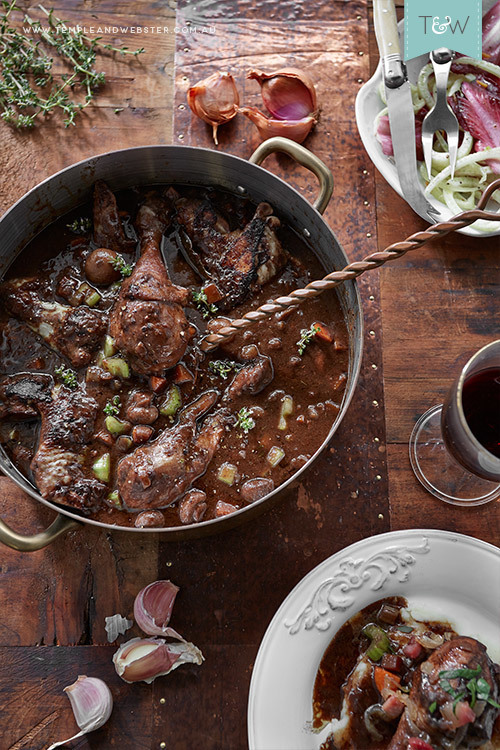 Coq au VinIngredients
8 chicken pieces (mix of drumsticks and wings)
8 French shallots (golden shallots), thinly sliced
2 garlic cloves, finely chopped
2cm thick piece of speck, diced (use bacon as an alternative)
1 celery stick, finely chopped
1 carrot, diced
1 1/2 cups (375ml) red wine
1 1/2 cups (375ml) chicken stock
6 thyme sprigs, plus extra to serve
3 bay leaves
400g button mushrooms
2 tbs tomato paste
Preparation
Coat the chicken pieces in flour and, cook in batches in a saucepan over a medium heat with some oil to brown the outsides, about 5 minutes. Set them aside.
In a large casserole or stock pot, add some oil, and on a medium heat, cook the French shallots and garlic till soft, not brown. Add the speck, carrots and celery and cook for a further 5 minutes. Then add the red wine, chicken stock, thyme, bay leaves, mushrooms and tomato paste. Stir and bring to a simmer.
Add the browned chicken pieces, bring back to a simmer, cover and cook over low heat for 40 minutes. Remove the lid, bring to a medium heat and cook for a further 20 minutes to thicken the sauce.
Serve with some creamy mashed potato, I also made up a shaved fennel, radicchio, orange salad tossed in olive oil. Spoon onto the mash and accompany with a glass of red wine!