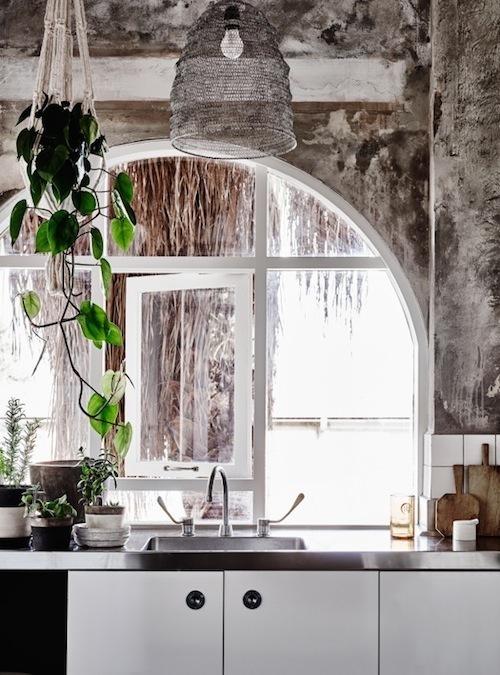 On a recent visit to Melbourne, head of styling Jessica Bellef spent a few days in the beautiful world of interior designer
Lynda Gardener
, at her latest boutique accommodation offering,
The Apartment St Kilda
. Here they caught up to talk about Lynda's inspiration, her favourite local haunts and her tips for bed styling perfection.
Have you ever had that surreal feeling of visiting a place you have seen many times through a TV screen or pored over on the pages of a magazine? That out-of-body, "I can't believe I am seeing it with my own eyes" feeling? That's what happened when I walked into The Apartment St Kilda on my last trip to Melbourne. As a fan of Lynda Gardener's interior styling work for many years, it was such a visual treat to spend some time in one of her beautifully curated spaces. The cherry on top was the chance to speak with Lynda about her spaces and her approach to styling.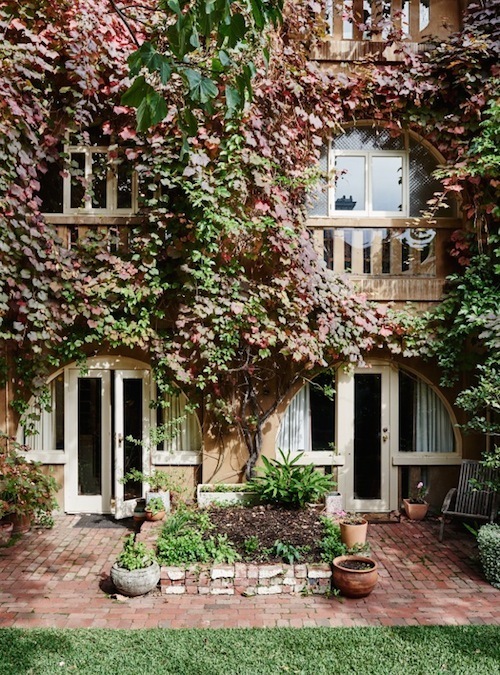 The Apartment St Kilda is set in a charming Art Deco building. You have maintained many original features of the space yet it feels so fresh and current. What did you do to the space to put your spin on it?

The Apartment is on the top floor of a beautiful 1920s building overlooking private communal gardens. It has wonderful original features, such as very high ceilings, old floorboards, tiles and glass doors throughout. I began by painting everything pure white – walls, floors and ceilings. I then chose to add lots of assorted homewares and furniture. New additions included the deconstructed couch, huge rope chandeliers, textured floor rugs and throws. I also sourced some one-off vintage pieces like old oil paintings and vintage crockery.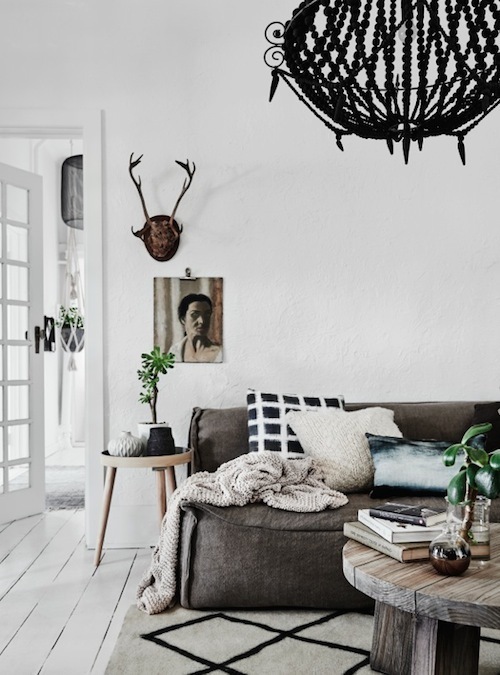 We love the perfectly balanced mix of vintage and new decor and furniture in The Apartment. What's your top tip for people who struggle with mixing eras successfully in their home?
You need to have a theme. Pick your colours and tones first and ensure each room flows on to the next. I added pops of green throughout, highlighted by a big vintage bottle on the table in the lounge room, as well as lots of lush leaves and hanging plants throughout the apartment. As long as all the tones and colours work, I feel it's quite easy to mix eras.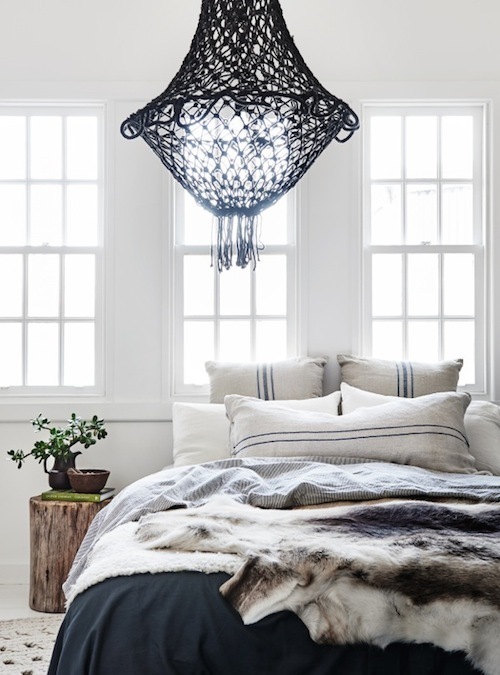 The bed styling in The Apartment is impeccable – the colour palette and the textures were cocooning and I had the best nights sleep. What is your secret to making up the perfect bed?

Layers and lots of textures. I love a mix of different bed sheets and covers. At The Apartment I used a ticking stripe, plain charcoal bed covers, a wool throw and a deerskin over the top of that. A few cushions mixed and not particularly matched are what works for me… nothing overly styled or in pairs, in fact the opposite. I love odd.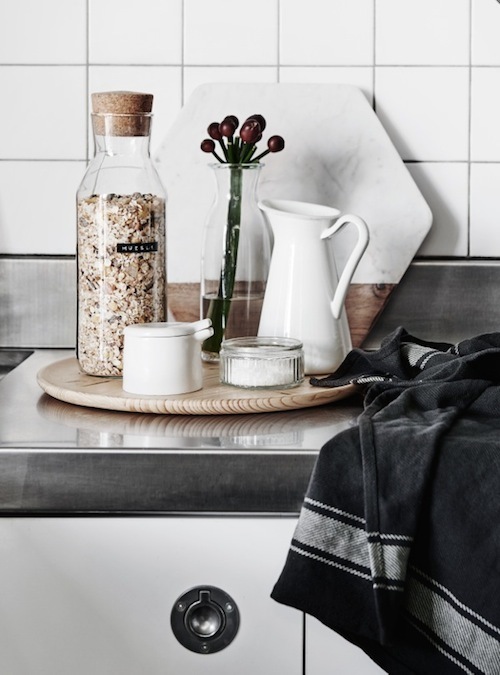 What are your 5 favourite design destinations (shops, restaurants, bars, markets and galleries) to visit in the St Kilda area (or more broadly in Melbourne)?

Locally in St Kilda,
Scout House
for homewares and furniture both old and new. A great guy called Orlando, who has a knack for sourcing great finds, runs it.
Ciccolina
is an old-time St Kilda favourite. I can't wait for the new
Stokehouse
to open in a few months. I am sure it will be outstanding in every way! And of course I have to add my own store Curated –
Lynda Gardener in Albert Park
, just around the corner. I have been in that gorgeous store for 23 years now.
Once a week I usually stroll around Melbourne's laneways, always mesmerised by some of the beautiful old buildings and architecture. I still find buildings I haven't really noticed before. The city has become such a cool place to visit, with new bars, cafes and restaurants that are literally opening every month. An old favourite for me is
The City Wine Shop
in Spring Street. It's one of those places that will never ever date. I always feel as if I could be anywhere in the world. To me, it's an iconic place to eat, chat, meet friends and make new ones. Lastly,
Pellegrinis
is such a classic – it has stood the test of time whilst the city has changed all around it. It's a time warp!
You now have 4 boutique accommodation destinations in Victoria, what inspired you to bring your designer's eye to these properties and how do they differ?

I bought my first property
The White House
in Dayelsford eight years ago. It was a run-down house that needed everything added, changed, fixed or repaired. All my homes represent my look and style at the time of renovating. They all house my personal collections and all are places I want to live myself. Not one of them has been set up just as accommodation. They all must be my home first and I guess that is the difference – they are set up as a home. The Apartment has a very fresh white modern feel, different from the rest. I truly wanted everyone to experience something different from all of the spaces and believe I have managed to do that. I've already had so many guests stay at all four properties, choosing to stay over two weeks with a few days in each property.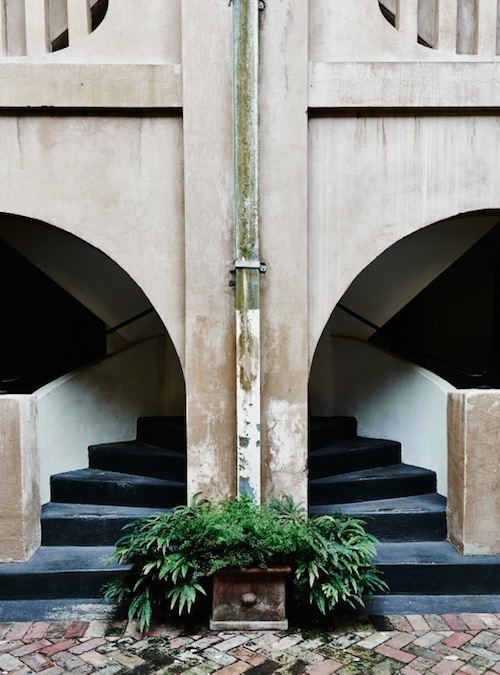 You are a retailer, boutique accommodation operator and a busy interior designer and stylist. How do you find the time to sleep at night and what's on the horizon for you?
I love what I do and there is never a day that I am not excited to get up and work on my daily list of things to cover. I am a light sleeper and unfortunately do a lot of my deep thinking during that time. On the positive side, lots of my bright ideas come out of these quiet nights, trying to sleep. I guess my brain really does not switch off! I have quite a few ideas up my sleeve and one will actually be opening new accommodation (yes, I know!) in 2017.