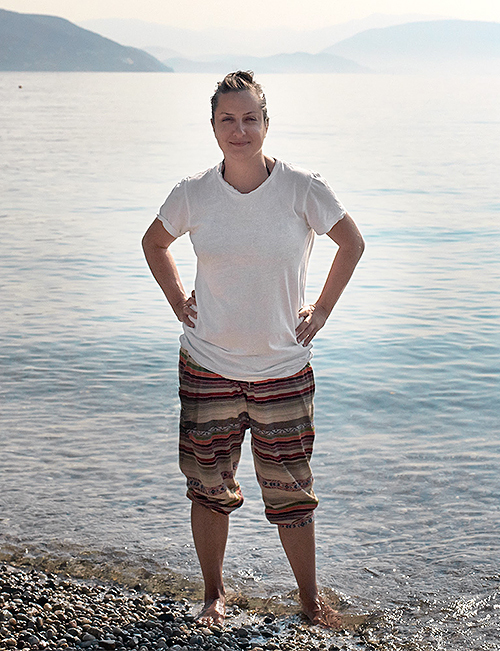 T&W's chief photographer Denise Braki travelled to Greece this summer. Here she shares highlights from her island odyssey, and reflects on Greece's unique appeal.
It's easy to understand how so many people flock to this varied landscape every year, home to many myths of gods and giants. Wide-open blue skies, mysterious ancient ruins and plunging coastlines beckon with the promise of stories yet to be discovered. For many of us, coming to Greece is like a pilgrimage to the cradle of our civilisation. To me, it feels like home.
As a born and bred Australian I'm not sure I'm allowed to say that Greece can be a tough country to live in. Back in 2004 after I finished my studies, I decided to travel here to learn a little bit of my distant and forgotten heritage. The plan: stay 6 months and then go back to Sydney. I admit that for the first few months, I found Athens a struggle. Its size: small and overwhelming. Its cleanliness: scruffy is putting it a little mildly. Its temperament: a bit on the grumpy side. Its people: a little unpredictable.
But then something happened and I fell in love with what was now to be my new home. Despite everything seemingly going against my liking, I felt a strong sensation of déja vu which enticed me to stay a little longer and see what was below the scruffy surface of this unique place. After returning back to Sydney 4 years later I never quite felt the same person again. "Travel will change you", most people may say, but this was a deeply personal journey about people living and thinking in a different way, unlike anything I was used to back home. The wonderful memories of the people I met, the places I journeyed to and some of the best food I'd eaten stayed me with and like a lovesick teenager when I come back to Sydney, I can hardly wait to see it all again. The Greeks should have a sign "Be warned, this place is very addictive".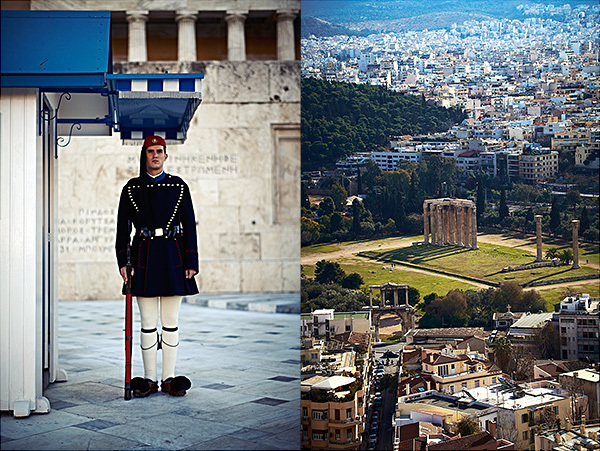 Our first stop was Athens. The city is famous for its sprawl, noise, graffiti and pollution, the teeming home of nearly four million Greeks. Crowded, narrow streets, twist their way up toward the Acropolis with vendors taking every opportunity to sell you something along the way. At the city's modern centre, known as Syntagma Square, standing amid pigeons and tourists is the Parliament building. Above the simple marble-slab tomb is a carved image of the Unknown Soldier, inspired by statues of ancient Greek warriors. The tomb is guarded by the much-photographed evzone, an elite infantry unit of the Greek army. The six foot something young guards sporting funny shoes and short pleated skirts with thick stockings, change every hour, 5 minutes before the top of each hour, with an elaborate crossing that brings in the new guards. They march with a slow, but high stepping march and usually do not stop for anyone or anything in their way (as we witnessed when a poor tourist's photo equipment was kicked out of the way). Athens is a great city to see… but not to linger, plus Greece's diversity could have you travelling for months on end and still not seeing everything. And with this in mind, we marched on.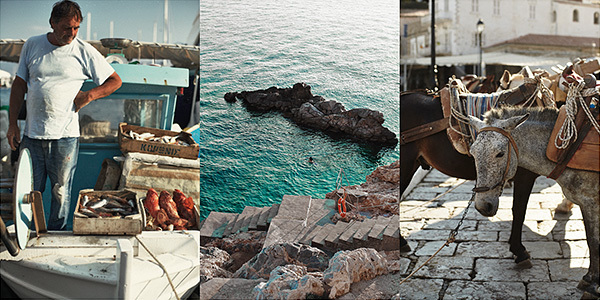 Hydra (pronounced EE-drah) is less than a two hour boat ride south of Athens and a welcoming next visit after the noise of the city. One of the island's best features is the total absence of motorbikes and cars which are replaced by donkeys and mules. The donkeys are a choice preferred by the locals, keeping the place quiet and less polluted (with the exception of the donkey poop). These beasts of burden will carry anything from luggage to major appliances and of course anyone wanting a tour of the town. The cobblestoned back streets off the main strip are also perfectly paved with a smooth stone and make for an awkward walk up the hill to our pension when raining or simply wearing sandals.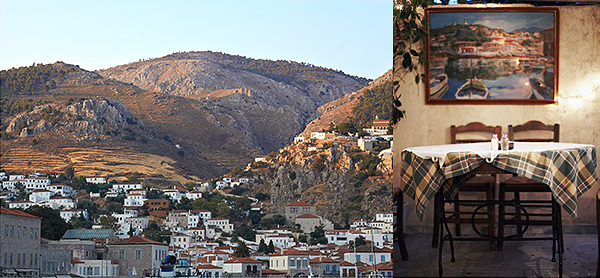 This little island just south of Greece's mainland is one of the prettiest and least advertised, but worth the experience. Its busy and old fashioned harbour is surrounded by rocky hills; little water taxis zip in and out offering tourists visits to nearby beaches which can only be accessed by boat. This is a place to slowly wind down, soak in the summer sun and watch island life go by.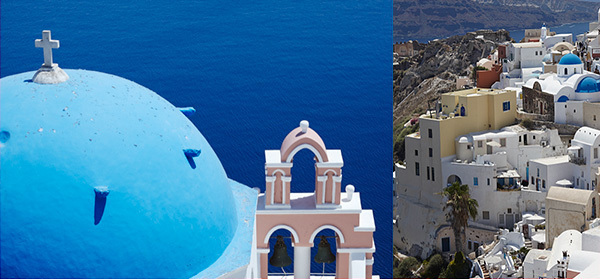 Heading into the Cyclades, Santorini aka Thira is as exquisitely beautiful as everyone always talks about. Essentially it's what remained after an enormous volcanic explosion some 3600 years ago and may have led indirectly to the collapse of a civilisation on the island of Crete through a gigantic tsunami. Perched along the ridge of a small mountain are perfectly placed whitewashed villages interrupted with blue domes, making this one of the most unusual yet scenic places in Greece. The postcards don't lie. At the far tip of Oia, venture down until you reach the old turret-like viewpoint, offering breathtaking 360-degree views. Oia becomes even more crowded as the sun starts to go down and people flock to positions on the town's best viewpoints, many restaurants even offering sunset views at a top price. Getting around to see the rest of the island is easier by car here, as the buses are a nightmare, cramming tourists in like a can of sardines. There are black sand beaches near Perissa beach due to the volcanic composition. Red sand beaches are near the town of Akrotiri. The sun feels mild on a 36-degree day, in comparison to our Aussie summer. Some of the locals say summer has come early this year.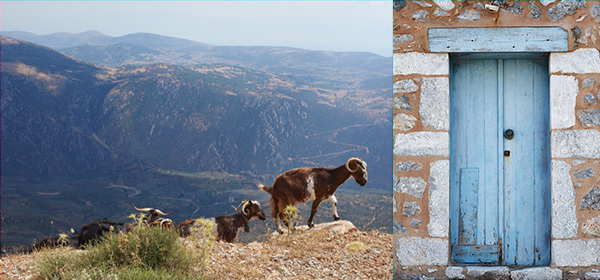 After the bustling energy of Santorini it was a welcome change to be on the mainland heading north towards Arachova. Traditionally a popular skiing town in winter, as you can imagine, a ghost town in summer. Arachova is a tourist attraction because of the proximity to the popular Delphi.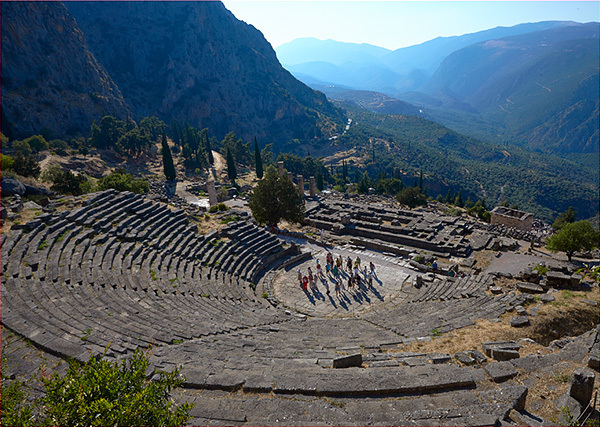 Proclaimed by Zeus, father of all Gods, to be the centre of the earth, Delphi is rich in mythological history. It was home to the most important oracle in the classic Greek world as well as the site of worship for Apollo – God of the light and sun. Delphi was also a site of athleticism second only to the games at Olympia. Feeling athletic ourselves, we followed the inclining trail to the peak only to medically conclude that Ancient Greeks were born with far bigger lungs.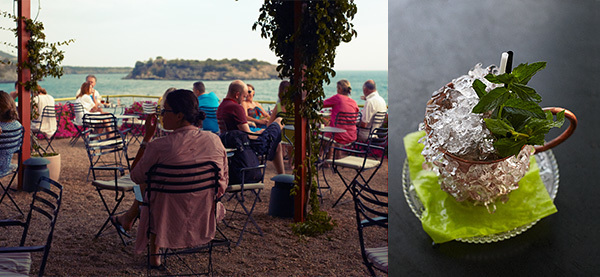 You rarely hear very much about the barren, southernmost finger of the Peloponnese when reading about places to visit in Greece. Its rugged mountains, and shimmering olive-strewn plains surrounded by turquoise pebbled beaches, offer something completely different from anywhere else. Our intention was to start somewhere near Kalamata and end up as far south as the Peninsula took us by car. Our first stop was the unforgettable Kardamyli. After driving for hours through what seemed like an endless array of olive groves, we finally reached the gateway to the Mani Peninsula. It's an anti-resort that delicately mixes vigilant travellers with real-world Greece. In the Iliad, Homer described Kardamyli as one of the seven cities presented to the Greek hero Achilles to persuade him to return to the siege of Troy. I can see why they would use this place to entice him. Nowadays, theres an eclectic mix of new and old; mum-and-pop shops mingle with cool bars overlooking the sea. Hidden in the back section of the small town, is Aquarella bar (above). And next to this, the famed Lela's Taverna (below), with Lela still sitting outside, since now retired. Time seems to go incredibly slowly here, and the long European summer days see the sun going down at 9:30 in the evening. I could have stayed here for days, just eating well and hanging out. Nothing to do but sip on a cocktail and engage in silly conversation.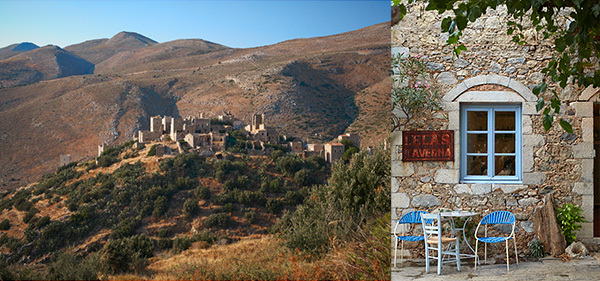 The fishing town of Limeni is a useful start for our next day's trip, though hardly the extremis; that comes later. It's a short drive south-east from Kardamyli just before the capital and a great place for an early lunch. Takis Taverna is a local favourite in Mani, with its charming restaurant perched right on the sea front and waters so blue they seem out of place, too pretty for the Mani's intrigues and darkness of spirit. We travelled onwards, further down, only to discover an endless array of towns to stop in along the way, wonder around and drive off again. Every stop entices you with a new tavern to discover or simply an incredible little beach to swim in. To our surprise, there were far too many to write or take pictures of. The best way to see all this is to hire a car, grab a map and let the road take you there. You can't miss them, as there's one road that takes you only one way. South. All along the route, set on roadside pedestals, are those little miniature churches you've seen throughout Greece. Most of these are "votive churches", erected as a thank you gesture to God by someone who was spared in an accident.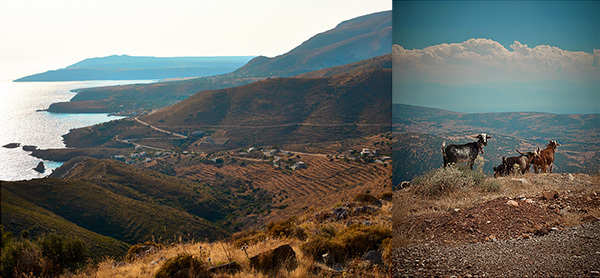 Our journey closes at Vathia. The southern most end of the Mani Peninsula's feels like something out of the Star Wars planet Tatooine. The region's dramatic history has left behind a landscape that's at once eerily stark and remarkably scenic. Empty, ghostly hill towns cling onto ridges, still fortified against centuries old threats. Vathia (above) is the most characteristic of all the Mani tower villages. For centuries the Maniots were a law unto themselves, renowned for their fierce independence, resentment of attempts to govern them and for their bitter murderous vendetta-like internal feuds. Greece's rugged and bloody Mani Peninsula was once a no-go zone for strangers. Luckily today, the vendettas are fading into legend, with an almost untouched terrain and unforgettable ocean views down to the water.
Follow Denise on Instagram @dez_kouloumbraki